Moving into a new build is extremely exciting, and not just because you're moving into your dream home. A new home is a blank canvas to work on, providing you with the freedom to get creative with your decor choices.
New build homes are perfect for those in search of up-to-date appliances, open plan living and manicured lawns. However, they don't often include the traditional features that we can make over to add our own personality to.
Period properties and historic homes will offer character by the barrowful, but there are lots of design ideas you can implement to add cosiness and warmth to your new build home.
To help, here are our top tips on how to decorate a new build and add character to your interiors…
Before you start
If your new build is less than a year old, we recommend that you avoid painting or attaching anything to your new walls. This is because new plaster and walls need time to dry out, and as they do, small cracks may form which should be fixed before any paint/wallpaper/ other materials are applied to your walls. If in doubt, reach out to your building developer before starting any DIY projects.
Consider coving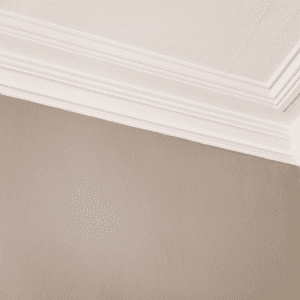 When it comes to adding character to your new build, details such as coving can really make a difference. Coving is a traditional feature of many period properties and will help you add a beautiful, decorative finish to your walls and ceilings.
Coving is easy to install – simply use a measuring tape and straight edge to make your marks around your walls and score your wall with a utility knife to help the adhesive stick. With the help of a mitre box, you'll need to cut your coving to size using a handsaw – make sure you position your saw to cut in the right direction and try a couple of practice runs first! Once you're happy with the fit, apply your adhesive and position your coving along your pencil lines before securing it in place.
What you do next with your coving is up to you. You could keep it white to match your ceiling or add a contrasting paint colour to make your new borders stand out.
Explore our range of coving, which comes in different shapes and styles to help you find the perfect type for your rooms – and make sure you don't forget the corner packs…