Adding a splash of colour to your garden can really elevate your green space to a whole other level – plus it's an instant way to make it feel summery even when the sun isn't shining.  
Alongside boosting productivity and morale, adding colour to your garden can really help to completely transform your space and the way you respond to it.  
What's great about this project, is that it doesn't have to time consuming or particularly difficult – all you need is a creative eye and some out of the box thinking. Whether you want to create a big impact with an entirely new colour scheme, or simply add a touch of colour to your dull patio or flowerbed, there are lots of ways to add colour to your garden.  
To help inspire you, we have put together this simple guide that includes a handful of different ideas.  
First thing's first, it's important to be safe and 
smart
You should always be careful when undertaking any form of gardening or DIY project. If you find yourself using any power tools or new pieces of equipment or furniture, please always read the instruction manuals and advice attached. You can also read our DIY Safety Tips guide.   
If you are unsure about anything, please reach out to a certified expert.   
Things to think about… 
Use social media for inspiration – platforms like Instagram and Pinterest are a great starting point. 

 

Remember you don't have to confine yourself to bold colours like bright reds, yellows and blues. Pastel 

colours with complementary greys can add just as much impact. 

T

he colours you choose can affect your mood as well as the look of your garden. 'Hot' colours – like those 

bold

 reds, oranges, yellows and pinks stimulate your senses and make flowers appear closer

. W

hilst 'cool' colours – blues, purples and pale pinks, are calming and restful and can be used to make a small space feel bigger.

 

 

Take inspiration from the colours inside your house. If you have a painting by the back door or a brightly coloured wall, use the same colours in your garden. Using a scheme that links with your house's décor will aid the transition from inside to out.

 

Don't worry about what's in fashion. Decide what colour scheme you want and go with it.

 
Now you've done your planning, let's get to the fun stuff.  
Paint a backdrop  
Bolden and brighten your boundaries by painting a 

fence, wall, trellis

or even your wooden shed to create a popping backdrop for your plants – which will make them stand out even more. Painting just one area will create a feature wall-like focus point, which can help to make small spaces feel more cosy and intimate rather than cramped and cluttered.

 

Greenery contrasts vividly against deep indigo, but you could try out other shades such as a vibrant blue or a soft pink.  

 

 Wall art and murals are a brilliant way to make a garden more colourful. Screw marine ply to fence posts, pick a colour and paint. You can even use blackboard paint and get the kids to decorate it with drawings in coloured chalk.
Add colourful plants
The easiest and most budget-friendly way to add pops of colour to your garden is the addition of some colourful flower beds.
If you need help on how to plant them, this guide will tell you all you need to know.
If you want to add even more colour, try painting your pots or customising them with sequins, shells or pebbles to add additional colour and texture. Use the same shades as your plants for a cohesive, tied-in effect.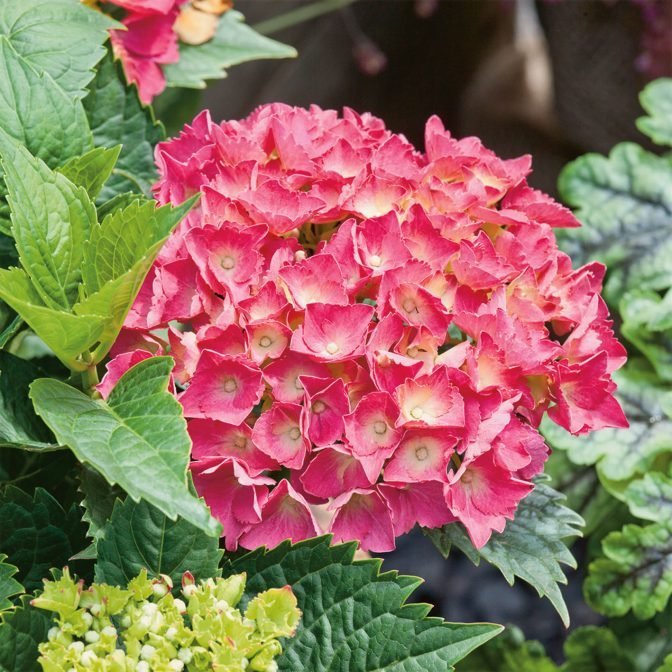 Add colour with garden furniture and accessories  
One of the easiest ways to add colour into your garden is by investing in gorgeous, eye-catching 

garden furniture

 that will stand out.  

Whether you want to add softer, minimal pops of colour or use contrasting furniture to really make a statement, it is completely up to you. 

 

You may already have garden furniture that you would prefer to keep – so how about giving it a quick freshen up with a lick of paint? Check out our '

Painting projects to transform your garden'

blog to find what paint best suits your furniture type. 

 

Outdoor colourful cushions and decorations

 in subtle or statement colours will help to tie everything together and create even more interest. Choose colours that complement the dominant plant colours in your garden to create harmony.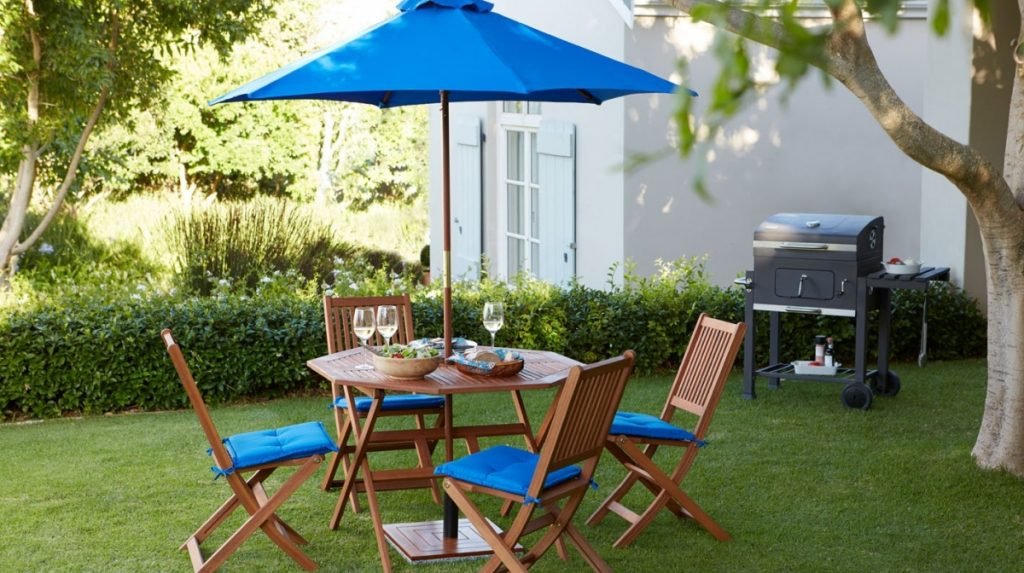 Stain your decking/ patio  
Changing up the floor colour can really help to lift the atmosphere of a dull, dreary space. 

 

Wooden decking can be stained

 an eye-catching colour to help enhance the surrounding foliage and plant pots. 

 

Alternatively, painting an unattractive concrete patio can really help to lift the vibrations of the space and will completely transform the feel of the space.

 

If you don't want to paint, you could always add a large outdoor rug. They're great for delivering a touch of pattern and colour, as well as creating zones in your outdoor space.

 
Shop our garden and outdoor ranges and start adding some colour into your garden.  
Don't forget to upload an image of your new colourful garden to social media and tag us @Homebase_uk