During the winter you can relax, on the whole, though there are still a few routine chores such as removing fallen leaves and twigs from the lawn to take care of. Although you may still mow occasionally in the winter, now is the best time to service your mower.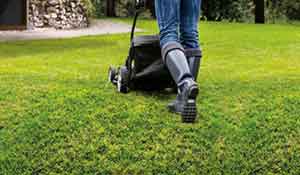 Step 1: Mow your lawn, if required
If there are warm spells, your lawn will continue to grow. You may need to trim your lawn as a result but keep this to a bare minimum (and still be careful not to cut more than one third of the length).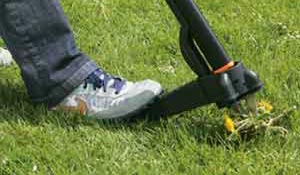 Step 2: Keep weeds and moss under control
Remove large weeds to help reduce any spread across the lawn. Winter is a good time to attack the moss as well. Apply a moss killer at the same time as you give the lawn its winter feed.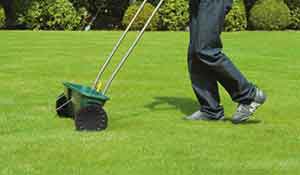 Step 3: Give the lawn a winter feed (optional)
In the past people were cautious about feeding the lawn in the winter, as too much feed during wet periods can create excessive top growth at the expense of strong roots. Nowadays however, you can buy special winter fertiliser which is useful to apply.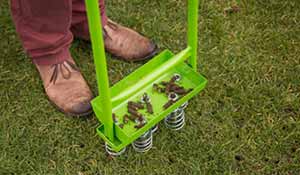 Step 4: Observe whether 'puddling' occurs
After heavy rain, puddles of water may appear on your lawn. This is a sign that your soil is compacted underneath the grass. Make a note of where the puddling occurs and be sure to aerate these areas of your lawn in the spring.
Step 5: Look after newly turfed lawns
Cold weather can 'lift' new turf. If this happens, wait for a dry period in the weather and then gently use a heavy roller the to push the turf back into position.
Top tips
Lift the height of the blades if you need to continue mowing your grass through the winter.
Avoid walking on your lawn if it is water-logged or frosty.
If you plan to sow a new lawn in the spring, dig over the area at the beginning of winter leaving larger lumps on the surface for the frost to naturally break up.
Preparing petrol mowers for winter storage
Step 1: Empty the fuel tank
If you're unlikely to use your lawn mower in the winter, remove the petrol at the start of the season to help increase the life of the motor. Empty the fuel tank using a petrol suction pump or syphon.
Step 2: Empty the carburetor and fuel pipes
After emptying the fuel tank, run the machine until it stops to clear the fuel from the carburetor and fuel pipes. Always refer to the user manual for detailed information on storing and maintaining your machine.
Find your perfect product: