If you're looking to make a contemporary style update to your guest bedroom, or create a sophisticated feature wall in your dining room, a wood slat wall is an easy and effective solution.
Adding wood slat wall panels to your home is a simple task – whether you're a DIY novice or a seasoned pro. To ensure you stay on track, we've put together this guide to show you how to build a wood slat wall, complete with instructions and the tools and materials you need.
Let's get started with what you'll need…
Materials:
Tools: 
Before you start 
Building your own wood slat wall requires the use of power tools, so make sure you read your tools' instruction manuals and our DIY Safety Tips beforehand. Keep your space well ventilated, put down a protective sheet to guard your flooring, and cover all switches and sockets with masking tape.
1. Choose your wood slat panels 
Decide on the width and texture of the wood slat wall panels you want to use.
Pine will provide a beautiful finish and doesn't have to be sanded extensively, whereas common board is a very affordable option that will look exquisite if you're willing to put in the work.
Top tip: Check that the wood slat wall pieces are as straight as possible. Also, try find them in the exact size you want them – this will help you save time on having to cut them to your exact requirements.
2. Measure and cut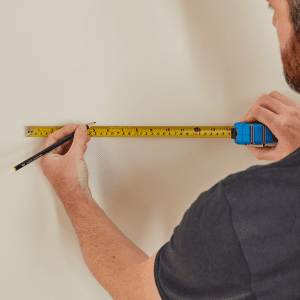 Measure the height and width of the space you plan on installing your wood slat wall in. This will determine how many boards you need. Don't forget to consider whether you want to create a space between each board – we'll cover this off later!
Not all walls/ceilings are level the whole way across, so measure the height of the wall roughly every 10-20 slats to ensure your panels will fit. Once you have your measurements, if needed, cut the wood slat panels to the correct length using a mitre saw. Wear safety goggles and a face mask when cutting wood.
Top tip: Place your wood slat wall panels on the ground to work out the spacing you'd like between them. You can either have the boards directly next to each other or install with a space in between.
3. Sand
Regardless of the type of wood panel slats you chose, sand them for a smooth, even finish. An electric sander is the most efficient, but you can also use sandpaper.
4. To paint or not to paint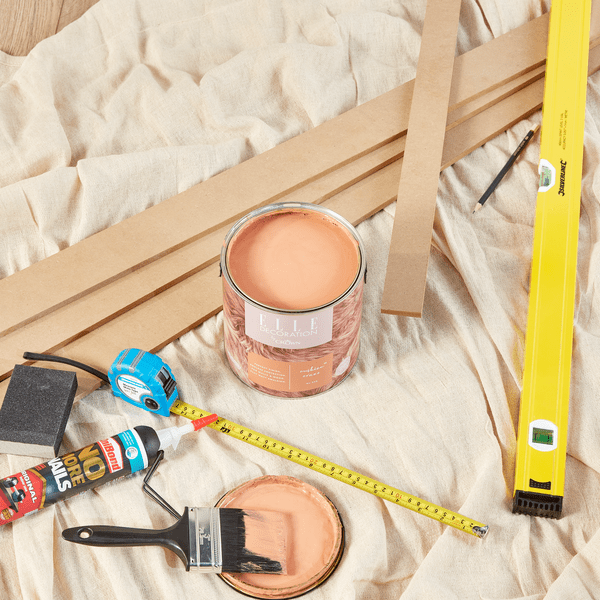 Now it's time to decide on your desired finish.
If you plan to have gaps in between each panel of your wood slat wall, you could paint your wall a contrasting colour to your chosen wood stain.
If you have decided to stick your panels directly next to each other, then you could enhance the wood's natural features with a simple stain. Or, for a more cohesive backdrop, paint the wall and panels the same colour.
Top tip: Check out our walls and ceilings painting guide here.
5. Attach the first slat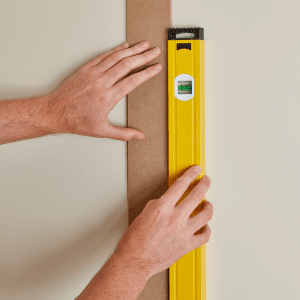 Once your wall and panels are dry, it's time to start building out your DIY wood slat wall.
Apply liquid nails along the length of the back of the first wall slat and use a spirit level to ensure it's level, before placing it against the wall. Then, use a brad gun to secure the slat into place at the top, middle and bottom.
Top tip: The combination of liquid and brad nails will ensure the wooden slats are as secure as possible.
6. Create the spacer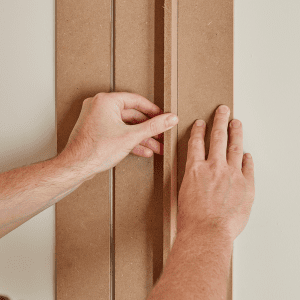 If you want to have space between your slats, cut a spare slat to your desired width and attach two screws to the front of it – about a foot apart from each other.  The screws on the front will give you something to hold onto as you use the panel as a guide for where to place each slat next.
7. Repeat 
Set the spacer against the first slat you attached to the wall, followed by placing the second slat against it on the other side. Repeat step 5 with the second slat, making sure the slats are pinched together, and then pull away the spacer.
Continue this process with the same spacer for the entire project. Keep the slats and spacer as close together as possible, to ensure you have a consistent gap between each.
Top tip: Use a spirit level every couple of slats to ensure you are laying each wood slat how it should be and pinch together the slats and spacer to keep everything in line.
8. Tackling tricky bits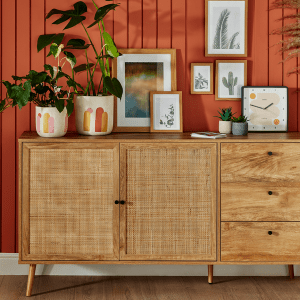 If you encounter issues such as plug sockets, you can cut the wood slat panels into two pieces, so it fits. Or, cut a small piece out of your slat to fit around it, which can easily be done with a jigsaw.