Snuggle up with comfy seating, bask in the heat on sun loungers or cosy around a fire pit. There are so many ways to create an entertainment space perfect for guests to kick back and unwind.
Project Overview
Tasks
Time needed
Step 1
Create an alfresco dining space: start with finding and preparing the perfect space – taking in barbecue maintenance, dining furniture, weeding, power-washing a patio etc.
About 3hrs
Step 2
Make a plan: scope out potential seating areas and the best setting for your fire pit or BBQ
About 2hrs
Step 3
Add the finishing touches: adorn your entertaining space with potted plants and accessories or herbs to grow so they are readily available to add to your outdoor feasts
About 3hrs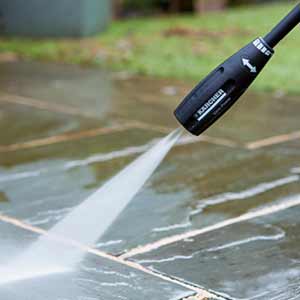 Step 1 – Create an alfresco dining space
Prepare the space for your entertainment area
Wander around your patio or decking area, removing weeds as you go. Keep a note of areas that need washing down, as well as any repairs that require careful attention. Remember to check your plant pots for cracks or breaks, and re-pot any plants as necessary.
Make your patio gleam by blasting it with a pressure washer. This useful tool can quickly remove seasonal grime and restore paving to its former glory. With that ticked off, assess your lawn. A gentle mow may be all that's needed to create a manicured effect, but be on the lookout for pesky weeds too.
Take some time to revive your garden furniture. Wipe away any cobwebs and clean with hot soapy water. Dig out your barbecue too and check it's still in safe working order. Scrub the grill until it sparkles, so it's ready to use at the first sight of sun.

View our guide to creating a garden for entertaining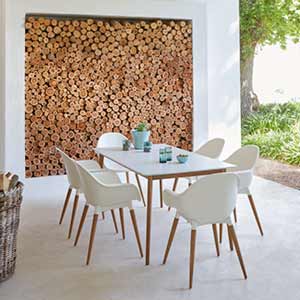 Step 2 – Plan it out
Plan your entertainment area
Consider which the areas soak up the most sun when setting out your seating. For barbecues, you'll want to have an area with plenty of ventilation, and be sure to position your fire pit so plenty of people can enjoy the warmth. Getting these elements just right can really enhance your entertaining space.
Think about your furniture and seating
When selecting new garden furniture – have a think about how many guests you'll be entertaining, and the vibe you want your space to have. An eight piece dining set with a parasol is ideal for laid-back alfresco lunches, while garden benches huddled around a fire pit can help create a magical atmosphere as the night draws in.
Seating areas can expand beyond the patio. A simple garden bench accessorised with plump weatherproof cushions is a versatile choice. You can add it to other seating areas when you have lots of guests, or tuck it into a nook in your garden to create the ideal place for a cosy catch up.
Create some shade
A few garden parasols or a gazebo placed over key seating areas will provide much-needed shade when the sun really starts to shine. If you plan to entertain a lot during the warmer months, you could look at building a more permanent fixture, such a wooden canopy or arbour. It'll also come in handy if the British weather takes a turn and rain starts to fall.
Add some creative touches
Install a garden bar for extra wow factor. Unleash your creativity and build one from pallets, give your shed a makeover or simply decorate and utilise a spare table.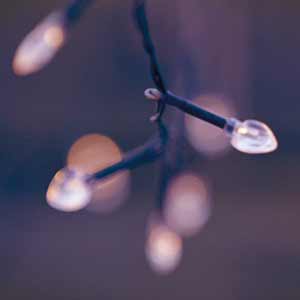 Step 3 – Finishing touches
Think about the finishing touches
Potted plants featuring bright colourful flowers or lush green shrubs are a must-have. Place around patios or decking areas, and experiment with different colours and scents which complement each other.
Line steps with twinkling lanterns to help guide people out into the garden, and create a chilled-out atmosphere as dusk begins to fall. Place lanterns in corners or hang on garden walls for added dramatic effect.
String fairy lights along fence panels or wrap them around bushes and trees to create a magical feel when the sun goes down. For daytime celebrations, colourful bunting brings a burst of fun and energy to your yard.
Place potted herbs within reach of your barbecue, so you can add them while you cook. You can even use potted herb plants as fragment centrepieces for your garden table.

View our barbecue buying guide

Project complete
Your outdoor space will now be the perfect place to host garden parties and barbecues for all your family and friends.