As summer fades and the leaves begin to fall, you'll see more and more birds in the garden looking for delicious fruit, berries and seeds.
When the weather is mild, as it sometimes is at the beginning of the autumn, birds will thrive without you having to make too much effort to feed them. But as the autumn continues, and cools off towards winter, there are lots of things you can do to make birds' lives easier. Species to look out for at this time include long-tailed tits, starlings, jackdaws and carrion crows.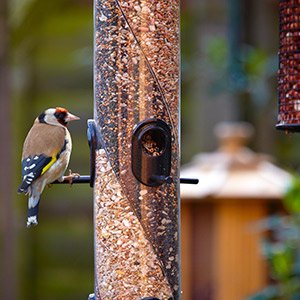 Bird food
In cooler weather, feathered friends will benefit from some extra food. If it's particularly cold or frosty, think about feeding your garden visitors once or twice a day.
Seed mixes that contain lots of energy are perfect for the autumn. Birds can shed and regrow their feathers at this time of year so extra food will help them to stay healthy while they do that. Some birds will be stocking up on energy now so that they can make long migration flights; another good reason to offer them energy-rich seed mixes.
Some important things to remember when feeding birds:
Feed them in moderation
Empty feeders every 1-2 days
Regularly clean their feeders
Rotate feeding sites to avoid the build-up of waste food or droppings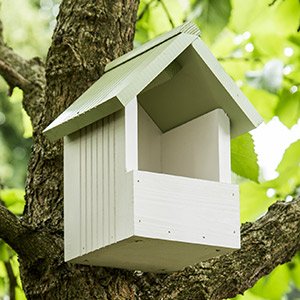 Bird boxes
Now is the time to put up nesting boxes for the birds that hang around the UK in the cooler months. In the autumn they will begin looking for somewhere to bed down for the winter, so getting new bird boxes out up early in the autumn is a great idea. Perhaps you already have bird boxes – if so, take a look inside and clear out any debris if they've been used over the summer so they can be fresh and clear, ready for new residents.
Wear gloves when you clean out the boxes and if you need to use a ladder to reach them, make sure you have someone around to help you. Once the box or boxes are clean, use some newspaper or wood shavings to line them.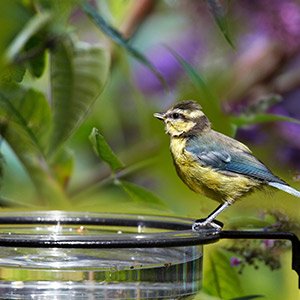 Bird bath
Birds always need clean water, for drinking and for bathing. Clear bathing dishes and bird baths now so all you have to do is top them up now and then over the autumn and winter. Water will freeze over the winter months so get prepared now by putting floating balls in your bird baths – they'll bob about and help to stop the water from freezing quite so frequently.
It's never advisable to add chemicals to the water to stop it freezing as this could poison the birds or damage their feathers.
Top tops:
Plant winter flowery shrubs, such as holly and ivy, so that birds have naturally occurring berries to feast on in the cooler months.
Don't cut back your herbaceous or berry-bearing plants just yet, leave them until later in the year so that birds can enjoy them for a little longer.
Check over any feeders for damage and make repairs now so you can use the feeders all through the autumn and winter.
You may also be interested in: