Decorating your tree at Christmas can be a great way to get the whole family in a festive mood. But making sure it still looks flawlessly stylish from top to bottom can be a lot more difficult. That's why we've created this handy step by step guide, showing you exactly how to decorate your Christmas tree for the most professional look, whether it's real or artificial. So, whether you just want an eye-catching Christmas tree or tips on how to decorate like a designer, we've got you covered.
Setting up your tree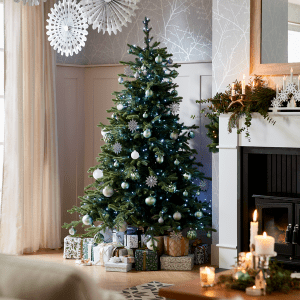 Before you start decorating, it's important that you make adjustments to your tree to help show off your decorations in the best light. How you get it looking festive depends on whether you have a real or artificial tree, although there are also a few simple tips for both.
The key to any well-dressed tree is uniformity, meaning you want it to be as stunningly symmetrical and consistent as possible.
If you're adding berries or pine cones as accessories, keep them on top of the branches for the most natural trend-matching look.
Add lights to your tree from the top down, and decorations from the bottom up.
Think about your tree's placement before you start, so you're not blocking off parts of the room, or creating a trip hazard with wires trailing on the floor from your tree to the plug socket.
Artificial trees
Artificial trees come in three types: hinged, hook-in or wrapped.
Most artificial trees can be adjusted by hand, so shape each branch as identically as you can for the most authentically festive feel.
If you're wondering how to make your Christmas tree look full, the secret is using your backing branches and wing branches as extra decoration. Bend each of the tips up from the branch in a 'V' shape for maximum volume – also known as "fluffing your tree".
Prevent any gaps between your tree sections by making sure they blend together.
Decorating your tree
To help you round off 2021 with the best looking, best decorated and most on-trend Christmas tree, we've broken down everything you need to know.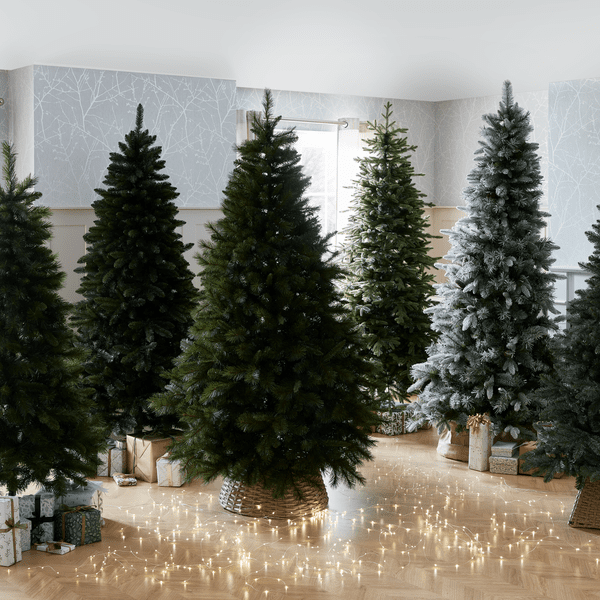 Step 1:
Before you start putting your lights on the tree, it's best to check them first. Just plug them in and check all the bulbs are working. If any aren't, it's time to replace them.
Step 2:
As we mentioned before, lighting your tree works best when starting at the top and working your way down to the bottom as evenly as possible.
Step 3:
For a well-lit tree, we recommend approx. 60 LED lights for every foot of tree. So, if your tree is 6 foot, you would need 360 lights, 7 foot is 420 etc.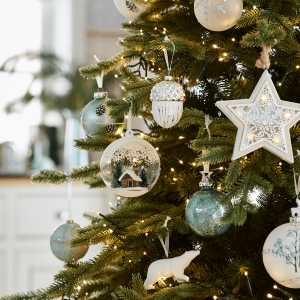 Step 1:
Start with your largest baubles at the base, getting smaller as you move up the tree to mimic its triangular shape.
Top tip: For the best look, divide your tree into three bauble sections – bottom section (100mm-80mm), middle section (80mm-60mm) and top section (60mm-40mm).
Step 2:
When it comes to dressing artificial trees, you'll need to tailor it to the type you have. For hinged trees, use a tree tie to hold your other branches in place while you decorate. For hook-in, dress your branches at eye height, then slot them in lower down.
Step 3:
No matter what tree you have, the best trick for keeping your decorations looking evenly spaced is to use the triangle method – arranging them in triangular shapes all the way around.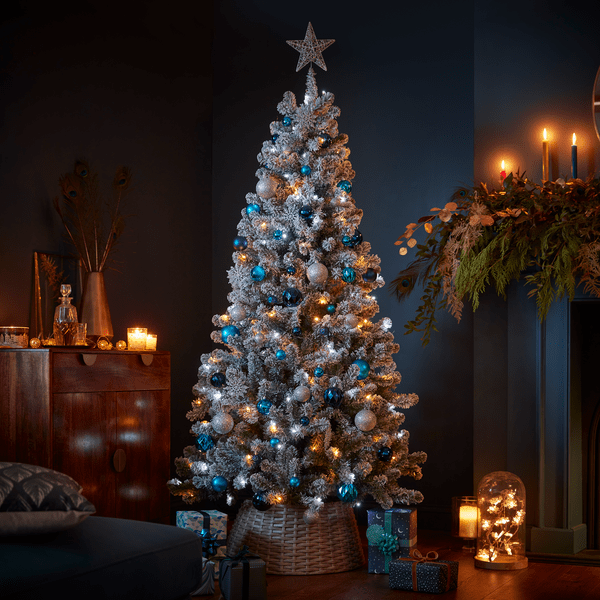 Step 1:
If you're wondering how to decorate your Christmas tree with ribbons, it's easiest to adopt the same triangle pattern as baubles – running vertically top to bottom.
Step 2:
As for tinsel, beads and bows, you can spiral them down the tree as you go, or loop around branches however you prefer.
Now that you're an expert in tree decoration, why not discover even more festive inspiration in our Christmas hub? It's got everything you need to add a touch of seasonal sparkle throughout your home.