Brighten up your home with our lighting buying guide. Although functional and practical, lighting also makes a huge difference to the feel of a room. Whether you're looking for ambient, task or accent lighting, we've put together this handy lighting buying guide so you can find the perfect solution to light up your home.
Three ways to light your room
Ambient
Ambient lighting makes your room feel as close to daylight as possible. It's great for when you're socialising or playing games as it gives you a bright space that the whole family can enjoy. Ceiling lights, including pendants, spots and recessed lighting are the best way to achieve ambient light, as they spread light down and around a room.
Task
Task lighting is ideal for specific activities like reading, preparing food or doing any other type of close- up work, as you can direct light exactly where you need it. In the kitchen, under-cabinet lighting helps you prepare food safely and you can angle spotlights to fall in other areas where you need most light, for example by the cooker or sink. Both floor and table lamps also work as task lights around the house. You can create pools of light, so you can see what you're doing without disturbing anyone else.
Accent
If your room has any standout features, recesses or interesting art you can use directed light to create a focal point for an artistic finishing touch. Wall lights and spotlights can help you achieve this look, as they're great for focussing light on a specific point.
Four types of lighting products
Pendant lights
From crystal chandeliers to simple shades, pendants can make a real statement. They can hang individually in the centre of a room to give good overall light or as a cluster to create a feature. Pendant lights are the best way to lighten up a whole room, bringing you as close to daylight as possible.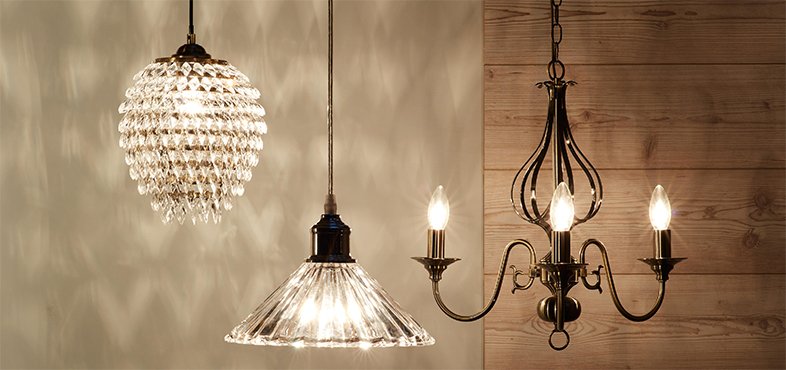 Floor lamps
Positioning a vertical floor lamp in a corner of your room is a great way to create a cosy feel. Angled styles are designed to overhang chairs and tables so you can see clearly when you're doing specific tasks.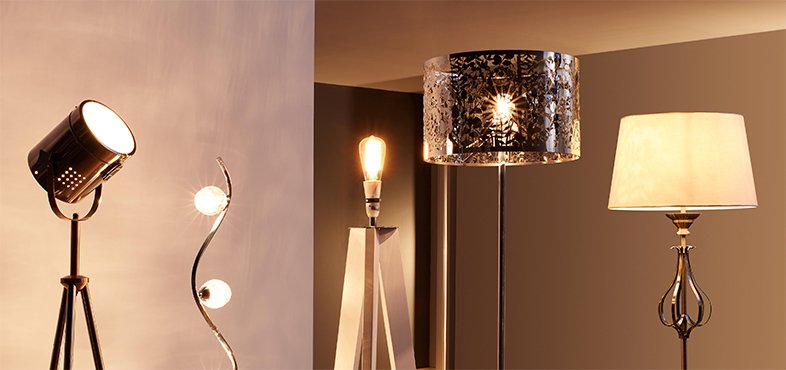 Table Lamps
Table lamps are a stylish way to accessorise your furniture and you can move them from time to time to refresh the look of a room. We have a huge range of sizes, shapes and shades, so look for a table lamp that complements your design scheme perfectly. They're a great way to create soft light and a cosy atmosphere in the evening.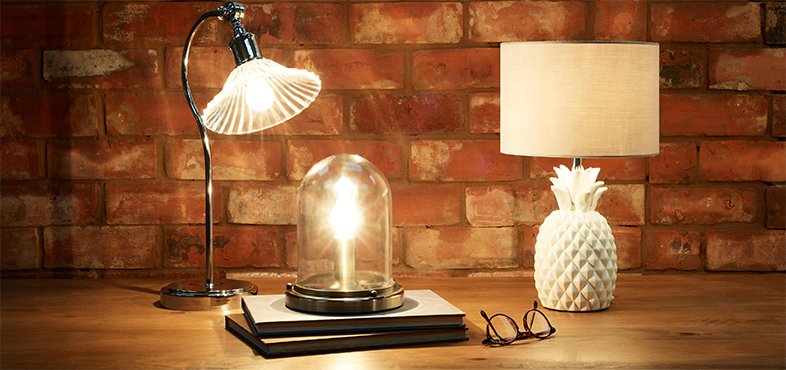 Wall Lights
Wall lights are a good choice if you want a subtle lighting effect and they're great for enhancing key features like paintings. Uplighters are another way to create a soft ambience in a room.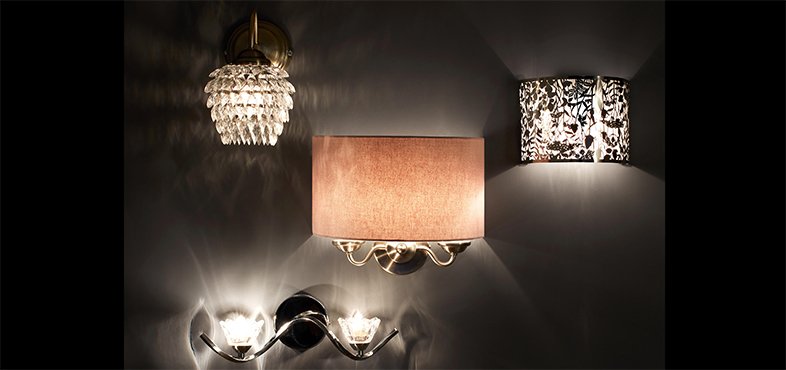 Ways to light your living room
We tend to use our living rooms in lots of different ways, so you'll probably need different types of lighting for relaxing, reading, socialising, working or watching a film. You may also want to highlight a focal point in the room or create a specific mood by carefully choosing the right lighting. There are often times when you'll want your living room to be well lit, whether you're socialising with friends or playing a game with the family.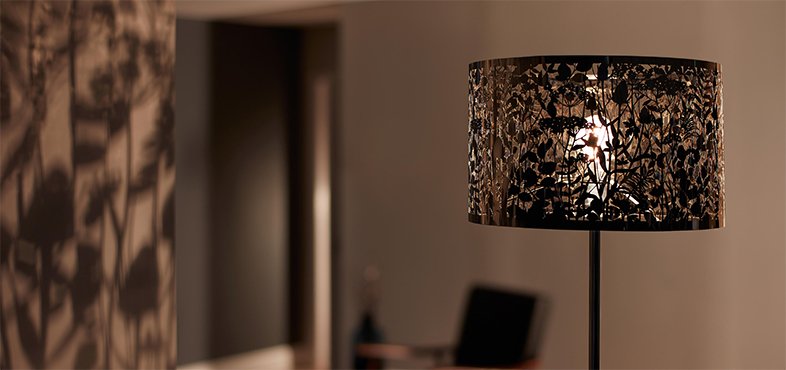 Top tips for lighting your living room
If you're using your living room for a variety of tasks, consider defining zones using different styles of lighting.
Dimmer switches are useful when you want to define specific zones or create a different ambience in a certain area of the room.
Try using accent lights to create a style statement – they can be a real talking point.
Consider the size of your living room and make sure your lighting is in proportion. Large, statement lighting can look great in a bigger living room but may overwhelm a smaller space.
Ways to light your hall & landing
It's important for your hallway to feel welcoming, inviting and stylish, while your landing lighting needs to be practical as well as pretty.
Choosing impactful hall lighting to make a statement and wow your visitors. The best choice for a hall is a pendant light, but if you have more space you can create a welcoming ambience with an additional lamp.
Your landing lighting often needs to be a little more functional to allow for good visibility at the top of the stairs. However, it can still be stylish and by fitting a dimmer switch the lighting won't be too harsh if you have to get up in the night.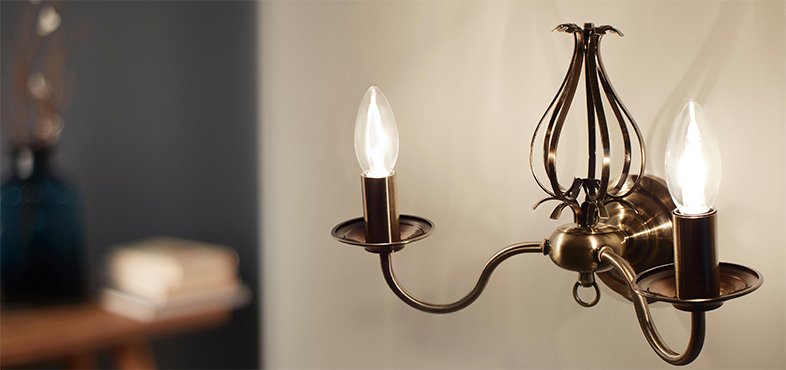 Top tips for lighting your hall & landing
Consider your ceiling height. If you have high ceilings you can indulge in a more extravagant pendant light with either one or multiple bulbs.
For lower ceilings pick a pendant that's flush with the ceiling so the space doesn't feel cluttered.
By using brighter bulbs you can make the space feel bigger and more inviting.
Ways to light your dining room
Having the right lighting in your dining room is a simple and stylish way to add a sense of occasion to mealtimes. Whether you're eating with your family or hosting a dinner party, we have the lights to help you dine in style.
You're less likely to want harsh or bright lights in your dining room. It's important to keep the lighting flexible, so adding a dimmer switch is a great idea to change the mood and ambience to whatever you want. We recommend a selection of pendant lights, floor lamps and wall lights as a stylish and practical way to light your dining room.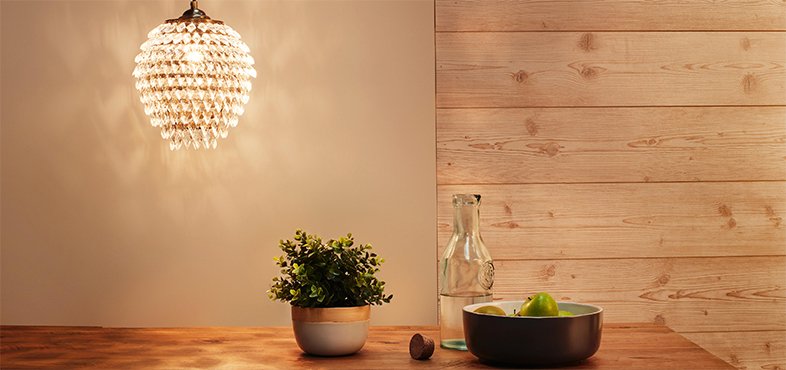 Top tips for lighting your dining room
Base your lighting around the table to create an atmosphere while you're dining. Choose a chandelier if you want to make a statement, even when the light's turned off.
A single larger pendant light can look great over a smaller dining table.
For contemporary style, group a selection of pendant lights over a larger dining table.
Once you've chosen a chandelier or pendants for over your dining table, layer up your lighting using floor lamps and wall lights.
A dimmer switch in your dining room can help create the right ambience.
Ways to light your bedroom
Your bedroom is your sanctuary, a place to unwind and refresh ready for another day. It's also the space where you get dressed, style your hair, read and sometimes use the laptop. So the lighting in your bedroom will sometimes need to be relaxing and sometimes a little brighter and, of course, lighting plays a huge part in the overall look of your room.
A light on the ceiling delivers ambient background lighting that you can use when you're getting dressed or doing other everyday tasks.
Lots of us love to read at bedtime, so a bedside lamp is essential. If you have a writing desk or sitting area in the bedroom, maybe try a stylish desk lamp.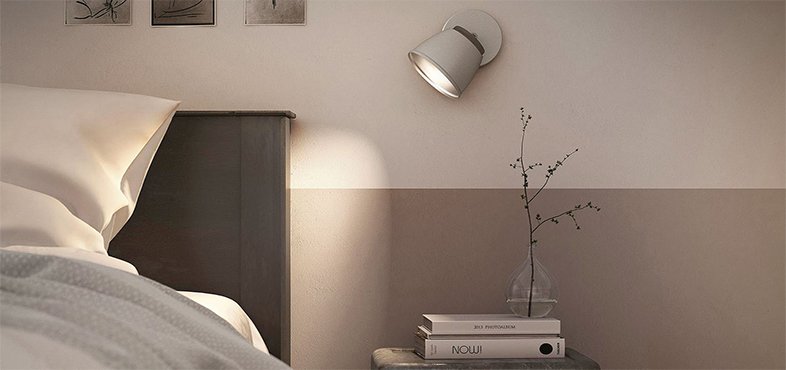 Top tips for lighting your bedroom
Create a balanced look by choosing pairs of bedside lamps, night stands and accessories.
Low hanging pendants can be a good alternative to bedside lamps. They look super-modern and are good for saving space.
For added ambience, install dimmer switches so you can alter the light instantly. Softer toned light bulbs are also ideal for creating a gentler glow.
Light bulbs can become a feature of your lighting too, look out for retro-inspired bulbs to bring an extra touch of modern sophistication to your lighting.
Ways to light your kitchen
As the hub of most homes, your kitchen lighting needs to work for the huge range of activities that can take place in there. The kitchen is usually used for cooking and eating, but you might find your children do their homework in this room, or you might socialise with friends and family in your kitchen. Think about what you use your room for and you'll be able to pick the styles and ways of lighting that work best for this room.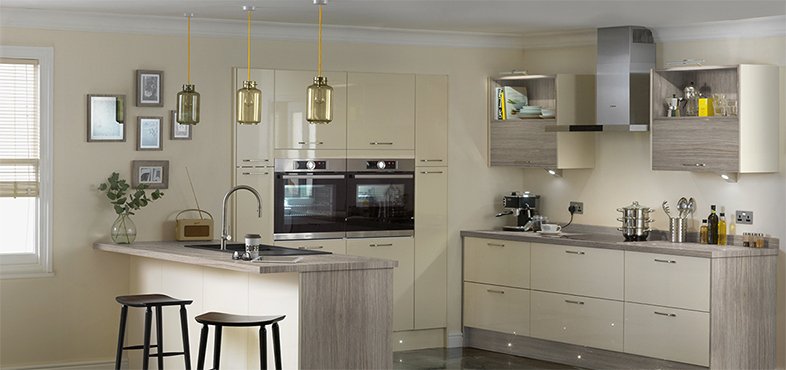 Top tips for lighting your kitchen
Under unit lighting is great for work stations to help with preparing food, but it can also create a lovely ambience into the evening.
Add a pendant light to create a real feature and a talking point in your kitchen.
Why not add spot lights to the kick boards of your units, making the room stylish and modern.
Save energy & money
Energy efficient light bulbs
There are two main types of energy efficient light bulbs. Compact Fluorescent Lamps (CFL) and Light Emitting Diodes (LED).
Compact Fluorescent Lamps (CFL)
CFL are cost-effective and ideal for general lighting. Replacing a traditional light bulb with a CFL of the same brightness will save you money.
Light Emitting Diodes (LED)
LED are good for replacing spotlights and dimmable lights. They are more expensive to buy yet they are more efficient than CFL so they will save you money in the long term. By replacing all halogen bulbs with LED alternatives, you could save on your electricity bills.
Less efficient light bulbs
Traditional light bulbs
Traditional light bulbs, also known as tungsten filament, incandescent or GLS (General Lighting Service) bulbs were invented more than 100 years ago. Only about five per cent of the electricity they use is converted into visible light so they are extremely inefficient and don't last long because the filament gradually evaporates.
Halogen light bulbs
Halogen light bulbs use filament technology but they are slightly more efficient than traditional light bulbs. They are mainly used in spotlight fittings but as they're often used in large quantities, the electricity used to light a room is greater. LEDs are an excellent energy efficient alternative.
Energy saving tips
It's simple to save energy and money by making a few simple changes around the home.
Always turn the lights out when you leave a room, even if you're just leaving the room very briefly.
Be conscious about how many lights you use and whether you need them all on.
Try to arrange light switches so it's convenient to turn them off, for example place switches at the top and bottom of stairs, at each end of a hallway and by the door to a room.
Use a sensor and timer on outdoor lights so they're only in use when there's someone outside.
If you enjoyed our lighting buying guide, check out our other Lighting & Electrical advice here.