Building a shed is a great way to add extra storage space to your garden. Sheds are ideal for locking away lawnmowers, garden furniture, outdoor toys and much more and with the right tools you'll have your new shed up in no time at all! This step by step guide on how to build a shed from the experts at Homebase will show you how…
Difficulty rating: Medium
These tasks may be tricky so will suit you if you're experienced in DIY, or simply love a challenge.
Before you get started on any of our 'how to' guides, please take a moment to read through our DIY safety tips.
What You'll Need:
Step 1. Planning the shed base
The base is key for garden sheds. They need to sit on a hard, level base – or the shed frame will distort and the door and windows won't open properly.
Here are the different kinds of base you can get:
Treated wooden beams on flattened hardcore or shingle.
An interlocking plastic base system laid onto firm, level ground.
Concrete slabs on a level bed of sharp sand.
Concrete laid on hardcore.
The two concrete bases should be slightly smaller than the external dimensions of the shed.
Step 2. Treating with wood preservative
Before you put your shed together, treat all the wooden parts with a preservative. Most garden sheds come with a factory-applied base coat but you should boost that protection with at least two coats of good-quality preservative.
Helpful hint…
Wear rubber gloves and safety glasses or goggles when you use wood preservative.
Step 3. You'll need a helper
The individual parts of your shed aren't that heavy but they're awkward for one person to handle. It's best if you get someone to help you.
Step 4. Assembling the shed floor
Some garden sheds come with the floor panel already attached to the joists. Others will need some assembly.
You need to lay out the joists under the floor sheet. The spacing depends on the specific shed you're building. Follow the manufacturer's guidelines.
Fix the first joists under the long outer edges. Then put the remaining joists evenly between them. They can then be fixed in place.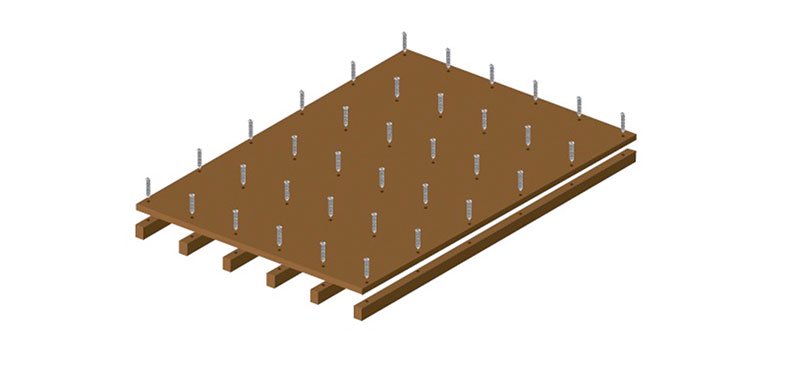 Putting the shed floor together
Step 5. Putting up the walls
Mark the exact centre point of each wall on its bottom edge. Do the same on the shed floor. You can now make sure they're centred exactly when you put up each wall.
Stand the gable end on the base and line up the centre marks.
While your partner supports the panel, check that it's vertical with a spirit level. Then use a temporar