is a great time to get your shed organised ready for the warmer weather. A well-organised shed makes it easier to find what you're looking for, keeps your garden tidy and your tools and other items protected from the elements.
This weekend, why not create a shed to be proud of? Spring clean the interior, reorganise your tools and things, and refresh the exterior so your shed is ready for summer.
Project Overview
Tasks
Time needed
Step 1
Declutter – Get rid of things you don't need and empty the shed temporarily
About 2hrs
Step 2
Reorganise – Use shelves, hooks, buckets and tubs to organise your shed
About 4hrs
Step 3
Refresh – Inspect the shed's condition, carry out any repairs and give it a lick of paint
About 3hrs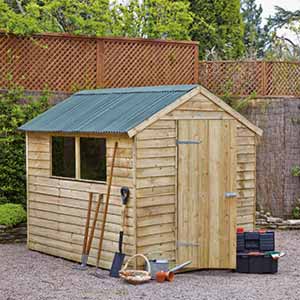 Step 1 – Declutter
Empty out everything
Begin your shed organisation project by emptying it completely. Take everything out, lay it carefully on the ground outside and sort into piles of what's staying and what's going. Be realistic about how much you can stash in your shed without it becoming a tangle of twine, tarp and tools. Then categorise your waste into what can be recycled, sold or donated and what needs taking to the tip.
Give the interior a good clean
With your shed stripped back to the shell, use this opportunity to give it a much-needed deep clean. Pull on a pair of rubber gloves and tackle lingering dirt and dust. Work your way into every nook and cranny, thoroughly cleaning, dusting and brushing the walls and floors.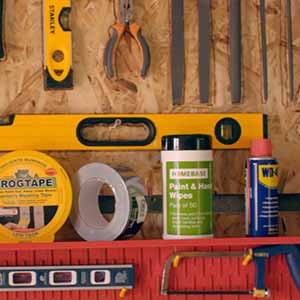 Step 2 – Reorganise
Decide where to put everything
An empty shed gives you a rare opportunity to play with your space. Evaluate what you've got left and consider which garden shed storage ideas are open to you. Items that have survived your cull need categorising – group together tools, plant care products, paint accessories, outdoor play equipment and lawn care items. This will give you a good idea of how to reorganise the interior of your shed. You also need to think about what you'd class as essential – what do you use on a weekly, or even daily, basis?
Install some more storage
Install shelving along the walls of your shed to increase your storage space. Put the items you use regularly within easy reach and those rarely used at the very top. If you're stuck for shed shelving ideas, think about adding shelves to an old workbench, put up floating shelves if you're squeezed for space or install corner shelves to use up every inch of the shed.
Mount hooks along your walls to maximise storage. Quick to install and easy to move, they're ideal for keeping tools neat and tidy. Place heavier items, such as bags of soil and fertiliser, into tubs and keep them on the floor. Buckets are useful too, especially if you want to stand rakes and brooms in one easy-to-access place. Last up, your door. Hang baskets and hooks on the inside panel to store smaller items or even install trellis to hang larger tools.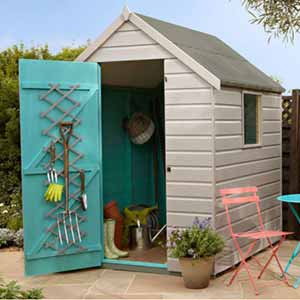 Step 3 – Refresh
Spend some time repairing the outside
Take time to inspect the condition of both the interior and exterior. Up on the roof, carefully search for holes or splits in the felting – even the tiniest of tears can cause water damage, but can easily be repaired with replacement felt. It's also worth cutting back any overgrown shrubs or unruly trees within the shed's vicinity, as they can prevent air flow, which can stop timber from drying out properly, and cause damage to roof felting.
Fix any minor problems inside
Once you're happy the exterior is in tip-top shape, walk around the inside of your shed and pay particular attention to signs of damp, mould, rotting and nesting. Check hinges, handles and locks too and ensure they're moving smoothly. Squeaks and sticking can be easily solved with a squirt of oil. Try opening and shutting the windows as well to ensure the frames aren't suffering from swelling or warping. If they're beginning to stick, sanding down the surface should do just the trick.
Get creative
Now it's time to unleash your creativity. Turn your humble shed into a pretty garden feature by giving it a lick of paint. Sprucing up your shed will not only inject a dash of colour into your outdoor space, but can help protect it against the elements, too.
Paint the exterior with natural tones to make it blend into your backyard or use a playful mixture of vibrant hues so it standouts brightly. A splash of striking blush, a touch of fresh rosemary, a dollop of heathery purple…let your imagination run wild.
If your shed is on the small side, painting the inside a lighter shade can help it feel bigger. Contrast it with a darker tone on the outside to create a beautiful effect.
Project complete
With shed organisation firmly ticked off your list, it's time to start thinking about your next project.