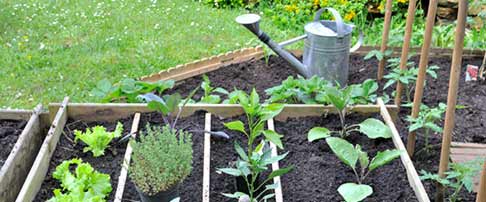 There's something satisfying about picking home-grown plump tomatoes, breaking off a few stalks of basil and plucking a bunch of salad leaves from your own garden.
Enjoy the fruits of your labour all year round by creating a kitchen garden from scratch.
Simply work through all the essential steps – planning, prepping and planting – then watch your favourite veggies flourish.
Project Overview
Tasks
Time needed
Step 1
Finalise your plans: where to position your veg patch and what to grow
About 2hrs
Step 2
Clear your site: removing turf, weeding and improving soil
About 1hr
Step 3
Get planting: it's time to sow your seeds
About 1hr
Step 4
Finish off with veg that need a little more TLC: pot planting
Less than 1hr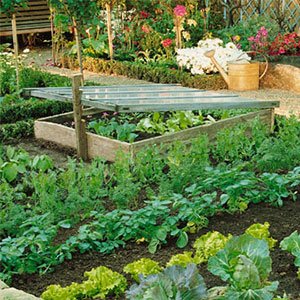 Step 1 – Finalise your plans
Plan your vegetable garden
Think about the best possible position for your vegetable patch to thrive. Vegetables need sunshine to grow – if you want to produce a bumper crop, choose a spot that'll get at least five hours of sun a day. Growing vegetables are thirsty too and need to be watered on a regular schedule, so it's best to place your vegetable patch in close proximity to your main outdoor water source.
Draw out a plan on paper and mark where you'd like to create your vegetable patch. How big your plot will be depends on the space you have to play with – an optimum width would be around 1.2m. The length is entirely up to you.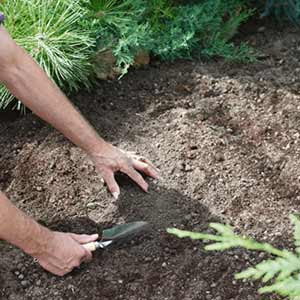 Step 2 – Clear your site
Prepare your patch
The first step is to prep your chosen site for the vegetable patch and remove any turf. To do so, you'll need to dig it up, which requires moist ground. Make sure you water it a few days before to make the process easier. Use a sharp spade to cut the turf into 1 foot strips. Pry them up one at a time, then slide the spade underneath each one to lift them from the ground, making sure to include the grass' fibrous roots. You can pile these up and turn them into compost at a later date.
Clear away the weeds
Get rid of any annual weeds, such as chickweed and shepherds purse. As you work around the plot, assess whether any perennial weeds are peppered throughout the grassy area too. Likely suspects, such as dandelions, buttercups and stinging nettle, need clearing before you begin planting. Dig them out all the way down to the root to eradicate them completely. Getting rid of weeds means you'll also remove the places where vegetable-loving snails and slugs tend to hide.
Enrich your soil
Once the area is weed-free, turn your attention to the state of the soil – it's one of the most important factors when growing vegetables. Rich soil will provide the right dose of nutrients they need to flourish and can help ward off disease. Improve the quality of your soil with garden compost, soil conditioner or well-rotted manure.
Protect your patch
If your patch is exposed to wind a windbreak will help keep your crops sheltered from the elements. Install an artificial windbreak around your vegetable garden facing the direction of prevailing winds.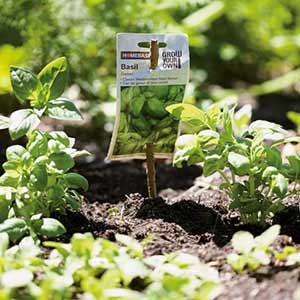 Step 3 – Get planting
Select your vegetable varieties
Decide which vegetables you'd like to grow, then map out where you're going to plant them, making sure they all have the space they need. Some vegetables can be grown from packets of seeds, some from seedling plants and potatoes and onions from seed potatoes and onion sets. Always plant them according to their instructions, it a good idea to create channels to sow each vegetable variety at the depth it needs.
Potatoes and onions need to be planted with their shoots pointing upwards, seeds can just be sprinkled, and beans and peas pushed gently into the ground, then cover them all with soil. If you're planting beans make sure they have some poles or a trellis to climb up. For a pretty and productive garden, plant French beans, courgettes and carrots for their delightful flowers and foliage.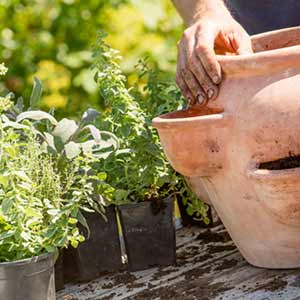 Step 4 – Pot planting
Plant up some pots
Some vegetables thrive in pots, so if you have limited space or just want to have some variety, try growing them in containers.
Dedicate one container to herbs. Chive, basil and coriander seeds only need 4-5 inches of soil to grow. Fill a pot with compost, pop in some seeds according to the pack instructions, and water.
Peas also grow well in containers and don't require much attention – perfect for a low-maintenance kitchen garden. Pack a container with soil then push some peas into the pot, then water lightly. For something a little more fiery, grow your own chilli peppers. Pour compost into a pot and sow the seeds on top, then simply water. If you want to keep things sweet and mix in some fruity produce – try growing your own strawberries.
Project complete
A few weeks later, your garden will be bursting with vegetables. Nothing beats feasting on produce you've tended to and grown with your own hands.