Take a look at Julia Kendell's ideas for making your child's bedroom a great place to sleep, play, do homework and store toys. As well as decorating advice, there are fantastic tips on everything from improving the air quality to encouraging your child to read more.
1. Paint colour block shapes
For a quick refresh in a child's neutral bedroom, add accent colours in colour blocks, which you can create easily using masking tape. Use low tack tape to create the shapes until you're happy with the arrangement and before you commit to painting. You can paint shapes in one colour, contrasting colours or different shades of the same colour. For a budget refresh, use sample pots of colour to paint the shapes. The good news is you can easily and inexpensively re-paint with a new colour when your child wants a different look.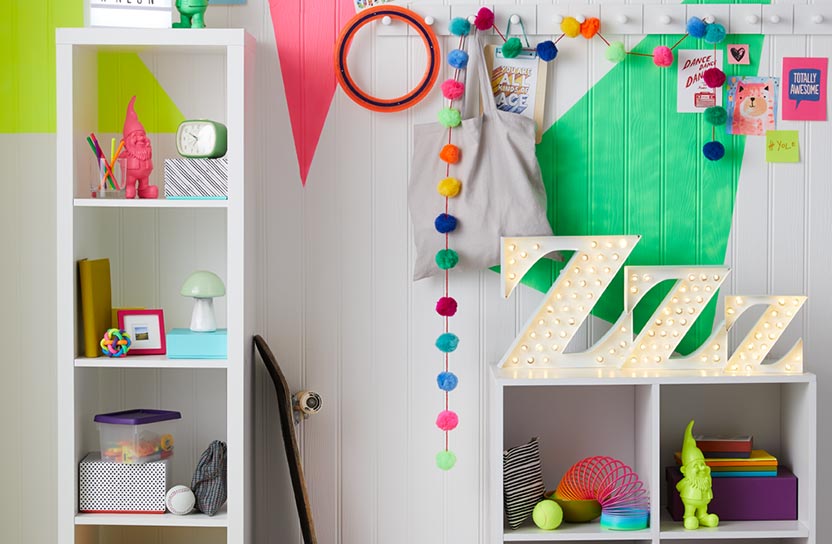 Products featured: Rust-Oleum Neon Pink Paint, Rust-Oleum Neon Yellow Paint and Rust-Oleum Neon Green Paint   
2. Maximise storage
If space is tight and you need to maximise storage possibilities, stack lidded storage boxes to make a bedside table that combines two purposes. Line transparent boxes with coloured sticky-back plastic to create colour combinations to suit the interior scheme.
Children enjoy order (sometimes difficult to believe!) so store groups of items in different boxes to keep toys, school and games equipment separated and easy to find. Even very young children understand colour-coding and storing like-with-like will help them keep their rooms tidy.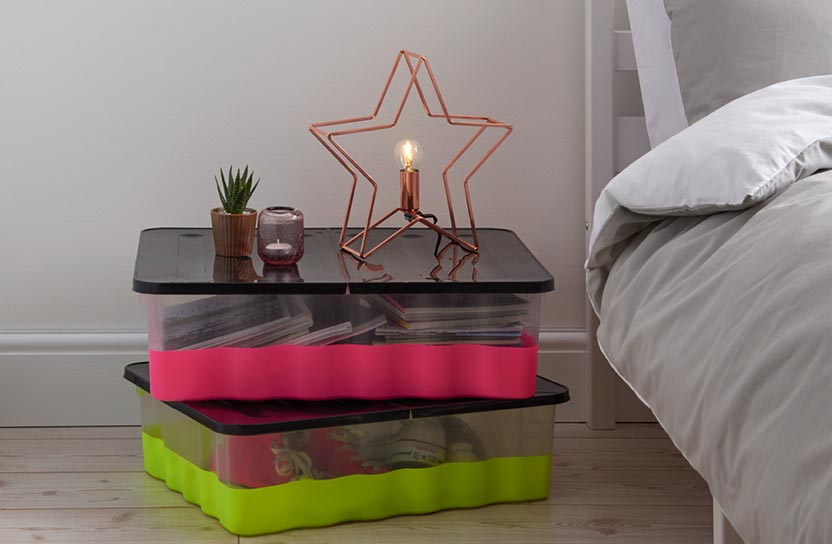 Products featured: Storage Boxes
3. Put up floating shelves for children's 'treasures'
Children love to display their treasures, collections and trophies they have won through hard work and effort. A 'treasures shelf' provides a daily, visual reminder of these achievements promoting self-worth and pride in success. Put up floating shelves for a neat and contemporary look, fitting them above reach of smaller siblings to prevent unfortunate breakages.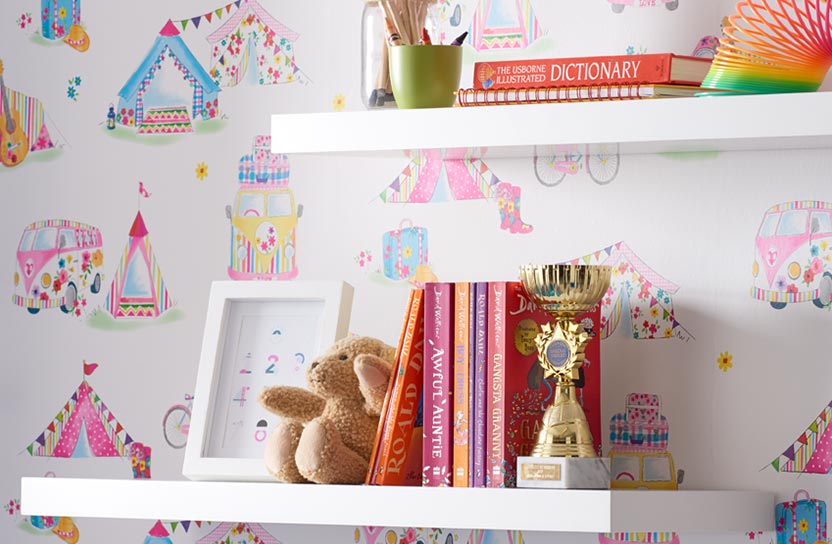 Products featured: White Floating Shelves
4. Get creative with string lights
Add a night time sparkle to a child's room using string lights to create shapes on the walls and to emphasise the interior theme. Create moons, stars and outlines of characters, or spell out your child's name. Form the shape with picture nails where needed, to create the outline, then feed the string of lights around each nail in a 'dot to dot' fashion.  Choose battery-operated lights, taking care to hide the battery pack behind a group of lights. A perfect and more interesting alternative to a night light!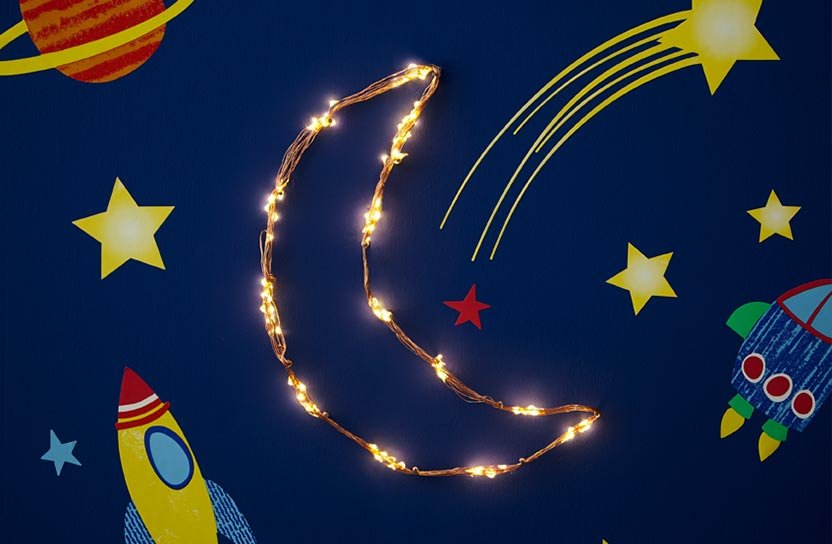 Products featured: LED Copper Wire Lights
5. Transform the door into a magnetic blackboard
A child's bedroom needs to be multi-functional incorporating sleep, play, homework and storage.  There's rarely enough space for everything so make the most of every inch of the room by utilising the back of the door for notes, using magnetic blackboard paint. Paint two or three coats of specialist paint to a prepared surface, adding in hooks to hold magnets and chalks. You can then use the door to leave daily reminders for things to take to school and homework to finish – or to write encouraging messages!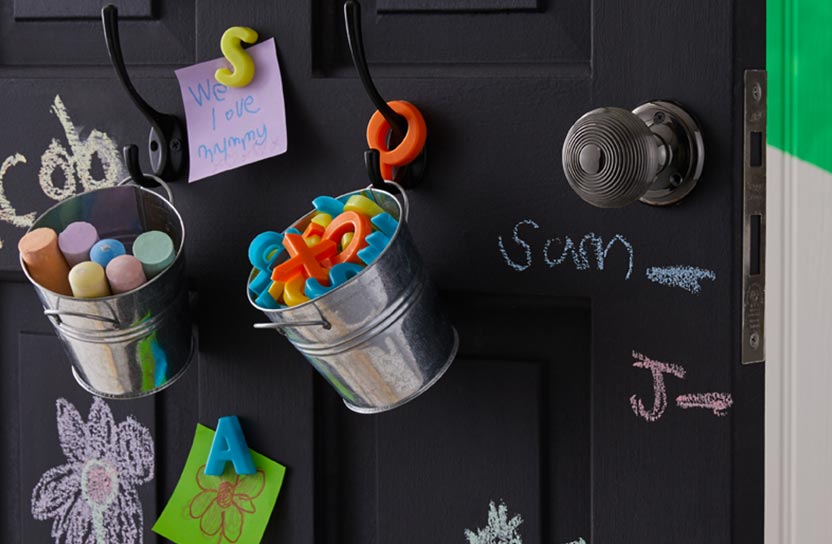 Products featured: Rust-Oleum Magnetic Chalkboard Paint
6. Improve the air quality with plants
With recent improvements in making homes airtight to decrease heat loss, the air quality indoors has worsened, causing increased problems with asthma and respiratory conditions.  Improve the air quality in your children's rooms by adding potted plants to naturally filter and clean the air. Choose interesting patterned leaves in funky, colourful pots to encourage the kids to look after their own 'indoor garden', promoting well-being and good health.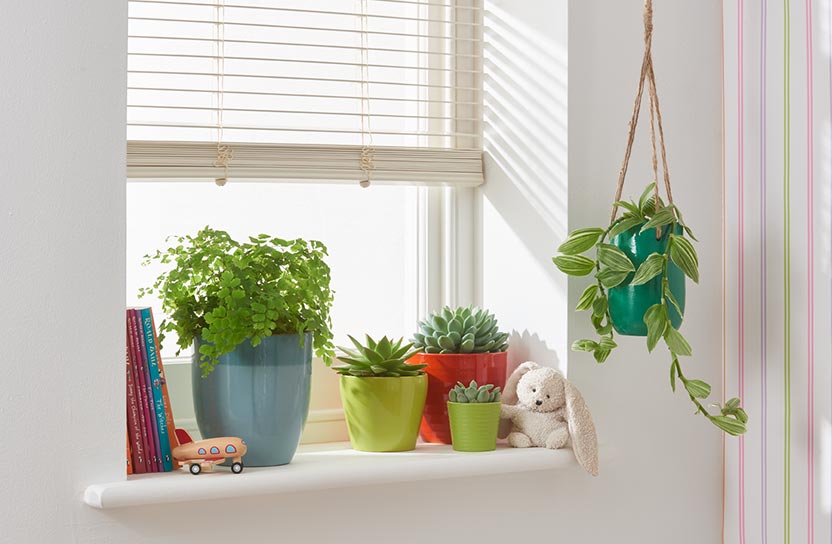 Products featured: Chalk Wood Venetian Blind, Stripe Pink Wallpaper, Two Tone Teal Pot, Ceramic Red Orange, Tropical Green Cover Pot, Mini Ceramic Plant Pots, Riviera Hanging Green Pot, Hanging Tradescantia, Succulent Plants, Adiantum Raddianum Fragrans Fern Plant and Echeveria Mix
7. Display books face-on to encourage reading
Children are more likely to choose books from brightly coloured, illustrated front covers than from a book's spine. Use shallow picture shelves (with a lipped front) to display books face-on, to encourage reading and to liven up a neutral bedroom. Fit them within easy reach of your child and create a snug and inviting 'reading corner' using squishy cushions or a beanbag and a soft rug. Make sure the area is well lit with either overhead lighting or a lamp that's strategically and safely placed.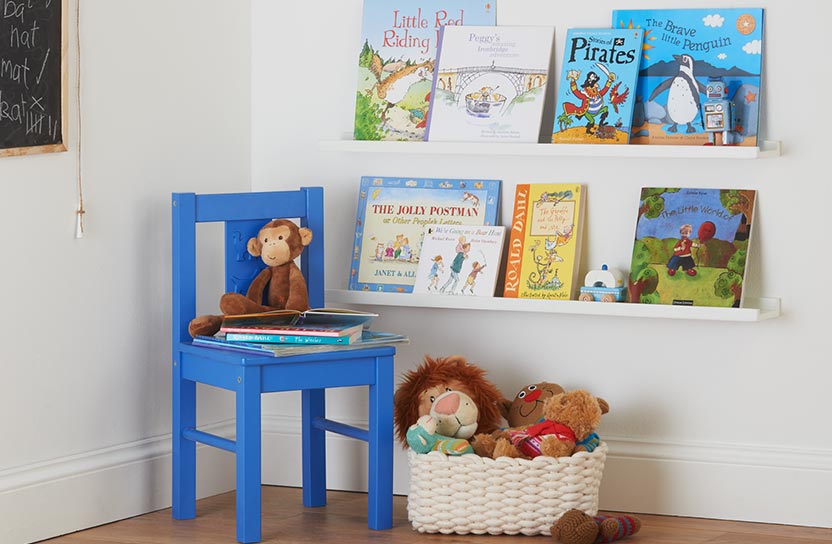 Products featured: Photo Shelf
8. Add some fun with a dressing-up cupboard
Upcycling an old, small wardrobe to become a 'dressing-up cupboard' is another easy way to add some fun and colour to your child's room and provide a tidy home for all their costumes. Remove the wardrobe doors, fill any holes left by hinges, paint throughout and wallpaper the interior in a colour and pattern to suit the room scheme. Add in a rail to hang the costumes on (making sure your child can reach), some hooks for hats and accessories and an all-important mirror for your child to admire their outfit! To complete the look, replace old drawer knobs with funky new ones.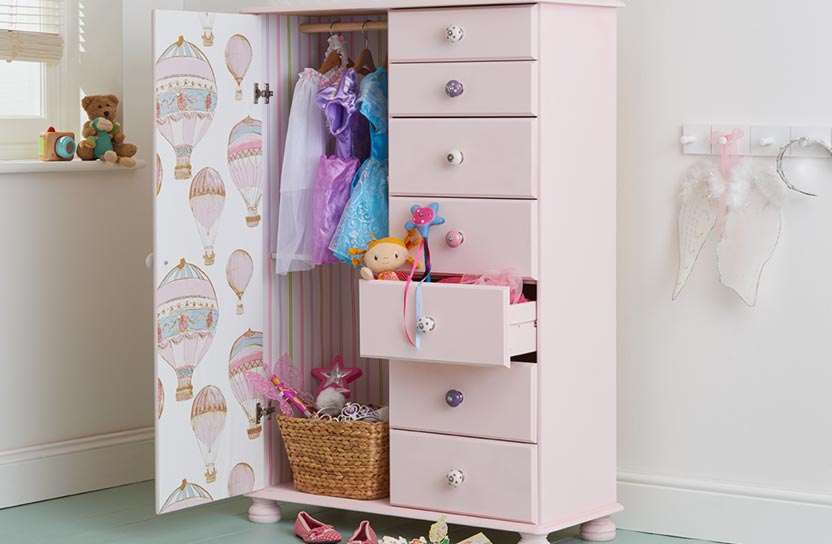 Products featured: Rust-Oleum China Rose Chalky Paint, Stripe Pink Wallpaper, Hot Air Balloon Wallpaper, Wooden Hook Rail, Pink Ceramic Door Knob, Purple Ceramic Door Knob, White Dot Ceramic Knob, Colour Dots Ceramic Knob and Ceramic White & Chrome Knob
9. Store toys in wall-mounted flower baskets
Metal, wall-mounted flower baskets are a brilliant way to keep soft and larger toys off the floor and neatly out of the way.  Spray them in bright or metallic colours for inexpensive and super-strong storage for toys, using different sizes to suit different types of toys. Use several light coats of paint, allowing drying time in between, for an even finish. Fit at a height accessible to your child and secure well, using fixings to suit the wall structure.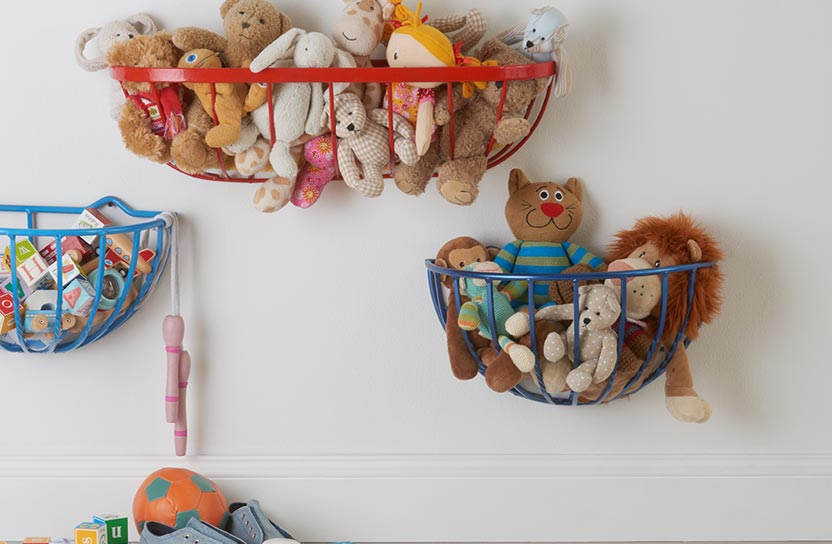 Products featured: Farmhouse Trough, Craig & Rose Dark Blue Metallic Effect, Rustoleum Spa Blue Spray Paint and Craig & Rose Artisan Hotlips Gloss

10. Paint a message on the ceiling
The ceiling is often ignored, yet it can be a great surface to decorate and even a small detail can have maximum impact.  With a flat surface, stencil or add sticker typography with a message of your choice. To achieve the best result, take time to position your message carefully before committing to it with paint. A metallic finish will reflect both daylight and artificial light and will shine against a darker ceiling colour. What better way to send your child off to sleep?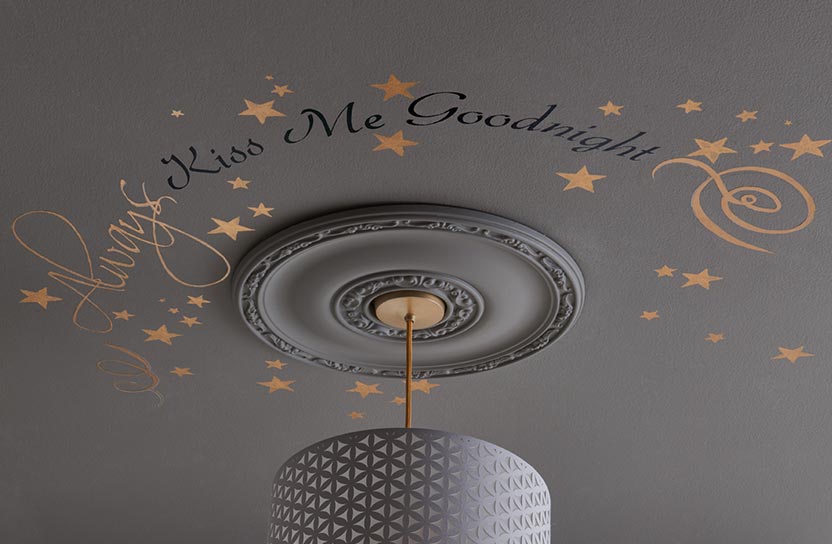 Products featured: Craig & Rose 1829 Chapelle Chalky Emulsion, Ceiling Rose, Lucia Flower Grey Lamp Shade, Fine Decor Always Kiss Me Quote, Rust-Oleum Gold Paint, Rust-Oleum Stencil Stars and Rust-Oleum Metallic Leafing Paint Pen