Summer is fast approaching and it's time to get your outside space back into shape.
With lots of work to be done after the wet and frosty winter months, Powerbase by Homebase has you covered.
Just launched is our Powerbase range of chainsaws that are perfect tools for assisting with otherwise heavy lifting jobs or tiresome axe chopping. Such as fallen and overgrown trees, chopping logs for firewood and cutting up garden waste so it's easier to take to your local recycling centre or shredder.
Before we help you decide which chainsaw to buy, let's discuss what your chainsaw's features mean.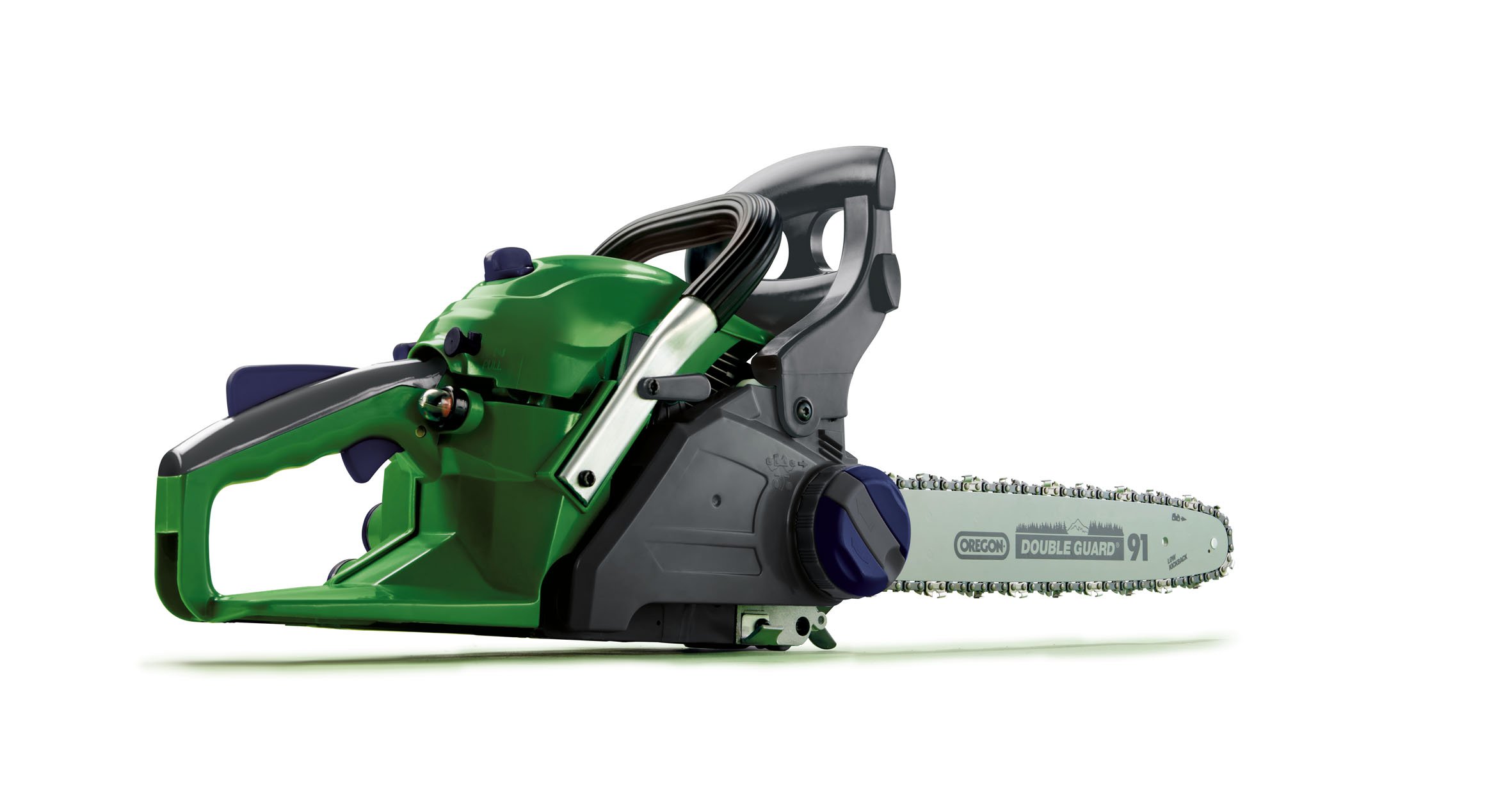 M/s = metres per second. This is about how quickly your chainsaw can cut through materials. The higher the number, the speedier the performance.
Bar length = the length of the cutting bar. So, the bigger the bar, the bigger the log you can cut.
Chain tension = the chain adjustment. This is the tension your chain maintains during use to ensure it remains safe. If your chain becomes loose while cutting, it can become dangerous.
Kickback brake = the safety function. Kickback occurs when the chainsaw tip hits another object and throws itself backwards towards the user. Therefore, many models will come with a kickback brake to automatically force the chain saw to stop.
V = volts. This is the power of your chainsaw's battery – the more power, the better the performance.
Ah = ampere hour. This measure's the electric charge and capacity of the chainsaw's battery. The higher the capacity, the longer the battery will last until needing recharged.
This is a 2-stroke 41cc petrol chainsaw that is perfect for cutting logs and branch pruning. Its 40cm Oregon bar length and 21m/s chain makes for effortless cutting, plus it comes with the added benefit of tool-free chain tensioning and a kick back safety break for extra security.
There's also no need to worry about having to stop to re-fuel as it's got a tank that can hold up to 260ml, so you'll be able to get through plenty of your to do list.
The Powerbase 40v Cordless Chainsaw provides a lightweight and practical solution for your cutting requirements. It comes with two powerful 20v, 2.5Ah batteries and a 2-hour dual port charger.
The chainsaw is supplied with a 25cm Oregon bar and chain, as well as an 8.5m/s speed for great quality cutting and longevity.
Plus, it features a tool free chain tensioning function and kick back safety break for extra security. And as it's cordless, you can take-on any job without the restriction of cables and power points.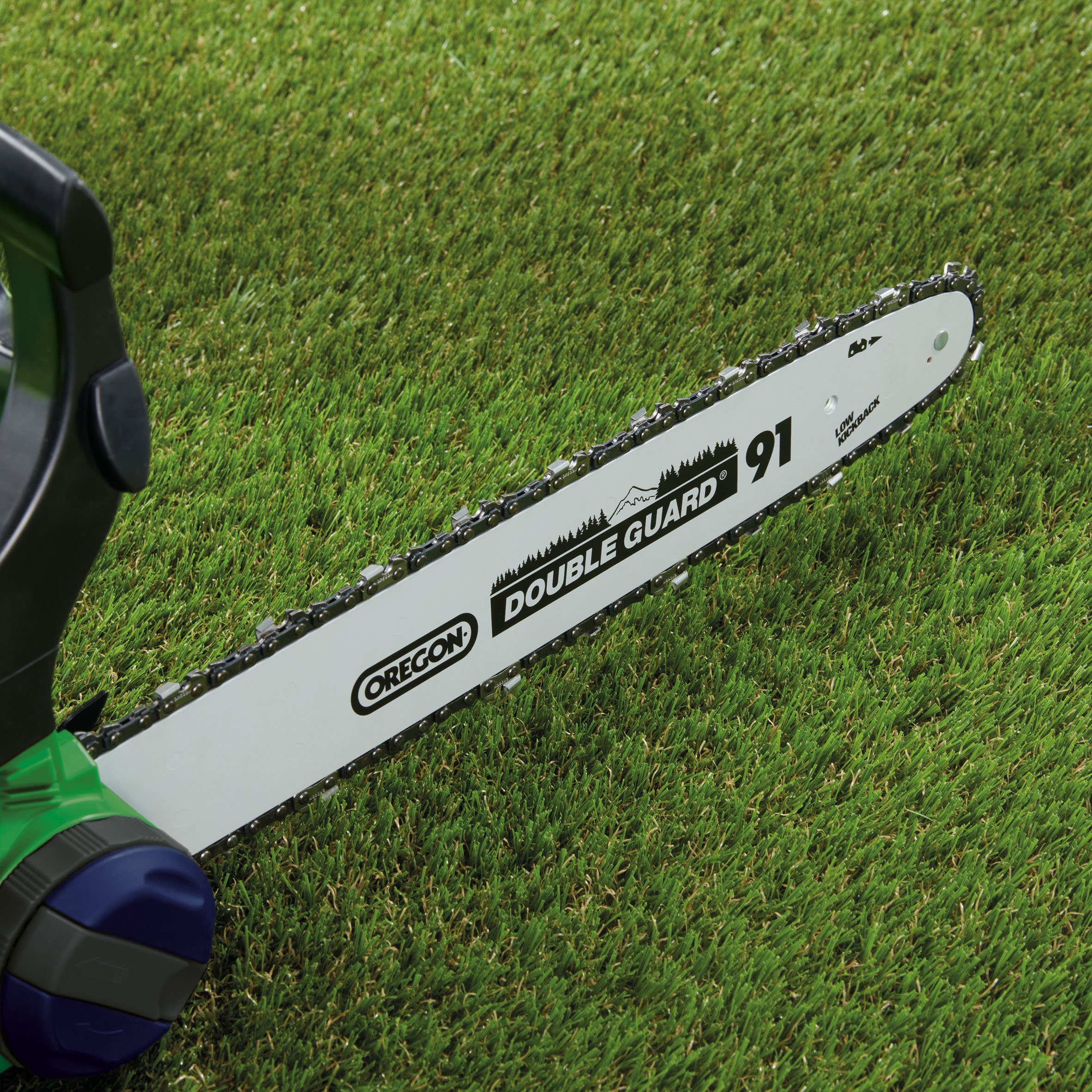 How to choose
When choosing which Powerbase chainsaw is right for you, it's good to think about the tasks you are most likely to need it for.
A petrol chainsaw delivers the most power and speed, and therefore is best suited to bigger cutting jobs and more experienced users. However, they are noisy, heavy and require regular maintenance plus the petrol and engine oil to keep it running.
While a cordless battery-powered chainsaw is ideal for smaller jobs, they're also a lot quieter and lighter than petrol but they are less powerful. They also require little to no maintenance.
Safety first
Whichever Powerbase Chainsaw you choose, you must ensure you always wear the appropriate protective gear such as ear and eye protection and a dust mask while using it.
Need somewhere to store your new chainsaw? Check out our Outdoor Storage Buying Guide.