Paste-the-wall wallpaper is a special paper which only requires you to paste the wall and hang the paper. This type of paper is an ideal option if you want to decorate quickly and easily and cut out the time consuming processes that regular wallpapering requires. No pasting table is required and you don't need to wait for paste to soak into the paper before it is hung.
Difficulty rating: Low
These tasks should be fairly straightforward, whether you have experience doing DIY or none at all.
Before you get started on any of our 'how to' guides, please take a moment to read through our DIY safety tips.
What You'll Need:
Step 1: Cleaning the wall
Once all of the paper has been removed, you should be sure also to remove any residual paste left behind. Continue to soak patches of the wall where there is residue with your stripping solution, and gently lift the residue using a stripping knife. This will ensure that the wall is even for painting or a new layer of wallpaper.
Once the residual paste has been lifted, wash the entire wall using hot soapy water, and dry using a clean towel or rag.
Ensure that your walls are fully stripped of any existing wallpaper, here is a short video on the steps to remove wallpaper.
Step 2: Decide the order of hanging
Start all-over patterns at a window. Then work away from the window in both directions towards the darkest corner of the room.  Large patterned coverings should be centred on the chimney breast. If the room has two adjacent windows, the covering should be centred between them.
Step 3: Draw a vertical line down the wall
Using a plumb line, draw a vertical line with a pencil down the wall you are going to start papering. This will ensure that your pattern will remain straight and avoid the pattern looking diagonal, especially on long walls.
Step 4: Paste the wall
Using a roller or a brush, add an even layer of all-purpose wallpaper paste to a section of your wall.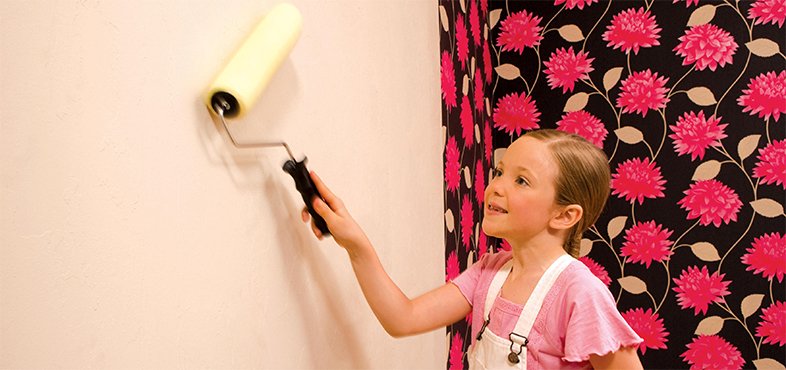 Step 5: Hang your paper on the wall
After you've cut the wallpaper roughly to length, hang it on the wall over the pre-pasted section.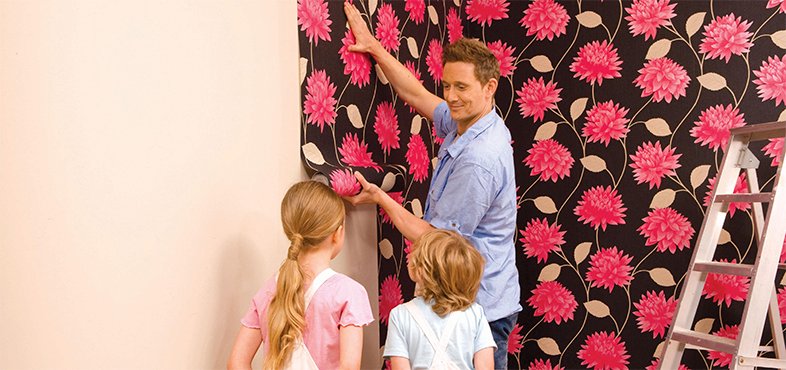 Step 6: Smooth and trim to finish
Smooth the wallpaper into place using a brush and trim the top and bottom using a decorating knife.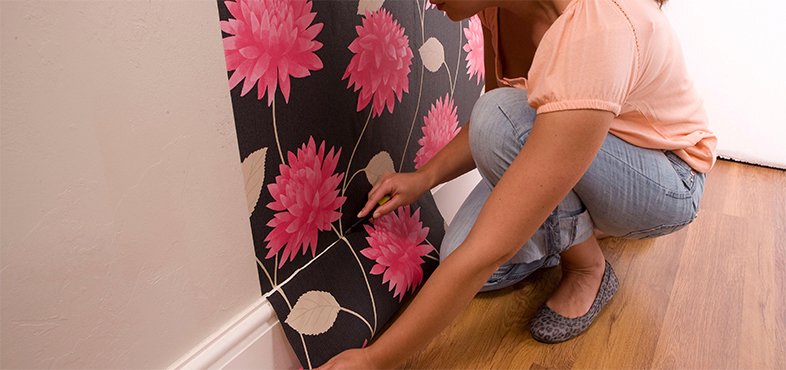 Top tips:
Occasionally, edges on darker paper can start to show. Rubbing a water soluble crayon along the edge of the paper can help to disguise this.
A strong all-purpose wallpaper adhesive is ideal for hanging paste-the-wall wallpaper. Always paste a small section of the wall at a time. If you prefer to paste the paper, you can do, it will still be quicker as you don't need to soak the paper.
Pattern matching
If you are matching a pattern, this type of paper is ideal. It slides easily on the wall to allow for matching yet it remains dry to the touch on the outer so it's a lot less messy.
Using lining paper
Paste-the-wall wallpaper can be hung over lining paper if you prefer. Lining paper creates a smooth surface for hanging wallpaper, for a perfect seamless finish hang the lining paper horizontally.  You may discover a few air bubbles to begin with but they will disappear as they dry out.
Hanging a border
You can hang a border over paste-the-wall wallpaper.  We recommend using a vinyl-to-vinyl adhesive and to paste the border before you place it on top.
Easy to remove
You can easily peel of paste-the-wall wallpaper when you want to redecorate. From the base of the wall, lift a corner of the wallpaper and peel upwards. No soaking time or steaming is required.