Sliding wardrobes are a stylish storage solution when your space is at a premium. With designs to suit every lifestyle and budget you'll be sure to find the wardrobe that looks best in your home, and if you still need help, our free planning and design service is there for inspiration and advice, or we offer a range of pre-made sliding wardrobes for those looking for an off-the-shelf solution.
1. Measure and plan your space
Decide where you'd like your wardrobe, then follow our video below to measure the dimensions of your wardrobe's final location.
Choose your wardrobe design
Consider the décor of the room you're planning to have the wardrobe in, then choose the most complementary design from our range. You can either choose a pre-designed style or customise it to your exact specifications
Single panel sliding door design
Three panel sliding door design
Four panel sliding door design
Pick your sliding doors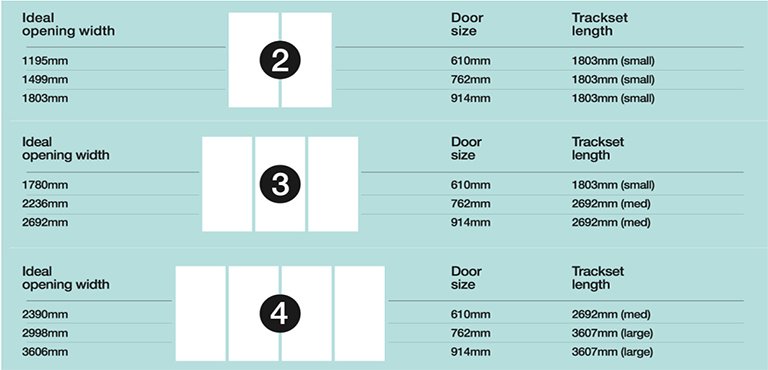 Find your favourite finish
Once you have the style you like, you can focus on the finish. You could choose something that matches other furniture in the room.
We have a range of finish options available in many variations for a design statement of your own. These 8 finishes are available in our fixed size as well as custom-made doors.
3. Get your wardrobe on track
Having picked your door style and size, you'll need the right sized tracks for them. For custom made designs the tracks are included, but if you're creating your own design you'll need to purchase them separately. Tracks are available in 3 different lengths, in a silver or white finish and can be cut down to your required length.
4. Give your clothes a home
Designing the inside of your wardrobe is as important as the outside as you need to make sure you make the most of your storage space. With accessories like hanger bars, trouser racks, shoe racks, shelves and drawer units there's everything you need to keep your clothes and shoes looking their best.
There are 2 types of internal storage systems: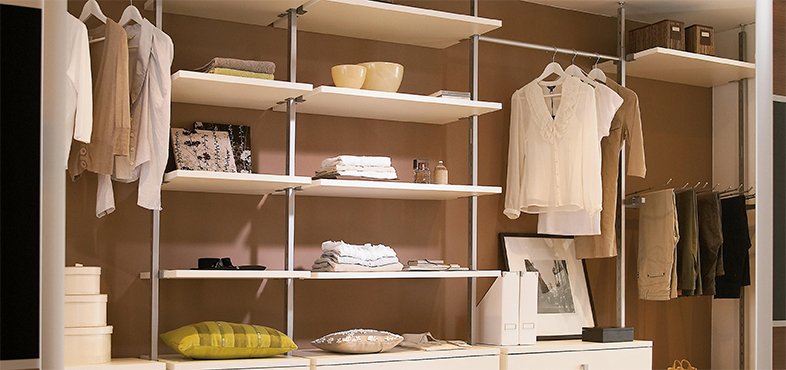 The Aura storage system
A floor-to-ceiling system for ceiling heights between 2.11m and 2.7m. The accessories hook into the telescopic upright poles and can be arranged and changed according to your needs.
Key features:
Quick and easy to install
Telescopic posts fit floor to ceiling (from 2.1m to 2.7m)
'Space intelligent' allowing you to move or add components whenever needed
Wide range of accessories to maximise storage capacity
Silver painted steel system
Shelves and drawer units available in White and Oak effect finish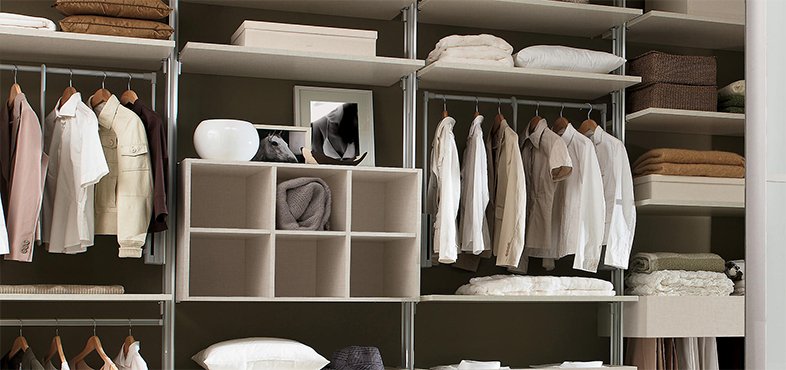 The Relax storage system
This system can use horizontal poles in addition to the upright ones to allow you to position the accessories with even more precision, which is ideal for storing large or awkward items. You can also use it if your ceiling is over 2.7m.
Key features:
Lots of configuration options for your storage
Anodized aluminium finished posts
Floor to ceiling & floor to wall post options (max height 2700mm)
Has a large variety of innovative accessories
Available in wood & linen effect finishes
Features soft close drawers
5. Add the finishing touches
It's the little extras that will give you the best results on your new sliding door wardrobe, below is a selection of the parts that will help you get a professional-looking finish.
End panels
Sliding door wardrobes can also be created using end panels. End panels are large sections of timber used to create and artificial end for the doors to run up to, supplied in finishes that match the doors.
Spacer & fixing blocks
Spacer blocks are similar to the opening height reducer but this covers a gap to up 120mm.
Fixing blocks are used to fix end panels to existing walls.
Opening height reducer (OHR)
If you have a gap between 127-457mm, the OHR can be used to fill this space. You screw the OHR into your ceiling and then screw the track to the bottom. An end fillet or panel can be used to cover over the OHR.
Angled ceiling brackets
These brackets are used in conjunction with Loft doors or sloping ceilings. They allow the top track to be fitted to any angled ceiling. They cover an angle between 30-90⁰.
How do I assemble my sliding wardrobes?
If you feel you have the required skills, you can use our guide and the instructions provided to install your own sliding wardrobe.
How long will it take me to assemble my sliding wardrobes?
Assembly time varies from 4 hours to a full day, depending on the complexity, size and style of the sliding wardrobe you choose.
The right sliding wardrobes can transform your bedroom, and give you the additional storage space you're after – take a look at Homebase's wide range of sliding wardrobes today.