This weekend, put some time into designing an herb garden that's both pretty and practical.
Discover the herbs that are most likely to feel at home in your beds, or on your patio area or window ledge.
Project Overview
Tasks
Time needed
Step 1
Planning: take a stroll through your garden and consider your planting priorities. What type of herb garden will work for you and your space?
About 1.5hrs
Step 2
Preparation: whatever type of herb garden you've chosen, you'll need to get it ready for planting. It's time to get digging, mulching over and preparing those pots.
About 2hrs
Step 3
Planting: It's time for your herbs to move into their new home.
About 2.5hrs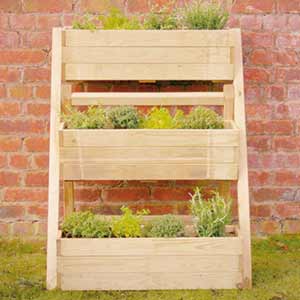 Step 1 – Planning
Herbs are a great addition to any garden, as well as interesting foliage and enticing scents they add to your garden you can also pick a quick flavour enhancer for your meals.
Plan out your herb garden
Before you start, think about what you want your herbs to bring to your space. Will your focus be on introducing aromas and colours that attract butterflies and bumblebees, creating attractive foliage or adding flavour to food? Or, perhaps you'd like to plant a garden that provides a little of everything?
Location is key when it comes to growing herbs. Finding a sunny spot is a great start when planning where your herb garden will go, though you'll be surprised how many herbs sit happily in slight shade. For the most part, herbs like soil that has good drainage but retains moisture and has a pH that sits somewhere between normal and alkaline.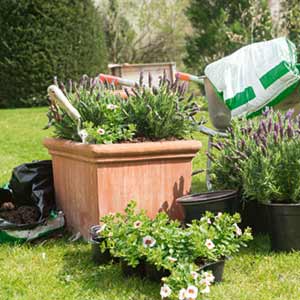 Step 2 – Preparation
Planting in the ground
If you're planting straight into the ground you could try creating some different placements of the potted herbs before you plant them. You can either trying arranging them naturally without any uniformity or you could plant them in the shape of an ornamental herb wheel to create a more symmetrical and organised look.
For planting in the ground, your first job is to dig over the area and enhance the soil to create the ideal conditions to allow your herbs to flourish. Sandy soil tends to drain well, so it's just a case of adding your organic matter and compost to make your bed nice and fertile. You can improve the drainage of heavier clay soil by mixing in a little grit along with your matter and compost.
At this point, it's often wise to do some mulching. By spreading mulch across the top of your soil you preserve its moisture and you'll also help to keep weeds at bay.
Planting in containers
For those working with pots or window displays, it's a simple case of adding a suitable compost and fertiliser to your containers. Again, look for something with a bit of grit that drains well. You could also make use of raised beds to give your herbs plenty of breathing space.
If space is at a premium, you may want to consider a vertical planter or a window herb garden that slots onto a ledge.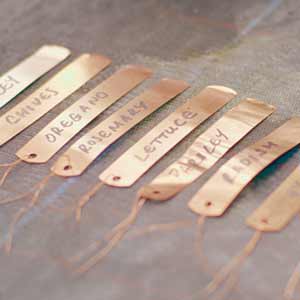 Step 3 – Planting
Choosing your herbs
Whatever you're aiming for visually, it pays to be mindful of which plants work well together. The likes of basil, dill, parsley, chive and even coriander are some of the best plants for herb gardens as they all make happy neighbours. Hardier plants such as sage, rosemary, thyme and lavender stand up to each other well and tend to fair better in less moist soil.
There are also strong plants that do well to have their own space. Mint, for example, spreads rapidly if it's not contained. Planting different varieties of mint side by side can lead to hybridisation too, so if you'd like to incorporate mint somewhere, select the variety and positioning wisely.
Planting your herbs
At this time of year, you can choose to sow the seeds of many herbs directly into moistened soil. If you'd like to speed ahead with your growing using potted plants, knock them out and handle by their leaves, placing roots just below the surface as the go into the ground. Firm the plant down carefully using your hands or feet and water with your watering can.
If you're planting to pots or containers, be sure to repot them from time to time, as this will help your herbs get the best from nutrient rich surroundings.

View our guide on herbs & their uses

Shop herb seeds
Project complete
With your herb garden complete, you can put your feet up and start thinking of all the wonderful ways you're going to put your herbs to use.