With so many colours, finishes and materials to choose from, there's lots of ways to create a worktop with personality – even on a smaller budget.
Alongside our online and in-store worktop ranges, we also have a wealth of bespoke granite, Corian and quartz worktops available via special order. Book an in-store kitchen design consultation with one of our specialists to find out more. They will be able to take you through the full design process and help you make the most of your space.
Guarantees:
Our granite, quartz and Corian worktops come with a 15 year product guarantee
Maia and Minerva worktops come with a 10-year product guarantee
Solid wood and laminate ranges come with a 1 year workmanship guarantee (when using a Homebase accredited kitchen installer)
Laminate
Functional, chic, and good value for money, our large range of laminate worktops comes in numerous colours and finishes.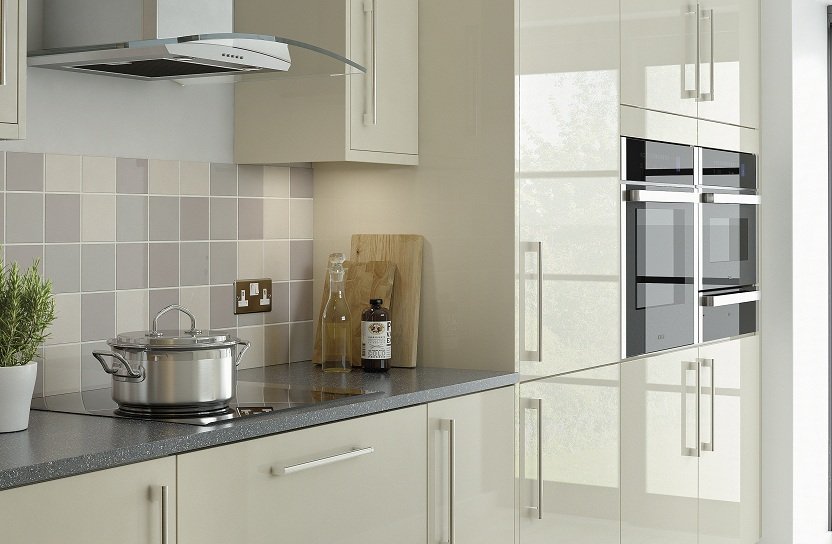 Affordable
Wide range of colours and finishes
Resistant to wear and tear
Can withstand temperatures of up to 135°C
Premium laminate with a more detailed and textured finish is also available
View the laminate styles available and book your free kitchen design consultation.
Granite & quartz
A granite or quartz worktop glows with a lustre that makes it a work of art in its own right. Granting your kitchen unmistakable elegance when polished, its unfinished form also adds a natural, traditional feel.
Premium quality
Hand-crafted and hard-wearing
Long life, requires low maintenance
Resistant to chemicals, heat and water
No risk of spills seeping inside and causing damage or staining
Highly hygienic and resistant to a number of bacteria
Curved options available
To select and order your granite or quartz worktop, book your free kitchen design consultation at your local store.
Maia
A top-quality option without the high-end price tag, maia is made from natural minerals, giving you a beautiful yet incredibly durable worktop, with seamless joins and a silky-smooth finish.

High quality
Impenetrable to dirt, dust and bacteria and easy to clean
Incredibly durable
Glass-effect
Curved options available
Free care kit
Click here to view the depths and colours available at Homebase.
Solid wood
Easy to cut and install, with a range of colours and textural patterns, solid wood brings traditional style to your kitchen. Solid wood will need regular oiling at first (weekly for the first 6 weeks), however after this initial period, oiling can be reduced to once every couple of months. Teak oil is ideal for this and should be applied using a lint free cloth in the direction of the wood grain. Oiling gives a stunning lustre to the wood and will beautifully scent your kitchen for a few hours after application.

Natural warm feel
Very hygienic and resistant to bacteria
Wood colours mature with age
Scratches and marks can be sanded
Can be cut to any shape
View our solid wood worktops. Speak to one of our kitchen design consultants about bespoke options for your kitchen.
Minerva
This practical yet premium work surface uses state of the art technology to deliver near seamless joins. A luxurious appearance and robust performance day in and day out.

Gives the appearance of real stone
An affordable way to personalise your worktop – choose a shape and edge profile of your choice
Heat, scratch and stain resistant
No specialist installation required
View our Minerva kitchen worktop range.
Top tip:
View our handy guide to replacing your worktop before starting your DIY project. As always, ensure you follow the safety advice and consult a professional fitter if you don't feel completely comfortable carrying out the job yourself.