Our love affair with white is never-ending. The king of versatility, it blends harmoniously with any shade. There are plenty of benefits to incorporating white in your bathroom: it's a colour that never falls out of style, it's great for making a space feel bigger, and it creates the perfect blank canvas to let accent colours sing.
Explore some of our favourite white bathroom design ideas and create a calming sanctuary that's guaranteed to outlast the trends.
Elegance in white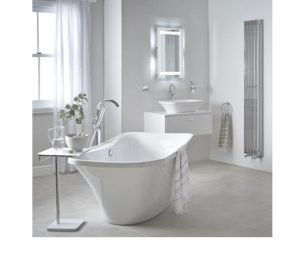 A white bathroom can look ultra-chic and feminine when decorated with ornate pieces. Pick out sculptured furniture with plenty of curves. This will not only break an all-white space up but will also lend a feeling of luxury.
You can't beat a freestanding bath for a touch of high-end glamour. An illuminated mirror will draw focus to how clean and serene the space is. Opt for marble-effect floor tiles for a luxe contrast, or choose pale wood flooring for a rustic twist.
Scandi-chic
Our recent obsession with Scandi has propelled white into the limelight. A Scandi-themed bathroom is the definition of white done to perfection.
Get the look by combining white with muted accent colours, such as grey, to create a relaxing atmosphere while still offering a minimalist feel. Style a statement grey vanity unit with a rounded freestanding bath and add rose gold touches to create a cool Nordic look that your guests will envy.
Beautifully botanical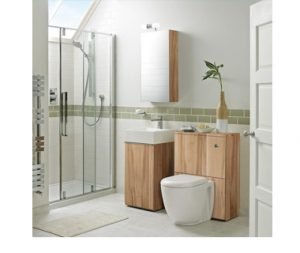 Embrace white's refreshing qualities to create a bright, nature-inspired scheme. Injecting colour into the room by way of a tiled border is a simple way to contrast against an all-white backdrop and provides big impact for minimal effort.
Combine white with shades of green for a rejuvenating botanical feel. Wood-effect furniture will contrast perfectly and enhance the natural feel. Alternatively, blue and white is a classic combination that will create a charming, nautical theme in your bathroom.
Monochromatic
A mostly-white bathroom looks especially good when accented with black. When designing a monochrome bathroom, try not to overthink it – incorporate subtle hints of black wherever it feels right.
This could mean introducing a black framed mirror or painting the window ledge black. Alternatively, you can make a statement with black and white checkerboard flooring or an all-black feature wall. Incorporate glossy white furniture for a truly sophisticated look and add a bold splash of colour with bright accessories, like towels or a vivid shower curtain.
Eye-catching feature walls
A white bathroom is a great platform for showing off statement features. Let your personality shine through by choosing fun and unique colours and patterns to showcase in your bathroom.
A vibrant feature wall can act as a distinctive focal point, especially when styled behind flagship pieces such as the bath. And because white is so versatile, you can choose virtually any colour or pattern to show off, whether it's boutique-inspired florals or a blast of your favourite shade.
A zen den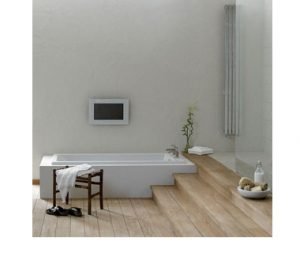 Want to create the ultimate relaxing retreat? Take note from Japanese interiors and adopt an entirely white theme with barely any clutter – the less the better. Japanese style is centred upon simplicity, and so maximising on space and light is essential.
Make the most of your existing layout by choosing modest furniture with sharp lines to create a feeling of peace and harmo