When it comes to buying paving, there are a wide variety of material and paving slab options to choose from, which can make the task of laying a patio seem daunting. This guide will take you through the process of buying the perfect paving so that you can transform your garden with ease.
Patio material types
Our range of hard-wearing paving slabs come in a range of materials and colours. This means you have plenty of options when you come to design your patio. Most paving materials, including the below, are low maintenance. Only occasional cleaning is required to maintain their high-quality resistance and appearance.
Limestone
Limestone's natural clean and crisp feel provides the perfect look for both contemporary and traditional settings.
Concrete
Made from natural mix stone chippings, concrete slabs are a durable paving option with plenty of colour options.
Slate
With its characterful, hand-selected pieces, natural slate adds timeless style to any patio, whatever the setting.
Granite
This material offers consistency in colour and sharp edges that will create a contemporary, refined look.
Porcelain
This stylish and elegant paving option is scratch and stain resistant. To maintain its high resistance, it's best to remove any leaves and dirt by washing down with water every so often.
Block Paving
Block paving can create neatly patterned surfaces that add subtle decoration to your garden. Whether you're designing your patio yourself or using one of the Homebase pathway patterns below, you can create a variety of stylish and elegant designs.
Circles and circles with corner kits
Available as part of the Homebase premium product range, the circles and circles with corner kits make a striking addition to any garden, either as a standalone feature or an integral part of your patio.
Mixed size patio packs
For extra convenience, the most popular ranges are available in convenient packs to suit both large and small gardens. Consisting of a set number of different size slabs, they cover a predefined area, allowing you to create patios and pathways quickly and easily with versatile laying patterns.
Gravel paving
Gravel paving is a low maintenance alternative to a traditional paving system. Not only can you create curves and waves easily, but gravel paving can also go alongside other paving features. Choose from a range of colours and textures to create the effect you desire.
If you do want to create a gravel paving system, you will need the following accessories to help you achieve a sustainable design:
Set a waterproof membrane before laying any gravel down to produce a weed-free patio with cleaner edges.
Gravel Pave System Packs are hard-wearing interlocking bases that help keep gravel or stones in a set place. This structure is needed if you're creating a driveway or pathway.
You may not know how much you'll need so it can be a good idea to buy gravel in bulk.
How to choose a paving pattern
When it comes to laying paving, there are a number of patterns to choose from including the stretcher and herringbone patterns, the basketweave design and more. Discover a range of paving patterns in the helpful video below:
How many paving slabs will I need?
Individual Paving Calculator
Paving size (mm)
No. of slabs per m²
No. of slabs to cover 5m²
No. of slabs to cover 10m²
600 x 600
3
14
 27
600 x 450
4
18
36
600 x 300
6
 27
53
450 x 450
5
 24
47
450 x 300
7
 35
70
400 x 400
7
32
63
300 x 300
11
52
105
Patio pack calculator
Patio Packs: Flag Sizes, Quantities & Total Coverage
Patio pack range
Example flag sizes (mm) & Quantity per pack
Total m²
Natural stone paving
Natural sandstone
300mm x 300mm x 16,
450mm x 300mm x 18,
450mm x 450mm x 15.
11.52 m²
Sawn limestone

400mm x 400mm x 92.

Or
600mm x 200mm x 92.

15.31 m²

Or
11.48 m²

Natural slate
300mm x 300mm x 2,
450mm x 300mm x 3,
450mm x 450mm x 4,
600mm x 300mm x 5,
600mm x 450mm x 7,
600mm x 600mm x 3.
5.5 m²
Concrete paving
Winchester patio pack
450mm x 450mm x 152.
30.8 m²
Cambridge patio pack
450mm x 450mm x 80.
16 m²
Hereford patio pack
450mm x 450mm x 100.
20.25 m²
Laying patterns for mixed sized patio packs
Patio pack laying patterns vary from range to range. Pattern options for mixed size patio packs are available on the Homebase website. These illustrations show an example of the kind of effects that can be achieved.
Laying pattern A:

Laying pattern B: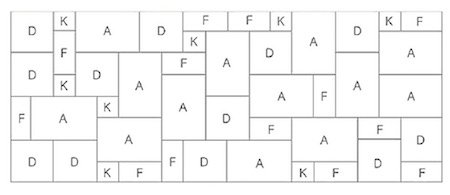 Paving accessories
Choose from our range of stylish accessories to add those important finishing touches to your garden design.
Membranes
A membrane is an essential accessory for laying a patio. Made from a lightweight polypropylene material, a waterproof underlay helps prevent damp, which can cause your slabs to crack in the winter. A weed suppression membrane allows you to create a clear surface, free from plant growth. This is ideal if you want a clean finish when you lay chipped bark, pebbles or gravel in your garden.
Trellis
Installing a decorative trellis can transform your space into a design haven. From classic lattice patterns and bamboo rafts to Rowlinson Garden Creations Horizontal Screens, enjoy creating a relaxing atmosphere in your garden.
Decorative planters
Find the perfect home for your plants by decorating your patio with stylish planters. With a variety of colours, designs and sizes, you can choose a style to suit your garden. For a modern flair, the Oxy-Shield Podium Garden Landscape Ring is an innovative way to display your plants and create a gorgeous accent to any patio or stone feature.
Awnings
Create a cool shady spot on your patio with an awning. With a variety of sizes available, you can find the perfect fit for your patio. Awnings are also great for keeping your patio furniture protected from rain showers so you can spend more time enjoying the outdoors no matter what the weather throws at you.
Edging
Finish off your garden by cleaning up the edges of your flowerbeds. There's a wide range of materials to choose from to help you create the edging you want.
Round top edging
Simply styled, round top edging is a complementary feature to paving and will provide your outdoor living space with quality, natural-looking boundaries.
Scalloped edging
Scalloped edging offers flowing curves and clean lines, helping to contain your garden areas stylishly and efficiently.
Full rope edging
Full rope edging combines tradition and functionality to achieve a classic effect for your garden border and is well suited to stone patios and gravel fittings.
Natural stone edging
With its subtle tone and natural look, natural stone edging adds a touch of class to garden boundaries in any setting.
Stepping stones
Stepping stones add character and charm to your garden and can provide a quick and practical solution for linking one area of your outdoor space to another. Place them among grass, stones or gravel for a playful design.