What You'll Need:
Step 1. Planning your patio
Once you've decided where your patio is going, draw a detailed plan to scale on graph paper. Put in all the dimensions of the patio area.
Mark permanent fixtures on the plan – the house, walls, fencing and manhole covers. You have to pave around the covers and they can affect the level of the patio. Also mark on trees and large plants.
If you don't want to cut slabs, go for a 'chessboard' layout, or one of the ranges that come with half-slabs.
Staggering paving (like a brickwork finish) or laying a random pattern of differently-sized blocks usually means you'll have to cut slabs to get a straight border. Seek advice before you cut slabs.
The surface of your patio must be at least 150mm below the damp proof course of the house so rain doesn't bounce off and hit the wall above.
Your patio must have a gradual slope away from the house to ensure all water drains off. Allow a drop of about 25mm in every 1.5m, or alternatively install a drainage channel.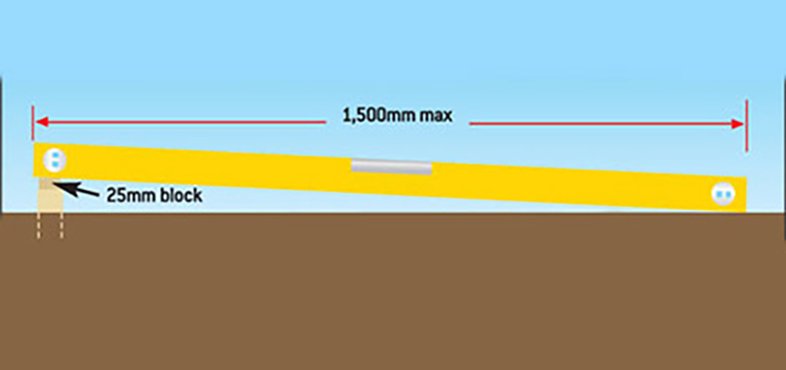 Allow 10mm-30mm between slabs for fettled edge, natural stone or heavily riven slabs. Leave 10mm-15mm for straight edge slabs.
Step 2. Measuring up
Calculate the area of your patio in square metres. Each pack of paving slabs shows the area it covers. Using a single size slab? Then simply divide the area of your patio by the area covered by one pack to see how many packs you need.
If you're using different size slabs, the calculation is more complicated and you should ask for advice.
Step 3. Marking out the patio
Accurately transfer your plan to the ground with wooden pegs, a builder's square and string.
Mark lines on the wooden pegs to show the depth of working – i.e. the finished level of your hardcore, bedding mortar and the surface of the patio slabs.
Make sure the marks for the top surface are level with any existing paving and manhole covers.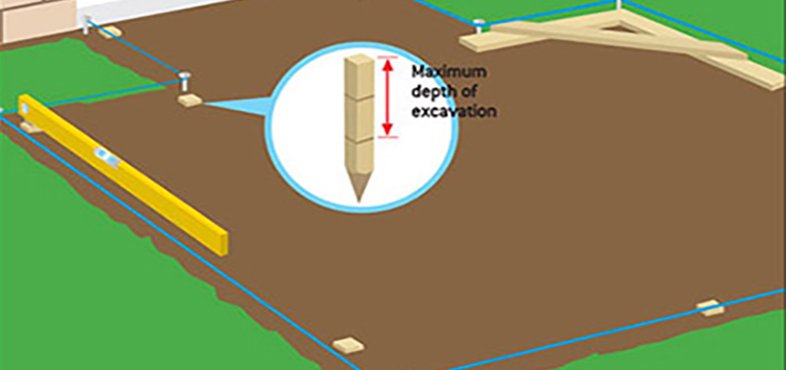 Remember to allow for a gradual slope away from the house when putting in your wooden pegs (see Step 1 – point 6).
Step 4. Preparing the base
Remove any turf, plants or paving and dig down to a depth of about 150mm to allow for the foundations.
To lay a solid base for your paving slabs, you first need a layer of hardcore to a depth of about 50mm to 80mm over the area of your patio.
Use a rake to distribute the hardcore, evening out any bumps. You could hire a powered wacker plate to compress the hardcore to give a good solid base.
Add a layer of bedding mortar over the compacted hardcore.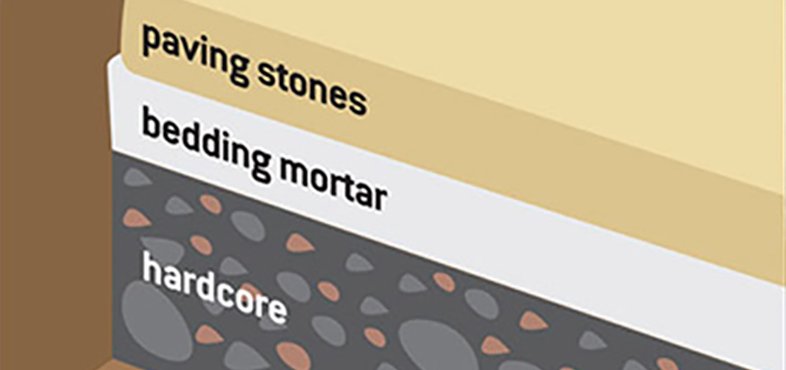 Step 5. Laying down the paving slabs
Before you lay your slabs, check with a builder's square that the string guide lines are square to the house. If not, adjust the guide lines.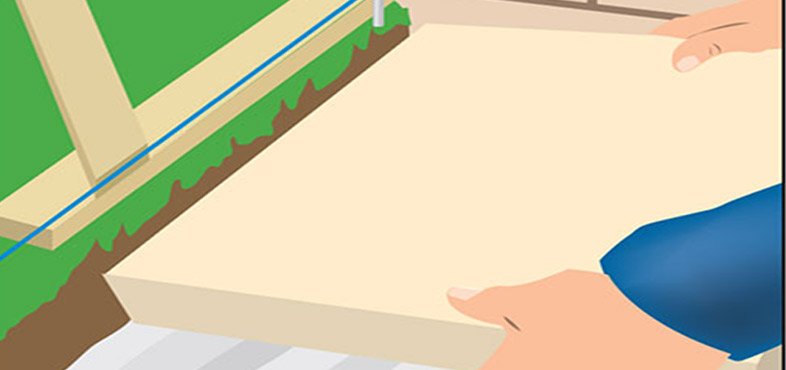 Lay down the first slab against the house at the corner, checking its alignment with the string guideline. It's important that the first slab is positioned accurately.
Gently tap the slab to the correct level with a club hammer. Use a block of wood to protect the slab.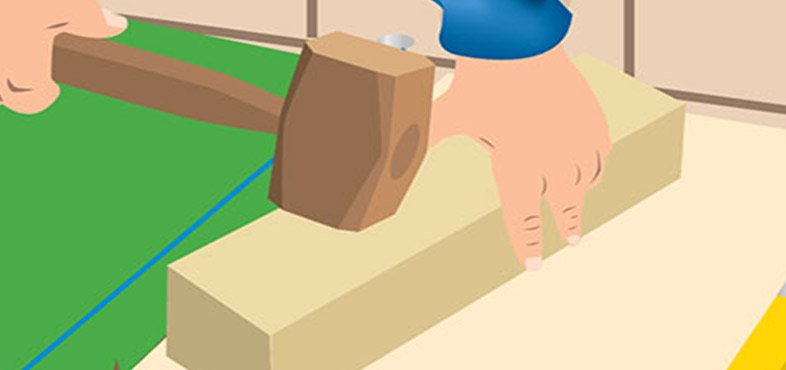 Check the alignment of the slab with a spirit level but allow for the slope away from the house.
Carry on until you've laid all the paving slabs. Do a final check to make sure they're all level.
Helpful hint…
Buy all your paving slabs at the same time so you don't get variations in colour and texture.
Step 6. Pointing (filling the gaps between the slabs)
Once your slabs are laid, leave the mortar to dry for at least 24 hours before 'pointing' (filling) the gaps between them. This mortar stops your slabs moving and prevents weeds from growing in the gaps.
To make up your pointing mortar, use a semi-dry mixture consisting of four parts building sand to one part cement. Make sure the mortar is only just wet – this will prevent shrinkage.
Test the mortar by taking a handful and squeezing it. It should stay as a firm wet ball when you open your fingers and not crumble (too dry) or ooze water (too wet). Adjust the consistency by adding water if it's too dry or more sand and cement (pre-mixed to the correct ratio) if it's too wet.
Press the mortar into the gaps with the edge of a trowel.
Brush off any surplus mortar before it's completely dry with a semi-stiff brush. Finally, wash the slabs with a damp sponge and clean water to remove all traces of cement.
Step 7. Letting the mortar dry out
If you're laying your patio in the summer, make sure the mortar doesn't dry out too quickly as it could crumble.
In colder weather, protect the drying mortar from rain or frost with polythene sheeting.
It will be 24 hours or longer before your patio can be used. That will give it time to dry properly.
Step 8. Maintaining your patio
If you want to seal the patio to stop water seepage or fading, check the manufacturer's recommendations. Applying a sealant to paving may affect the colour.
If the patio freezes, using salt could damage the surface. Instead get rid of snow and ice with a plastic shovel or stiff brush.
Every three months it's worth checking for loose or damaged slabs and making sure the pointing is intact.
Look for stains such as alcohol, barbecue fat, chewing gum or bird droppings. Give the stains an intensive cleaning treatment (always follow manufacturer's instructions).
Helpful hint…
Have you got a pressure washer? Use it on a low setting for cleaning your patio. Point it at an angle facing away from the slabs. Don't use it too hard or too close to the slabs or you'll damage the surface of your paving.
A patio can make a stylish focal point for your garden, especially if you incorporate circular paving slabs into your patio design. It's also an ideal space for all the family to enjoy outdoor dining and sizzling Summer BBQs, or snuggling up together around the chimenea on colder Autumn nights.
Building your patio couldn't be easier with our range of patio kits – from circular or square slabs to block paving and garden stepping stones, you'll find everything you need to create a stunning outdoor living space at Homebase.
Why not add a comfortable seating area to your patio with our range of garden furniture? Or for finishing touches, take a look at our range of awnings, garden pots and plants. For the ultimate low maintenance garden, why not combine your patio with an artificial grass lawn? Discover how to create a new lawn from artificial grass here.
Find your perfect product: