Thanks to the versatility of outdoor garden paint, there are many projects you can take on that will help you transform your garden without breaking the bank. With a little creativity and free time over the weekend, you can brighten up your garden and add a touch of colour to the exterior of your home. From upcycling projects to creating your own decorations, here's some ideas for where to put your outdoor garden paint to good use.
Before you start
Some of these projects may involve the use of step ladders. Take care when using any kind of ladders, move the ladders instead of overstretching yourself and ensure the feet are always firmly on the ground.  If you're in need of a new set, you can shop them here.
You should also always follow the paint manufacturer's instructions for best painting tools to use and recommended drying time.
Fence painting
One of the easiest ways to transform your garden is with a little fence paint.  Start by prepping your fence first, cutting or tying back any vegetation in your way and masking off any plants around the fence to keep them protected.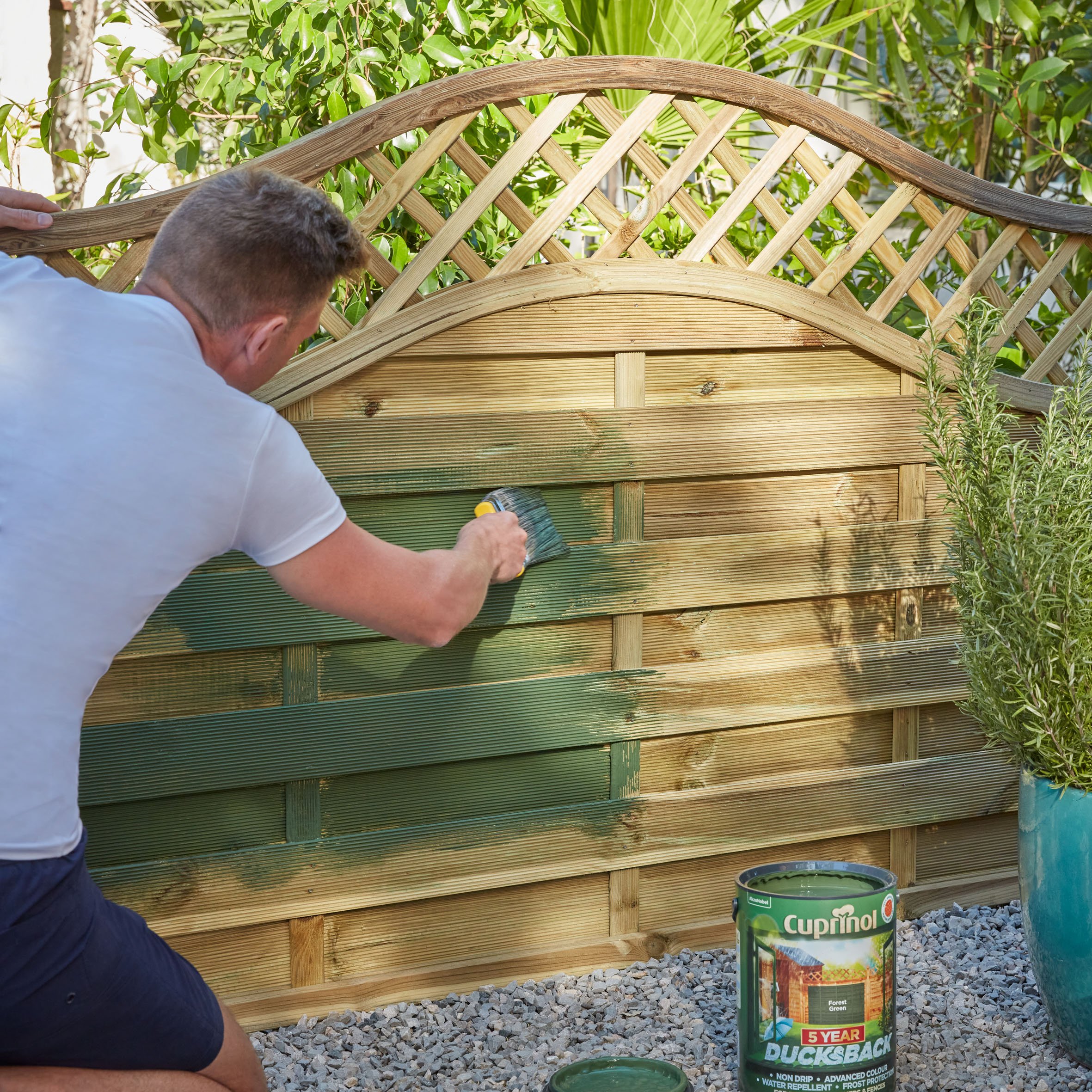 Then give it a good clean with a pressure washer to remove any dirt and old paint, followed by filling in any cracks.
When everything is dry, get painting. Not only will this give your fence a fresh finish, but this new layer of paint will act as an additional layer of protection against the elements.
Top tip: Your fence will need to be completely dry for the paint to stick. So the best time to do this project is after a dry spell and when no rain is predicted for a few days.
Paint your own plant pots
A great family-friendly activity you can do to help bring some personality to your garden is to paint your own plant pots.
The easiest pots to paint on are terracotta plant pots or wooden ones. You could paint an intricate design or go abstract and try a 'Jackson Pollock' style with paint splatters.
If you're feeling artistically brave, you could create a flower-pot lighthouse. This is where you stack three pots one on top of the other, paint the top and bottom pots white, the middle one red and then add windows to each.
Upcycled vertical herb garden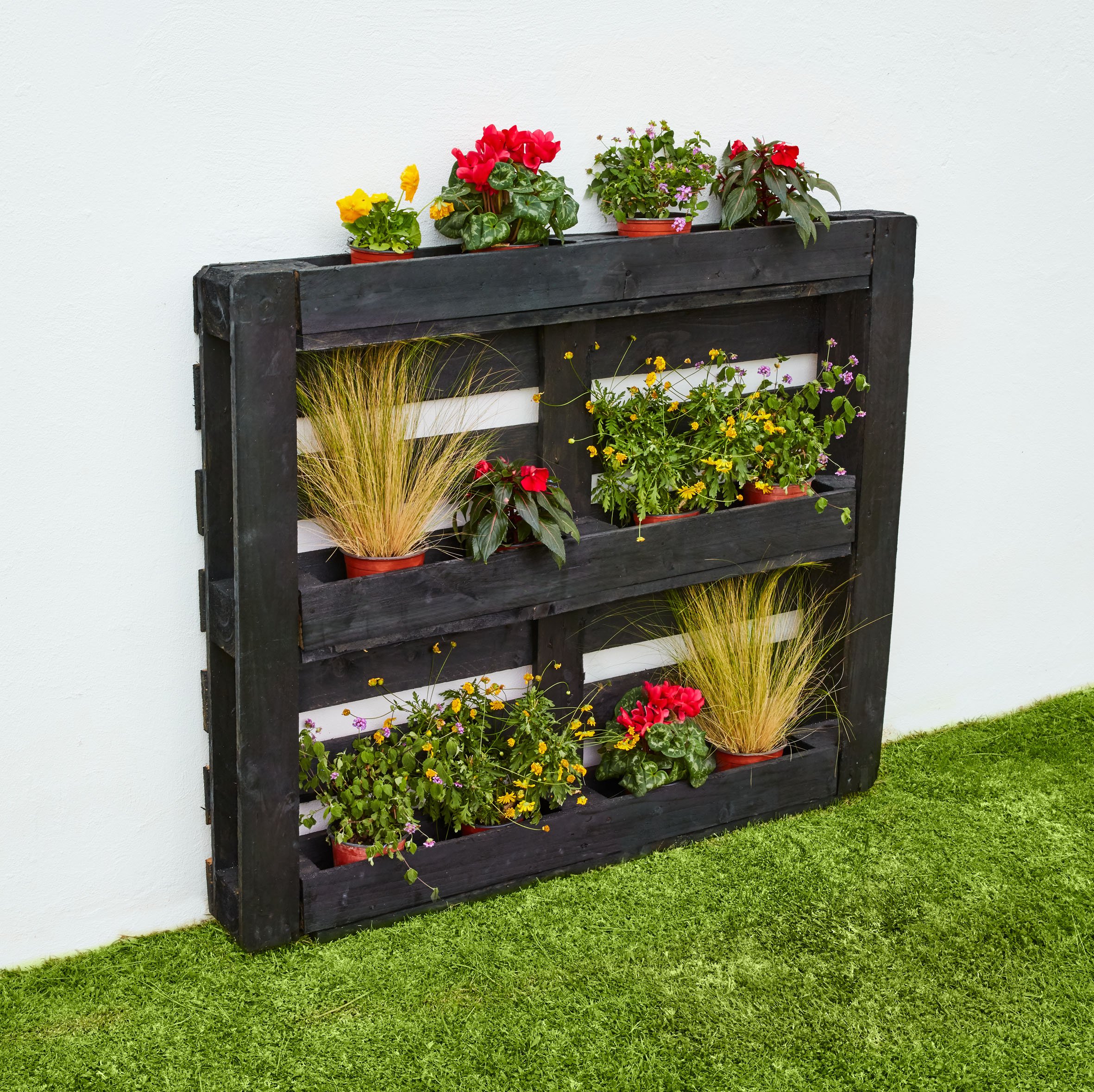 Creating your own vertical herb garden is a great way to upcycle an old bookshelf or set of drawers. Start by cleaning and sanding your old piece of furniture, before priming and then painting. Don't forget to wear safety goggles and a dust mask for this.
You can find guidance on how to upcycle here.
Once everything is dry, begin to add the herbs of your choice. Make sure each plant is put into a small pot with draining holes and filled with a nutrient dense potting mix. Some of our favourites are oregano, thyme and coriander.
Brighten up old garden furniture
Another easy upcycling project you can try is painting your garden furniture to give it a new lease of life for the new season. If your furniture is metal you must use metal paint, whereas garden paint will work on all kinds of wooden furniture.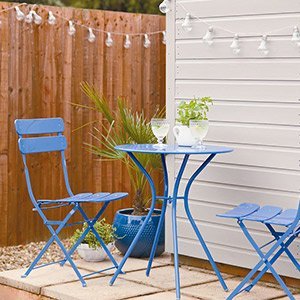 When choosing your colours, you could pick one that matches the main pieces of furniture in your interior spaces as this will create a cohesive colour flow throughout your home.
Tin can outdoor lanterns
If you want to create something magical, you could make your own tin can lanterns. Get creative and make a pattern of holes in a few old tin cans with a small craft knife. Then you can go ahead and paint your tin can in any design you like.
Once it gets dark, pop a candle inside and light it. Watch how the light from the candle shines through the holes you created and gives a magical glow to your garden. Just be careful to keep naked flames away from flammable materials.