Our gardens are our sanctuaries – a private spot to relax outside, enjoy the sunshine and entertain family and friends. Like any space in our homes, we want it looking its best.
Lawn edging is a great way to separate grass borders from flower beds and footpaths and maintain some order.
There are plenty of lawn edging ideas to choose from and, depending on the size of your garden, the whole process should only take a weekend to complete.
From rustic wood lawn edging to lawn edging ideas for easy mowing, read on to discover our favourite lawn border ideas to keep grass out and help you create a beautiful garden that's easy to maintain.
White lawn edging stones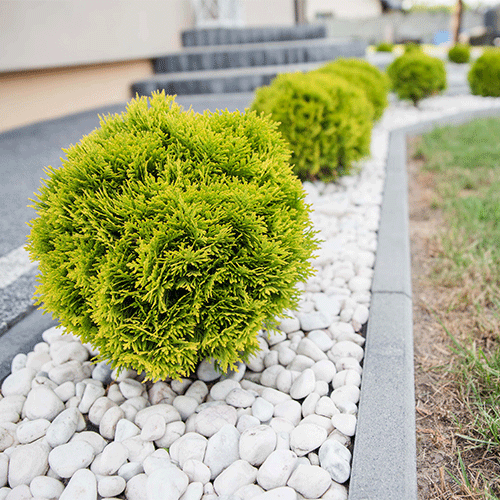 To enjoy a free-flowing lawn border with minimal effort, one of the best ideas for lawn edging is to use bags of white stones. Providing an elegant contrast to your green grass or colourful flower beds, they can be arranged along your lawn's borders in any design or depth you like.
Line the sides in a thin row or pile them between a more solid wall of lawn edging bricks for a thicker border between your plants and grass – the choice is up to you!
Top tip: Before you get started, read our lawn repair tips for healthy grass.
Log layers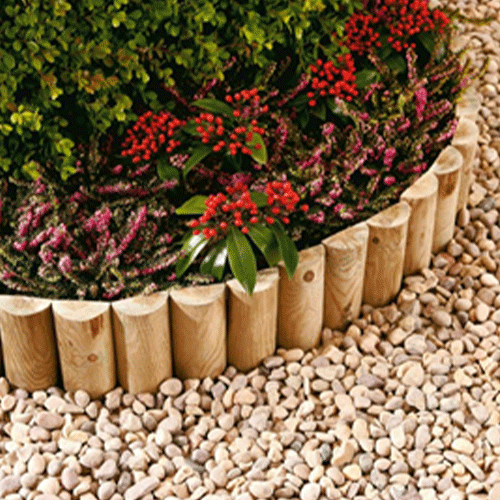 If you're looking for a lawn edging idea that will keep your borders neat while also bringing an eco-friendly feel to your outside space, an attractive wood lawn edging could be just the thing.
Log edging is a popular choice when it comes to lawn border edging – from horizontal logs to face-up stacks and bundles of bamboo. You can also stain it to last longer, resulting in a stylish and natural way of adding a border to your garden.
If your grassy area is curved or irregularly shaped, a log roll border also provides a flexible lawn edging that can be fitted snugly to the perimeter of your space.