As the nights get darker and the days colder, it's time to start thinking about adding a little extra warmth and seasonal colour to your home.
From snug furnishings to soft lighting, there are plenty of small touches you can add to make your home cosy and turn it in into a warm and welcoming retreat.
Cushions and throws galore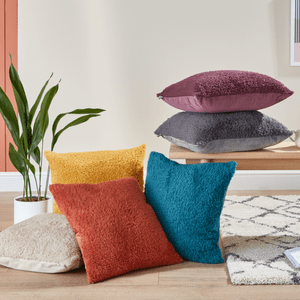 The easiest place to start when it comes to making your home cosy is to spread some cosy joy with various throws and cushions.
Thanks to both their appearance and texture, our Snuggle fleece, super soft and faux fur cushions are perfect for livening up your sofa, while the matching throws  are ideal for snuggling into while watching your favourite Christmas movie.