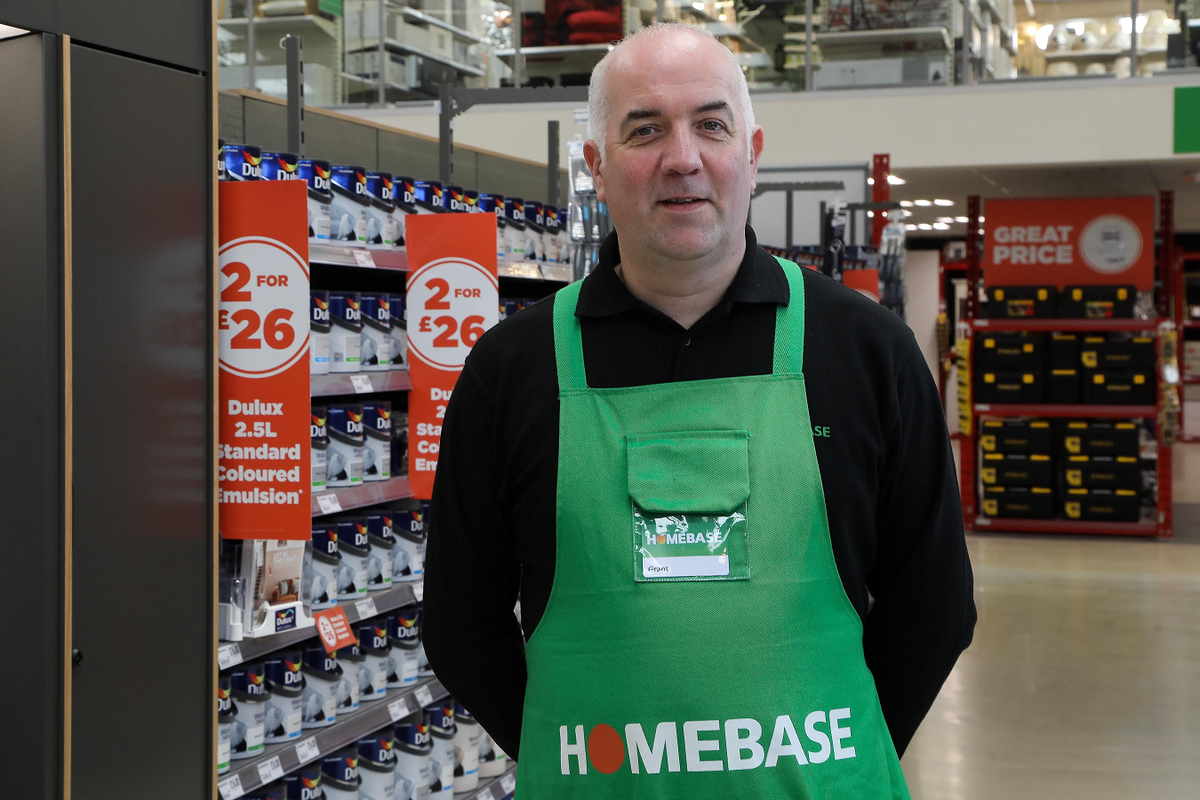 Meet our Retail Director – Grant Anderson
Q. Please can you give us an overview of your role and responsibility within Homebase?
A. I always like to say I have the best job in Homebase and that's because I lead our brilliant store teams.
I'm ultimately responsible for everything from their training and development to making sure they feel safe and happy at work.
Q. What does a typical day look like?
A. I don't think anyone works in retail for the regularity. Every day is different and that's why I enjoy my job.
My best days are spent out in stores, meeting teams and helping them make the customer experience even better. Before the pandemic, I was usually in stores three days a week, and I'm really looking forward to being able to spend more time in stores as lockdown rules are relaxed.
Q. Tell us something that might surprise us about your day job?
A. You can still find me behind the till!
If I'm out visiting a store and I can see things are getting busy, I'll get behind the till and help out. I encourage all of our Senior Leadership Team to support as much as they can when they're visiting stores - it's so important that we're all as hands on as possible. When it's safe to do so of course.
Q. How do you ensure you understand what customers want?
A. Listening to customer feedback is really important and helps us make sure we're providing them with the products and services they need for their home and garden projects. We collect customer feedback from a number of sources: Trust Pilot, social media, word of mouth and our own measurement tools. This means we can gather feedback store-by-store, and identify any issues or areas that need improvement, in real time, and quickly take action to resolve them. Sharing learnings and insights with other stores, also helps set them up for success and ultimately, provide better customer service. This has been particularly helpful over the past year. When we launched our Click & Collect service, customers told us that collecting their orders wasn't as simple as it could be, and we were able to act quickly on their feedback and roll this change out across all stores.
Q. What one word that would describe your leadership style, and why is that important to you?
A. Empowering.
I'm a firm believer that people need responsibility and autonomy to be at their best. I encourage each of our Store Managers to act like they're running their own business. Nobody knows their store better than them, and I want them to feel empowered to make the changes they need to for our customers.
Q. How important are physical stores in an increasingly digital age?
A. Physical stores remain incredibly important, especially when it comes to inspiring our customers and offering them an 'experience'. We know that customers often do research on our website and on social media before heading into store to see what our products look and feel like in reality.
Our new 'Get the Look' room sets throughout offer additional inspiration by showing what our products would look like in their own home, from paint and furniture and softer home accessories.
Q. How do you see the role of team members working in retail evolving in future?
A. Our teams are central to providing inspiration to our customers and providing the expert advice they need to get started.
We're continuing to invest in further training for our store teams, such as in our smaller format DECORATE stores, where our team are trained by Dulux colour consultant, and City & Guilds accredited training for our garden experts.
Last year, we also rolled out a customer training programme to all team members working in stores and our Store Support Centre (head office), which helps us all offer best in class service.
Q. What changes can customers expect to see online at Homebase.co.uk and in store in the coming months?
A. Through our partnership with The Hut Group, our website will be the go-to place for customers looking for inspiration, guidance, and product choice. We know that while customers might start shopping online, they're also likely to visit their local store to see the products they're interested in before buying. That's why we've introduced even more in store displays .
And this is where our fantastic store team members can make a real difference. Our customers aren't just looking for products and inspiration, they also come to our stores for advice. My job is to empower our store team members to feel as confident answering our questions on style and trends as they do when dealing with product queries, so that we can really offer our customers a brilliant service.
We also understand that not everyone visits us to transform their home or garden, some people are simply looking to pick up something they ordered online or find a few extra items to finish off a home improvement project. For these people, we are making subtle changes to the way our stores are setup, so people can quickly and easily find our Click & Collect desks.
Q. Covid-19 has changed life for everyone and team members in Homebase stores have been on the frontline throughout, making sure their local communities have access to the products they need to keep their homes safe and comfortable. What would you like to say to them?
A. We know the past year has been challenging for everyone, not least retail workers on the front line. Our team members are our biggest asset and I'm committed to making sure they feel safe and happy at work. Sadly, the retail industry has seen a sharp rise in violence and abuse towards retail workers and that's why we're campaigning for stronger penalties for those who abuse or assault retail workers.
You can find out more about the campaign here: https://brc.org.uk/priorities/crime/
In over 30 years in retail, I've never been prouder of my team. They have been on the frontline throughout the pandemic and have looked after each other brilliantly. I can't thank them enough for their dedication to the business.