Difficulty rating: Low
These tasks should be fairly straightforward, whether you have experience doing DIY or none at all.
Before you get started on any of our 'how to' guides, please take a moment to read through our DIY safety tips.
What You'll Need:
1. Alarms
Before buying your alarm decide what features and functions you'll need to best protect your home.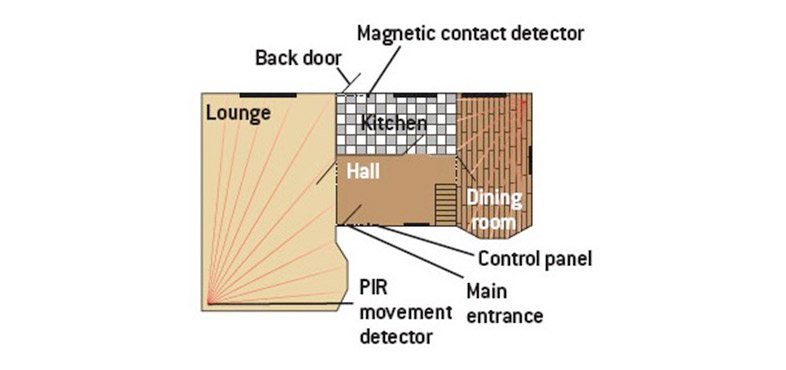 There's a good range of systems to choose from…
Wired or wireless alarms?
DIY alarm systems are either wired or wireless. Wired systems can be a bit tricky to install as you'll need to run wires from each detector all the way back to the central control unit.
Both types of system usually use a number of detectors. These either sense movement or are triggered if a magnetic contact is broken – when someone opens a door or window, for example.
Break-contact detectors
These protect vulnerable entry points such as the back and front doors and ground floor windows. Work out how many you'll need.
PIR sensors are triggered by body heat and movement. They're good for covering large areas inside your home. But the sensors aren't right for doors and windows as they can be triggered by people or animals passing outside.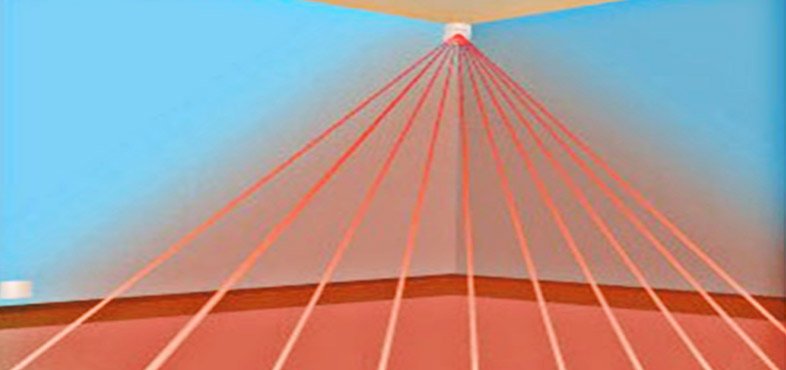 Place PIR sensors so the beam doesn't point at a window, lamp or heat sources like radiators – these will set them off.
Check sensors cover enough area for the rooms you want to protect.
Control box
Most control boxes need a mains power supply, with a back-up battery in case of power failure.
Get a tamper-proof box so the alarm goes off if an intruder tries to disable it. And make sure small children can't reach the keypad!
Alarm box
Send burglars a clear message: fit the alarm box to the front of your home or somewhere that's very obvious to passers-by. But place it high enough so no one can mess about with it.
If people can reach your home from the back, position a second alarm box so they can see it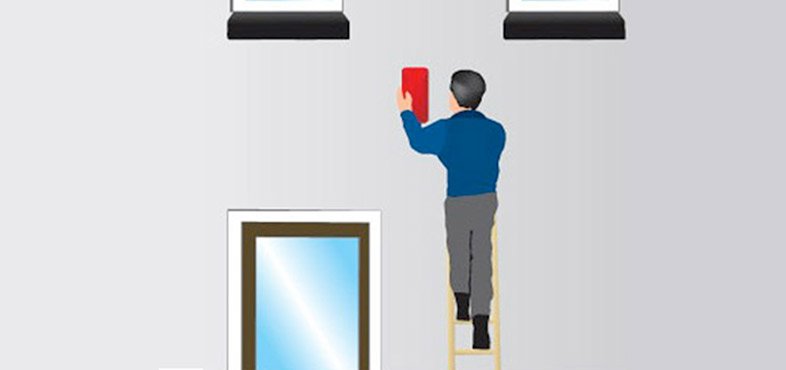 Helpful hint…
Got pets? Work out the best place to put your PIR sensor so they don't set it off. If you think an animal is likely to trigger the sensor when you're out, you can buy a sensor that's pet-friendly.
2. CCTV (Closed circuit TV)
Catch the criminals on camera … CCTV systems give you that extra peace of mind when you want to keep an eye on what's going on outside and deter intruders. They're really easy to fit and don't need special electrical connections.
The simpler systems include one or two cameras and a controller that plugs directly into your TV or computer.
More sophisticated CCTV systems record pictures from the cameras while you're out.
If you're using CCTV cameras in dark areas or want clearer images after dark, it's worth buying outside security lighting.
3. Installing CCTV cameras
Place cameras out of reach so intruders can't tamper with them. And make sure your cameras have a clear view of access areas – keep them away from overhanging trees or bushes.
Drill a small hole through your wall or window frame so you can feed the camera cable inside your home.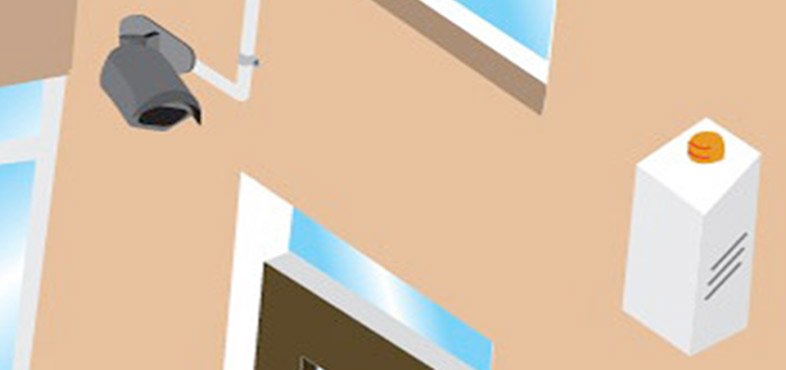 From inside, connect the extension cable to the camera cable. Then use the clips supplied with your kit to run the cables neatly to the back of your TV or computer.
Plug the power adaptor for the camera control box into a 13 amp socket. The connecting lead will then plug in to either your TV or computer.
When you're all connected up, follow the guidelines supplied with your system for viewing the images from your cameras on a TV or computer.
Check the camera view before finalizing installation. Follow the instructions supplied with your kit.
4. Security lighting
You've got two main types of exterior security lighting: dusk-to-dawn lighting and PIR lighting.
Dusk-to-dawn lights come on automatically when it gets dark and switch off again when the sky lightens at dawn.
PIR lights are triggered by body heat so only turn on if someone approaches your home. These exterior lights could be your best option as they should surprise and scare off intruders and also use less electricity.
5. Fitting security lights
Place your lights at least 2.5m off the ground. Point PIR lighting so passers-by don't trigger them. Don't put the light near your boiler's flue as this can also set them off.
By the way, PIR lights come with an integral or separate PIR sensor unit. You'll find the integral one easier to fit.
When you've decided on your position, drill a hole through the wall to the inside. Line any holes with a plastic conduit. If you don't want to drill, you may be able to feed the cable through your window frame or fascia board.
Turn off your power supply when fitting your light. Then connect the light according to the maker's instructions. Once connected, the light can be fixed to the wall.
With PIR lighting you can set the sensitivity control and adjust the length of time the light stays on once triggered. A few minutes is usually enough to disturb intruders without annoying neighbours if it goes off accidentally.
6. Best locks for secure external doors
Look for the kite mark
The best and strongest locks have a 'kite mark' and are passed to British Standard BS3621. Most insurance companies insist on these. They're also recommended by crime prevention officers.
The more levers, pins or discs a lock has, the more difficult it is to pick.
Front door
If possible fit two locks on your front door – both to BS3621 standard. A mortice deadlock (Marked B on the below image) should go about halfway up the door and a night latch one-third of the way down from the top (Marked A on the below image).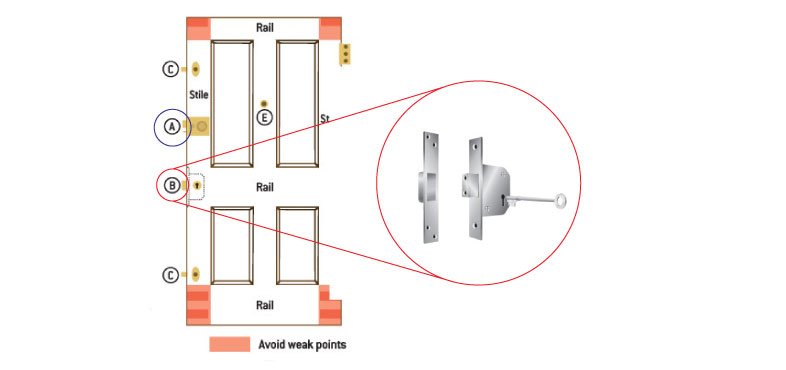 If you can only manage one lock, go for an automatically dead-locking night latch made to BS3621 standard.
Back door
Protect your back door with a mortice sash lock to BS3621 standard, together with top and bottom bolts. These bolts should be security mortice bolts (Marked C on the below image).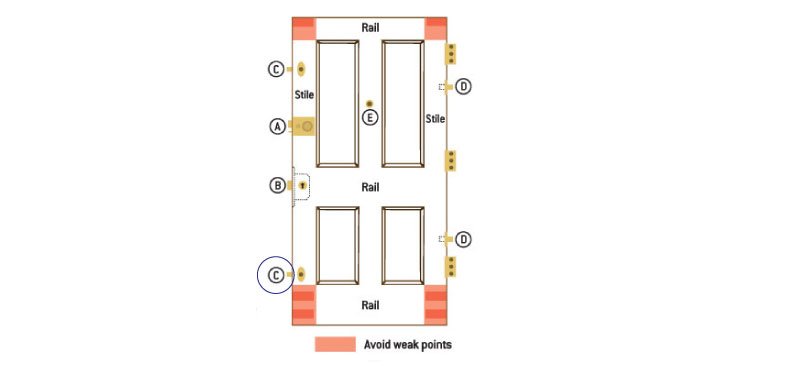 Additional security
For extra protection, fit hinge bolts, especially to doors that open outwards as the hinge knuckle pins are a weak point. Position them 150mm below the top hinge and 150mm above the bottom one (Marked D in the above image).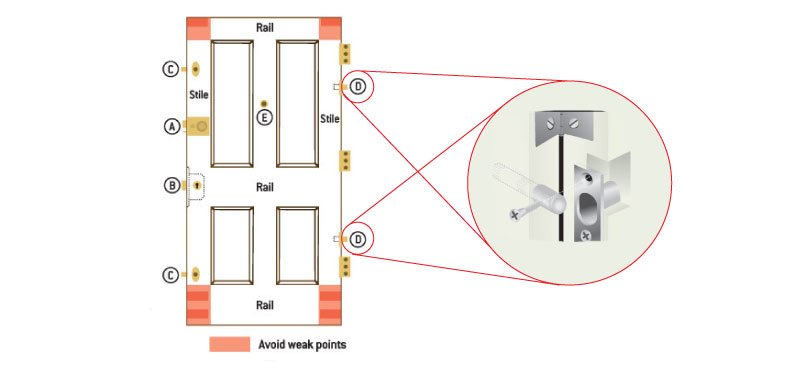 7. Fitting external door locks
For expert advice on installing secure external door locks see our How to fit a lock guide.
Helpful hint…
If you're installing new circuits or electrical equipment outside your house, you have to let your local council know before you start. You'll also need to pay a fee to have the work tested and certified when the installation is finished.
8. Wireless security
Wirefree security allows you to secure your home without the need for wiring into a mains supply or the services of an expensive qualified electrician.
The benefits of wireless security
Wirefree products mean there is no need to damage your décor, lift carpets, or run cables when fitting. All components are self contained and no connections are required
Wireless security products
We offer a range of wirefree alarms consists of three kits; a standard kit for smaller homes, a home kit that contains 'pet friendly' sensors ideal for family homes, CCTV wireless products and a top of the range premium telecommunicating kit which will ring and inform you when the system is triggered for the ultimate peace of mind.
To compliment this we offer a number of accessories such as additional PIR detectors, door / window contacts, remote controls, and smoke alarms.
Installation tips
Ensure you have all the necessary tools to complete the installation such as a drill, screwdriver, hammer, tape measure, spirit level and a ladder
Take your time when removing all components from the packaging, this is when parts can easily go missing and is the cause of most helpline calls
Pair all components on a table prior to installing in position around your home.
All of our products comes with a detailed installation guide