Protecting your home and those in it is the top priority for most people, so it's important to have the correct home security measures in place. With longer, darker nights on the way, it's the perfect time to look into how to secure your home and improve your existing home security – whether that's with motion sensors or security cameras, alarms or lights.
In this guide, we will explain how to secure your home to ensure you and your loved ones remain safe and sound.
Alarms
Before buying a home security alarm, you need to decide which features and functions you need feel suitably protected. We've got a great range of systems to choose from…
Wired or wireless alarms?
You can either buy wired or wireless security alarm systems. Wired home security systems can be a bit tricky to install, as you'll need to run wires from each detector back to a central control unit.
Both types of security alarm systems (wired and wireless) use several detectors. These either sense movement or are triggered if a magnetic contact is broken, e.g. when someone opens a door or window.
Vulnerable entry points, such as the back and front doors, and ground floor windows, may need more protection. So, when you're fitting any type of home security equipment, consider placing them close to these areas.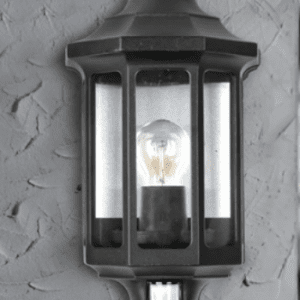 PIR motion sensors are triggered by body heat and movement, with their main advantage being that they cover large areas inside your home. However, these type of motion sensors aren't right for doors and windows – as they can be triggered by people or animals simply passing by outside.
Likewise, when fitting PIR motion sensors, you should check that your pets cannot set off the alarm by placing the sensors in elevated positions.
The best place to position PIR motion sensors is so the beam doesn't point at a window, lamp or heat source – like a radiator – as these will set them off. You should also check the motion sensors cover enough area for the rooms you want to protect.
Control box
Most security alarm systems will need a control box that is hardwired into your property. The control box should be accessible and in a convenient place, so it can be turned off or on quickly. The most common places are by the door you use most often when leaving and entering your home.
Your control box will need a mains power supply, with a back-up battery in case of power failure. You should buy a tamper-proof box, so the alarm still goes off if an intruder tries to disable it. We also recommend that you place the control box out of the reach of children.
Alarm box
Send burglars a clear message: fit the alarm box to the front of your home or somewhere that's obvious to passers-by. However, ensure it's out of reach so no one can mess with it. If people can reach your home from the back, position a second alarm box to act as a deterrent.
If you think an animal is likely to trigger the PIR sensor when you're out, you can buy one that's pet friendly.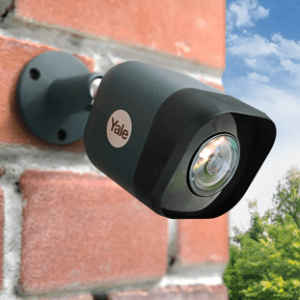 CCTV systems are a great way to secure your home and give you that extra peace of mind. Security cameras are straightforward to fit and don't need special electrical connections.
Basic, but secure, systems include one or two security cameras and a controller that plugs directly into your TV or computer. Whereas more sophisticated CCTV systems can record pictures from the cameras while you're out.
If you're using CCTV cameras in dark areas or want clearer images, it's worth buying outside security lighting.
Tips for installing security cameras
Place security cameras out of reach so intruders can't tamper with them, and make sure your cameras have a clear view of access areas. Remember to keep your security cameras away from overhanging trees or bushes that could block their view.
Check the camera view before finalising the installation and remember to follow the instructions supplied with your security camera.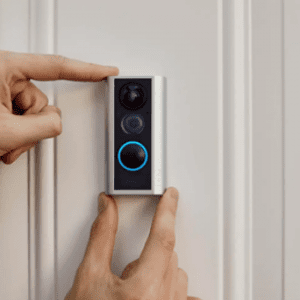 As well as making use of security cameras, smart doorbells can be used to keep your home secure. Smart doorbells give you the chance to see who wants to come into your house, wherever you are.
Likewise, smart doorbells allow you to speak to the person without having to go to the door, so you have more time to assess whether it's safe to let the person in.
Another benefit of a smart doorbell is you can replay footage to check if anyone has been to your house while you have been out – meaning you'll never miss a visitor.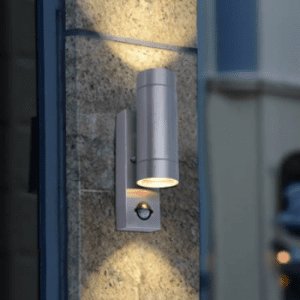 There are two main types of exterior security lighting: dusk-to-dawn lighting and PIR lighting.
Dusk-to-dawn lights come on automatically when it gets dark and switch off again when the sky lightens at dawn.
Whereas PIR security lights are triggered by body heat, so only turn on if someone approaches your home. These exterior lights could be your best option as they will surprise and scare off intruders, all while using less electricity.
Tips for installing security lights
Place your security lights at least 2.5m off the ground. Point PIR lighting so passers-by don't trigger them. Avoid putting the light near your boiler's flue, as this can also set them off.
When setting the sensitivity control and adjusting the length of time the PIR lighting stays on, take your neighbours into consideration. You want to disturb intruders without annoying your neighbours – a couple of minutes should be long enough.
Turn off your power supply when fitting your light and make sure you follow the maker's instructions.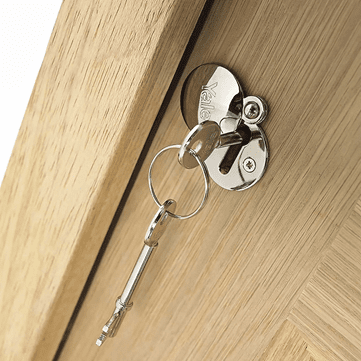 The best and strongest locks have a kitemark and are passed to British Standard BS3621. Most insurance companies insist on these and they're also recommended by crime prevention officers.
If possible, fit two locks on your front door – both to BS3621 standard. A mortice deadlock should go about halfway up the door, and a night latch one-third of the way down from the top. An automatic dead-locking night latch made to BS3621 standard will also offer a good level of security.
Don't forget to protect your back door with a mortice sash lock to BS3621 standard also. Together with top and bottom bolts, which should be security mortice bolts.
For extra protection, fit hinge bolts- especially to doors that open outwards as the hinge knuckle pins are a weak point. Position them 150mm below the top hinge and 150mm above the bottom one.
For expert advice on installing secure external door locks, see our How to fit a lock guide.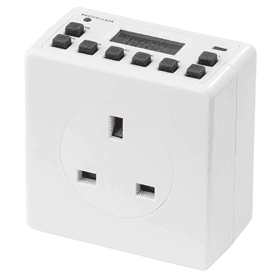 Using timer plugs allows you to control when lights, lamps, televisions and other electricals turn on or off. You can choose to utilise these timers as a deterrent for burglars by setting them up to keep, for example, the lights on while you're out.
Timer plugs are cheap, effective deterrents against burglars – if someone thinks you're home, e.g. because the radio or the television is on, they are less likely to think about trying to enter your home.
And those are our top tips on how to secure your home. Home security is not to be taken lightly; we recommend you implement at least one or two of the options to keep you and your loved ones safe! Always reach out to a certified expert if you need some help with installing your home security systems.