Give a gift card for even more choice
Our Homebase gift card makes the perfect gift, whatever the occasion. Whether someone you know is a keen gardener, a DIY enthusiast or simply looking to invest in their home, our gift card will be perfectly suited. It could be a Christmas, birthday, wedding or even a thank you gift – so give them the gift of choice and let them choose something they'll love.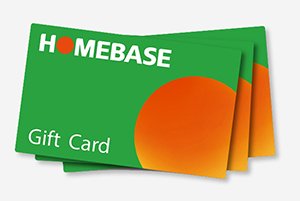 How to purchase a gift card in store
1. Visit a Homebase store and pick up a gift card.
2. Top up the card at the till with a value of your choice from £1 to £1,000.
3. The card can now be used to pay for purchases in Homebase stores.
Our store locator will provide you with a contact telephone number and opening times.
Terms & Conditions:
This card is not valid until activated. You can use the card in full or part payment for goods purchased from participating Homebase stores and it should be presented at the till point with your purchases.
The value of your purchases will be deducted from the balance on the card. Any remaining balance can be used against future purchases. You can top up your card in participating Homebase stores, from £1 to a maximum of £1,000.
1. A Gift card can be used in full or part payment for products purchased from Homebase stores in the UK (except concessions). gift cards can not be used for the purchase of other gift cards or vouchers. At the current time, gift cards cannot be used for purchases from www.homebase.co.uk or Homebase call centres or in Homebase stores outside of the UK.
2. The minimum value needed to activate a gift card is £1 and the maximum value which can be stored on a gift card is £1,000.
3. In the event that any payment used to activate or top up a gift card is not authorised, or otherwise defaults, any corresponding amount added to the gift card will be removed.
4. When products are purchased using a gift card, no change will be given in cash but any value remaining on the gift card will be shown on the till receipt and can be used in full or part payment for future purchases. Where you wish to use a gift card to buy products with a higher value than the value on the gift card, you will be required to pay the