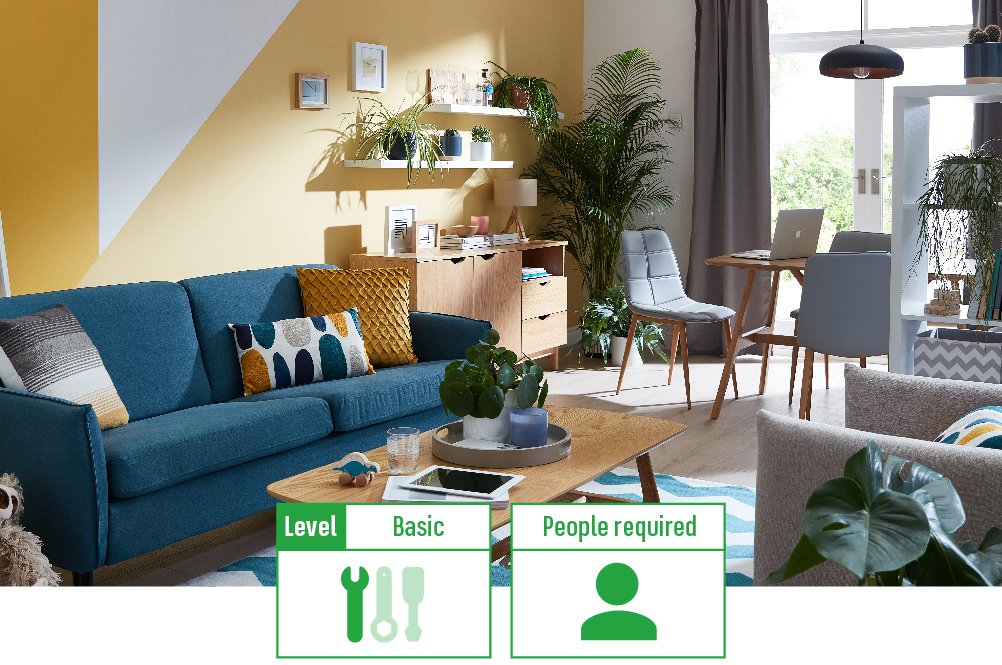 Open-plan living is one of the best ways to open your home to the light and make your space feel airy and more roomy.
From a home office within a living room to a kitchen-diner, open-plan living can help to utilise every inch of space available.
With the use of clever decorating and styling, you can easily divide the space and create functional zones without the need for major renovation.
Before you start, we have come up with some inspirational top tips for making the most of your open-plan space without breaking the bank.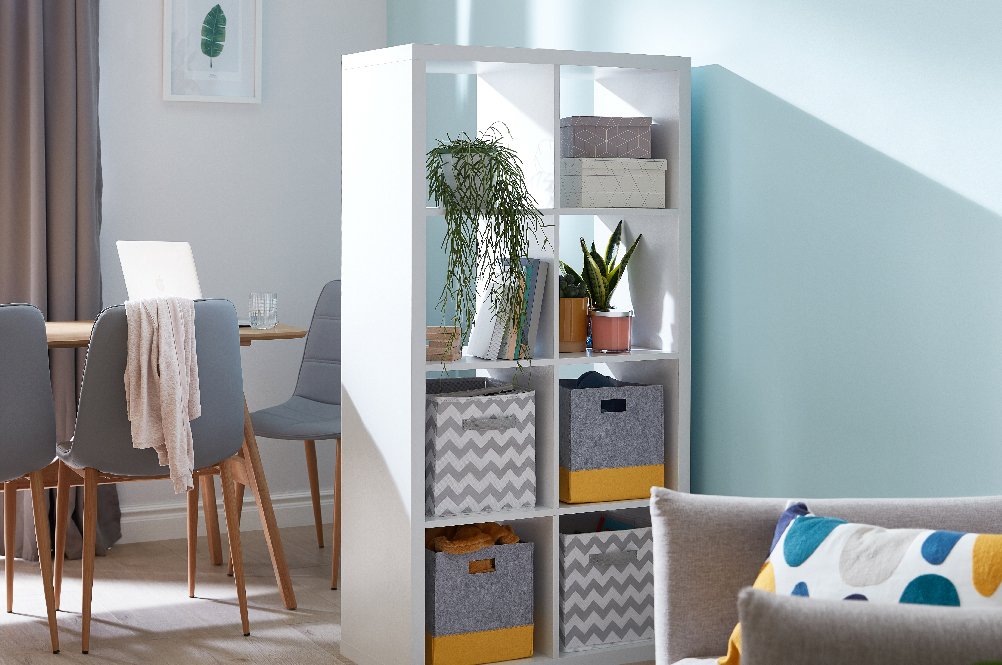 Let's start with what you'll need.
Materials:
Tools:
Read our DIY safety tips and manufacturer instructions

Before you begin any DIY work, we recommend you read our DIY Safety Tips guide along with your power tool manuals to keep yourself and others safe and protected while completing this How To guide.

Have an idea in mind

First, take some time to think about what you want to achieve from your space. Think about how many spaces you want to create and how big you want them to be.

Measure the length and width of the room you are working with and then do the same to measure out the spaces you want to create.

Jot these measurements down, as they will be crucial when choosing furniture

Top tip: Draw a quick sketch of your plan so that you can refer back to it. Add measurements onto this sketch if you would like.

Add personality with a splash of paint or wallpaper

Different moods and décor style can be created easily with different colours of paint or wallpaper.

You could have an accent wall, as contrasting finishes bring textual variance to a setting. This can be done by having mostly neutral walls and then adding a splash of colour with paint, or texture with wallpaper.

You could also try a tone-on-tone approach. Transitioning from lighter to darker tones of the same colour can help to create distinct but subtle sections.

Different colours create different feels. For example, neutrals are both comforting and sophisticated, whilst rich blues have a soothing effect.

Top tip: If you're a DIY beginner, you can read our How to Paint Walls and Ceilings Guide here. Don't forget to keep your area well ventilated while painting. 

Switch up your flooring

Different textures and materials can be used to create a divide between areas.

For example, you may want to use a wood flooring to section off your kitchen from your dining room area. You can tie things together by using similar textures, for example, wooden bar stools in the kitchen and a wooden dining table in the dining area.

Other options include laminate, luxury vinyl or carpet.

Top tip: At Homebase, we have a range of flooring samples available so you can try before you buy.

Rugs, rugs, rugs and more rugs

If you don't want to completely change your flooring, then rugs are the perfect option for you.

Rugs draw the eye and create focus spots in an open-plan space. You can then style your furniture around your rug, easily creating separation between different areas of the room.

Warmer coloured rugs (reds, yellows and oranges) stimulate energy and are perfect for making a room feel radiant and cosy. Cooler colours (blues, greens and purples) create the illusion of space and have a calming, relaxing effect.

Top tip: Pairing cool coloured rugs with deeper accents such as a warm wood flooring makes an enchanting combination.

Clever cube storage

A really simple way to separate a room into distinct areas is with freestanding shelves, such as the clever cube shelving range. As well as providing a physical distinction, they're also incredibly handy for storage.

It's completely up to you, but you can either choose to display items or you can choose from a range of perfectly sized inserts and baskets to neatly tuck items away.

Be creative with furniture

Another way to section off spaces is to be smart with your placement of furniture.

Investing in a corner sofa doesn't just give you extra lounging space but also, if positioned correctly, can also visually corner off a part of a larger space.

Adding a sofa will not only define the seating area but also add a sense of intimacy to a large room.

To enhance the cosiness, you could paint the wall in this area a darker shade than the rest of the room.

Top tip: Add a soft rug and coffee table in front of the sofa to give a more intimate feel.

If you want to find out more about organising your open plan space, check out our Design with Purpose home trend inspiration page.

Don't forget to upload an image of your newly zoned living area to social media and tag us @Homebase_uk.