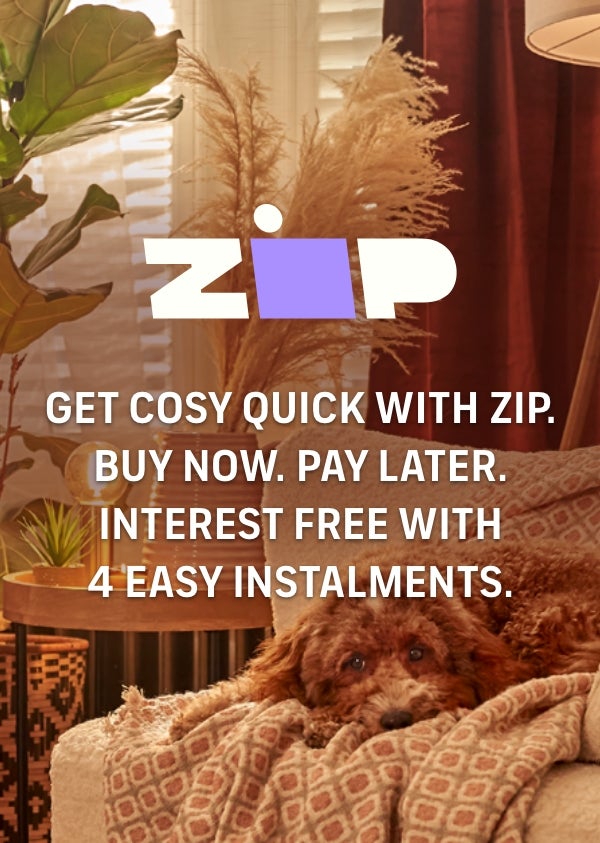 Pay with Zip
Zip creates simple, secure, fair and transparent credit and payment solutions that give shoppers more freedom. Zip allows you to own the things you want now, and pay for them in 4 simple instalments. All interest-free on purchases, which could be up to £1000.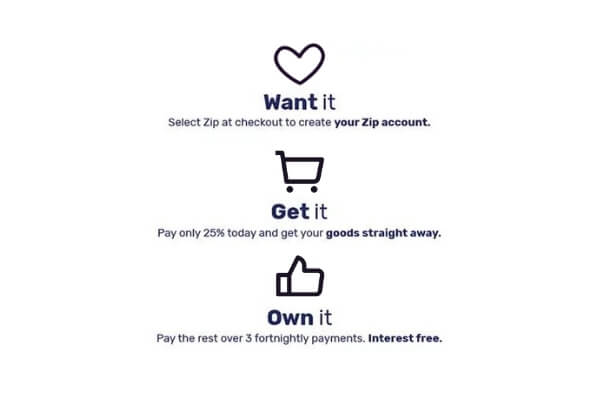 Credit Broker Disclosure:
HHGL Limited trading as Homebase and Bathstore is authorised and regulated by the Financial Conduct Authority (FRN 917811). HHGL Limited is a credit broker not a lender and only offers credit products from Clydesdale Financial Services Limited (FRN 311753) trading as Barclays Partner Finance a member of the Barclays Group and Zip Co Finance UK Limited who are unregulated by the Financial Conduct Authority. HHGL trading as Homebase and Bathstore do not receive commission from Barclays Partner Finance or Zip Co Finance UK Limited (i.e. the lenders) in acting as a credit broker. All finance applications are subject to application, financial circumstances and borrowing history. Terms and conditions andeligibility criteria apply. HHGL Limited Registered Office: Witan Gate House, 500-600 Witan Gate, Milton Keynes, MK9 1BA. Registration No. 0533033.
Frequently Asked Questions
To shop using Zip, you need:
To be over the age of 18

To have a UK issued debit card

To be living in the UK

To have a good credit history
Zip performs a soft credit check with credit reference agencies to determine if you are eligible. This does not impact your credit score.

When you get to the payment page, select Zip as a payment method.
If it's your first time shopping with Zip, you'll need to enter some personal details such as name, date of birth, mobile phone number and home address. Take care when entering your personal details as errors may prevent Zip from being able to verify your account or send you payment notifications.
Once approved, and you are happy with the instalment schedule, Zip will take the first instalment from the UK card you supplied when signing up.
Once accepted, your goods will be sent to you as they would with any other payment method. 
Payment information is processed securely by our payment gateway provider. All transactions take place via secured connections that adhere to the latest industry standards and security protocols.

Once the merchant has notified us of the cancellation/return and we've accepted it, Zip will cancel any future scheduled payments as well as refund any amounts due.
As soon as we have registered your cancellation or return, Zip will process your refund within 10-15 business days.
Any partial refunds will be applied to outstanding instalments first.
Zip will automatically attempt to collect payment for your Pay In 4 purchase from the card you entered when you signed up to Zip.
If you miss a scheduled payment, Zip will give you 2 full days to process the payment yourself. On the third day after the payment was missed we will retry this payment again, if this retry is unsuccessful we will apply a £6 late fee to the instalment. A payment can be made by you at any time by logging into your Zip customer portal. Please make sure you have money in your account in advance of your payments coming out.
Zip will contact you directly by email and SMS in advance every time as a reminder. 
Refunds from Zip will be issued back to the card supplied to Zip.

Nope, Zip are not like some traditional finance companies. As long as you pay your scheduled payments on time you will only pay the price advertised.
Payments are automatically scheduled to be taken every 2 weeks.
You'll pay 25% of your full purchase upfront, then 25% every 2 weeks for the next 6 weeks.
Zip will try to take payment during the day and try again if unsuccessful. If this fails, or if you'd like to make a payment earlier, you can log into your Zip customer portal and manually make a payment.
For more information, visit our Help pages at https://zip.co/uk
Zip is the finance provider and will not have information regarding your order status. Please always contact the retailer directly about your purchases.

We endeavour to provide you with an excellent customer service however we acknowledge that, at times, we may fail to meet your expectations. Should you be dissatisfied with the provision or our failure to provide a suitable service to you, you can make a complaint through any of the below channels:

Telephone: 0333 003 7084
Post: FAO Customer Services, Homebase (HHGL Ltd), Witan Gate House, 500-600 Witan Gate, Milton Keynes, Bucks, MK9 1BA
Instore: Find your local store here
What to expect from us?
We try to resolve complaints as soon as possible. Should we resolve your complaint by the close of the third business day following the day on which we receive your complaint, we will issue you with a written communication called a summary resolution communication acknowledging that you made a complaint and setting out that the complaint has been resolved and making you aware of your right to refer the complaint to the Financial Ombudsman Service should you be dissatisfied with the resolution.
Should we consider that we are not able to resolve the complaint by the close of the third business day, we will issue you with a written complaint acknowledgement within five business days. Thereafter, we will investigate your complaint in order to reach a fair resolution. Please note that investigating your complaint may require us to contact you in order to obtain further information about your complaint and the allegations raised.
We endeavour to issue you with a written final response within eight weeks.
What options do you have should you be dissatisfied with our final response?
Should you be dissatisfied with our final response, you have the right to refer your complaint to the Financial Ombudsman Service ('FOS'). The FOS is an independent body established to settle disputes between UK-based financial companies and consumers. You are able to refer your complaint to the FOS on any of the below contact details:

It is to be noted that complaints must be referred to the FOS within 6 months of receiving a final response or a summary resolution communication.
You can find out more about the FOS by visiting: https://www.financial-ombudsman.org.uk/

Pay in 4 interest-free instalments with Zip is a form of credit and is subject to terms & conditions. Failure to keep up with payments will impact your credit file and potentially your ability to access credit in the future. Late fees apply. For help, go to moneyadviceservice.org.uk