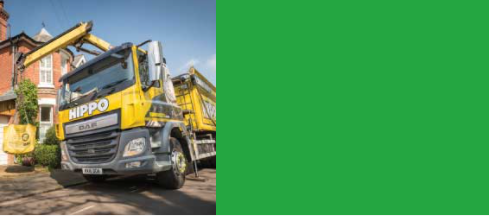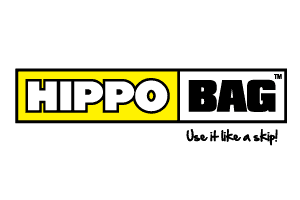 HIPPOBAG™
Trusted by over 1 million customers and available across the whole of the UK, HIPPOBAGS are the quick, cost-effective and convenient way to get rid of your unwanted home, garden and project waste.
It's so simple to buy your HIPPOBAG and book you collection in store or online today.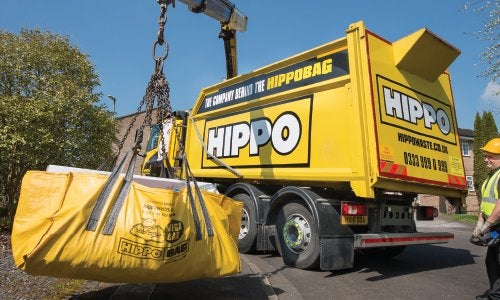 BENEFITS OF USING HIPPOBAG
HIPPOBAGS are…
PERFECTLY PROPORTIONED -Choose from 3 sizes to meet your needs.


SO STRONG -They can hold up to 1.5 tonnes.


SIMPLY STORED -They're packed flat until you need them.
CONVENIENTLY COLLECTED -They can be collected even when you're out.
RESPONSIBLY RECYCLED –Over 95% of the waste inside them is recycled.
HOW TO HANDLE YOUR HIPPOBAG
CHOOSE IT
Just select the size of bag you need, add it to your basket, then add the collection for that bag size to your basket too. You don't even have to have a specific date for collection, you can book that later.
If you already have a bag, just buy collection service and the customer care team will call you back within 2 working days.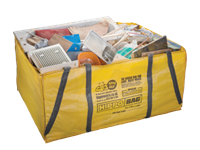 HIPPOSKIP
- Dimensions - 210cm x 165cm x 100cm
- 1.5 Tonnes
- 4.5 Cubic Yards

HIPPOSKIP BAG
798454 - ADD TO BASKET
HIPPOSKIP COLLECTION
492207 - ADD TO BASKET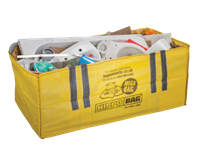 MEGABAG
- Dimensions - 180cm x 90cm x 70cm
- 1.5 Tonnes
- 1.5 Cubic Yards

MEGABAG
645812 - ADD TO BASKET
MEGABAG COLLECTION
492206 - ADD TO BASKET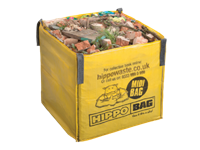 MIDIBAG
- Dimensions - 90cm x 90cm x 90cm
- 1 Tonne
- 1 Cubic Yards

MIDIBAG
651529 - ADD TO BASKET
MIDIBAG COLLECTION
492205 - ADD TO BASKET
You can also purchase a bag and collect in any store, just visit the Special Orders desk.
USE IT
When your HIPPOBAG is delivered (90% arrive within 3 working days), fill it as per the instructions on the pack. It's a good idea to fill it where it will be collected from as once it's full you won't be able to move it by hand.
DISPOSE OF IT
You can contact HIPPOBAG up to six months after purchasing your bag to arrange collection, they will call you to arrange collection, which normally happens within 5 working days. You don't even have to be at home when they come to collect it.
Please Note: Service is available for UK mainland only. HIPPOBAG Collections are not suitable for some property types. Please consult instructions on packaging or online at hippowaste.co.uk