Selecting a wardrobe system can be daunting. Where do you start? How best do you organise and store your belongings? Not to mention choosing from the options and colours available. Our Flexi Storage system is designed to make the process simple, with 4 easy steps to create your perfect wardrobe.
The Flexi Storage Wardrobe is designed to be modular and adaptable. You choose it all: the size, colour and style. Select from sliding or hinged doors, and which internal fittings to have inside.
As all the components and accessories are designed to be adaptable, you can arrange them in a way that best suits your space, lifestyle, budget and needs. If you move house or your needs change, the system can be easily taken-down, added to or moved.
With a 4 step selection process, we make it easy to create your perfect wardrobe
1. CHOOSE YOUR FRAME
Measure the available space for a wardrobe. Select from the 1000mm Starting Frame Kits available in White and Riviera Oak. Next, select from the 500mm and 1000mm Add On Frame Kits in a Grey Finish (internal panels).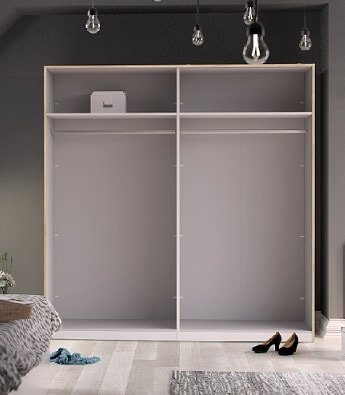 2. ADD INTERNAL ACCESSORIES
Customise your wardrobe internals to suit your needs. Choose from soft closing timber drawers, additional shelves (2pk) and additional hanging rails. All of which are available in both 500mm &1000mm widths to match your frame.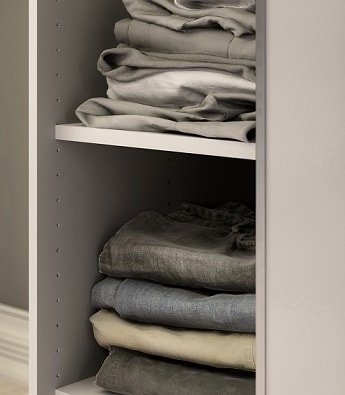 3. ADD DOORS
Choose from sliding or hinged door options. Hinged doors can suit frames 1000mm and up. Sliding doors require the purchase of a sliding track kit. Door panels can only suit 2000mm total frame combinations. For an optimised finish, soft-closing devices for both hinged and sliding can be added (purchased separately).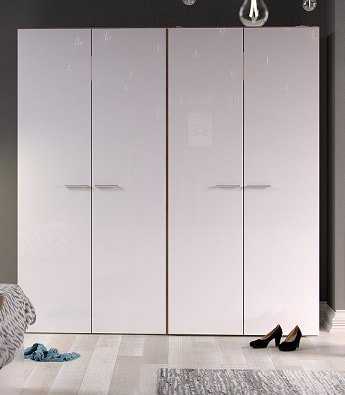 4. COMPLETE THE LOOK
A perfectly co-ordinated look can be achieved by matching your wardrobe with bedside chests and 4-drawer chest units. Available in 3 finishes – White High Gloss, Riviera Oak and combined Riviera Oak frame with White High Gloss fronts. Use our example below to see exactly how we create a white gloss sliding-door Flexi Wardrobe.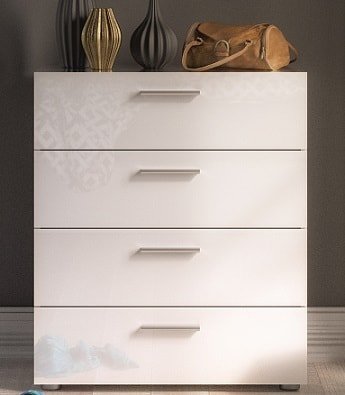 So simple to assemble
The unique Vertical Build System allows you to completely assemble your wardrobe in your room of choice without the need for a large open space. All fittings and screws are mounted from the front, allowing you to assemble in corners and against walls.
Truly a one person job
No heavy lifting once assembled
Simple to assemble
Allows you to assemble your wardrobe in your chosen location and in an upright position – no need to relocate or reposition
Utilises all available space; able to build around corners as well as fit against walls with ease
Option of sliding doors, hinged doors or as an open wardrobe
SmartMount brackets
Flexi Storage incorporates safety and peace of mind with the unique SmartMount feature. The SmartMount bracket enables you to easily secure the wardrobe to the wall, preventing it from tipping over and injuring children and others. In addition to safety, this stabilises your wardrobe in every direction, which extends its life. All in all, SmartMount solves several traditional challenges associated with flat packed furniture.
THIS PRODUCT SHOULD BE PERMANENTLY ANCHORED TO THE WALL OR OTHER SUITABLE SURFACE TO AVOID SERIOUS INJURY OR DEATH.