Wondering how to plan and design a new kitchen? Don't worry, we've got you covered. Our kitchen planner and design ideas guide includes six simple steps to help you design your dream space.
From planning your new layout to choosing your cabinetry, we've put together some new kitchen ideas for all budgets, to help inspire you.
1. Planning your new kitchen
Before diving into the fun bits, such as choosing the units and worktop, you need to think about the logistics of your new kitchen, and how you're going to be using the space.
The kind of questions you want to ask yourself should include:
What is it about your current kitchen that you don't like?
What has made you want to change your kitchen?
What does work in your current kitchen and what do you wish to keep?
What's the most important element of your new kitchen? Do you want lots of space to cook? Ample space to socialise? How much storage space will you need?
What's your budget? What kind of timeline are you working with? When do you want your kitchen to be completed by?
If you are planning on adding new appliances, what facilities have you got to use in the interim?
Once you've established your main goals and reasons for your kitchen remodelling, you can start to think about some design ideas.
2. Choosing your new kitchen layout
Now it's time to plan the layout of your kitchen.
When it comes to styles to consider, you've got various options:
U-shape kitchen: practical with plenty of workspace, ideal for larger kitchens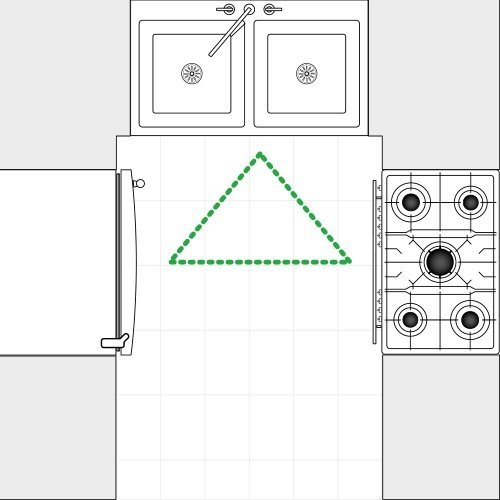 L-shape kitchen: allows you to move freely with plenty of unit and worktop space – ideal for open plan spaces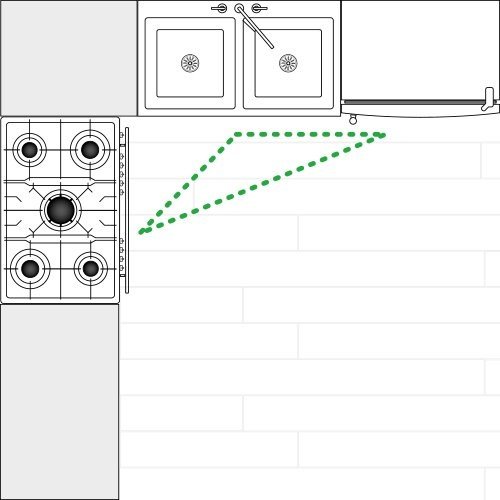 Galley: loved by chefs; with two parallel counters, everything is easy to reach
Straight line: simple and inexpensive, this layout is ideal for narrow spaces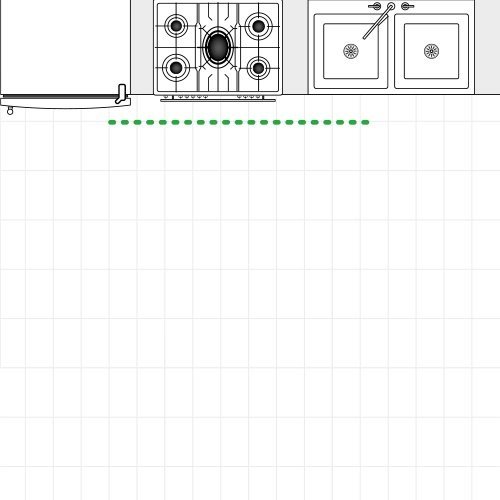 L-shape island: the perfect space for socialising and family living, suited to larger kitchen spaces.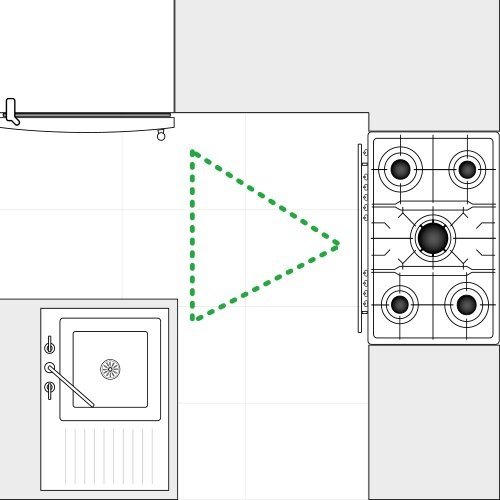 3. Measuring up your kitchen space
To accurately plan your kitchen, you'll need to know the exact measurements of your space.
Always keep these to hand and make a note of any unique features that may influence the design and layout.
Measure the height of the room, and the length and width of the walls
Measure doorways, ensuring to include the outside of the architrave
Don't forget the height from the floor to the windows
Make a note of any existing service points such as plumbing and electricity points (plus any new ones you may be adding)
Note any features that are unique to your space (such as chimney breasts or permanent fixtures).
4. Kitchen design ideas
Key elements to take note of are things such as kitchen units, as well as appliances, worktops, sinks, taps, splashbacks, and whether you want floor and wall tiles.
Creating your dream kitchen gives you the opportunity to make it your own, but having a little inspiration always helps! Browse our selection of kitchen brands, kitchen styles, kitchen colours, and kitchen ranges. We've even got a kitchen visualiser tool, so you can bring your ideas to life, or you can download our brochure – packed with everything you'll need to get your project started.
Some kitchen trends we've been loving lately include:
Handle-less features
Open shelving to display artwork
Brave colour contrasts such as green cabinetry with pink tiles
Statement lighting
Fitting your kitchen with a small home office space
Black finishes such as taps and sinks.