A current interior trend is to focus on turning your kitchen into somewhere you can entertain. The kitchen is no longer just an area for food preparation, but also a social space you can use to host friends and family.  
To help inspire you, we've pulled together some of our favourite kitchen design ideas to create a kitchen for entertaining, so you can transform your kitchen into a multifunctional hub for cooking, hosting and socialising.  
Be prepared
The key to preparing a space for entertaining is to be organised. Clear away as many things from your worktops as possible and delegate a specific area for preparing food. Make sure you have all the tools and cookware you'll need ahead of time. Cooking appliances such as food processors, slow cookers and fryers can all help to make food prep a little easier, so plan your menu around these. All of these appliances can also be stored away after use to minimise clutter.  
Ensure you have enough dinnerware and serveware to cater for your guests. Clear a space in your fridge-freezer and make room for food storage  boxes, so you can store away any pre-prepared food until it's ready to be served. Integral storage cabinets, carousel units and pull-out bins are all great ways of keeping things tidy and spacious.  
Top tip: Stock up on ice before a gathering, so your guests can have chilled drinks when they arrive.  
Set up a drinks station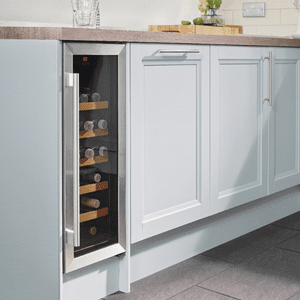 Particularly if you're planning on continuing to cook as your guests arrive, you'll want to set up a self-serve drinks station so that you don't have to worry about keeping your guests topped up with beverages. Having a wine fridge installed is an excellent idea, so guests can help themselves to drinks as and when they please. Alternatively, you could set up ice buckets and plenty of glassware for people to help themselves.  
If you're a fan of hosting a brunch, a built-in coffee machine is sure to be a crowd favourite or you could set out a blender with some fresh fruit so people can make their own smoothies.  
Add some tech-savvy touches 
To really turn your space into a kitchen for entertaining, think about adding some tech-savvy touches. Having an extension lead plugged in is a great way to let your guests charge their devices and means you can plug in a speaker to add to the social ambiance.  
Make a statement with a colour-changing smart bulb that you can control with your voice using Amazon Alexa or Google Assistant, or use LED strip lights for more subtle mood lighting. Spotlights are a great way to illuminate certain areas, or opt for statement lighting such as a  chandelier for real visual impact.  
Top tip: Having various lighting options is a good idea, so you can adapt the environment to suit the occasion.  
Take a seat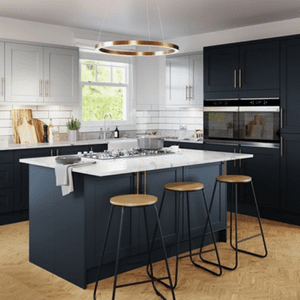 To create a relaxed, social atmosphere within your kitchen, you'll want to have somewhere for family and friends to gather or sit. Bar stools around a kitchen island are a great choice for those with limited space, as they don't take up much room. An extending table is also a handy option to accommodate extra guests. If you're lucky enough to have a kitchen with a view, arrange your seating with this in mind so your guests can take in the surroundings. If there is a little more room, add in a couple of comfy chairs for an informal feel, so your guests have plenty of options and spaces to move around and mingle.  
Top tip: If your kitchen leads into an outdoor space and the weather is accommodating, open up the doors to let your guests gather outside.  
Clean-up station
When you're hosting a gathering, you don't want to be worrying about the clean-up while you're trying to socialise. Make life easier for yourself by opting for easy-to-clean appliances and materials when designing your kitchen; for example, our Easy Clean paint which can be used on walls, ceilings, wood and metal. Make sure you've got all the cleaning products you need ready to go for when your guests have gone home 
Having a dishwasher will make it even easier to clean everything away, as you can pop bits and pieces in while people are still there, turn it on and empty it once everyone has left – easy peasy.   
And that's it! Those are our kitchen design ideas to create a kitchen for entertaining. Don't forget to share your favourite entertaining kitchen ideas with us @Homebase_UK on Instagram and check out our entire Kitchens range here.