From washstands to basins, your sink is one of the most frequently used parts of any bathroom – so you want one that both looks the part and works well too. If yours is out of step with your bathroom's décor or starting to look stained, chipped or cracked – it might be time to treat yourself to a new one. Luckily, changing a sink is one of the most straightforward bathroom jobs around, and we're here to tell you how to replace yours with our handy guide.
What you'll need
Taking care of your water supply
Step 1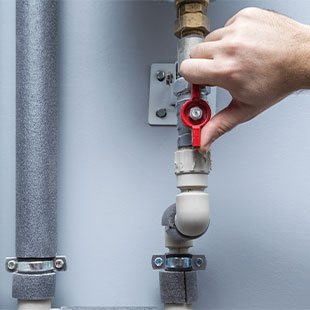 Before you begin disconnecting any sink pipes, it's crucial that you turn off your water supply – otherwise you might quickly find out whether your bathroom is truly waterproof! There should be a compression fitting under the sink on each side to cut off your hot and cold water pipes, and it only needs a 90° twist with a wrench or flat-head screwdriver. However, we recommend turning off your water at the mains too – just to be on the safe side.
Step 2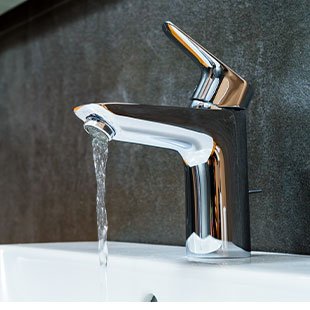 Once your water's off, turn your sink taps on to run through any water in the system. Once it's dry, you can use your wrench to unfasten the hot and cold water pipes. If they look in good nick, feel free to reattach them to your new sink, but if not – now's the perfect time to replace them.
TOP TIP: This guide is designed to help you replace your basin like-for-like. If you're switching sink styles, there may be pipework that needs moving, replacing or installing – in which case we always recommend you get a professional in.
Removing the old sink
Step 1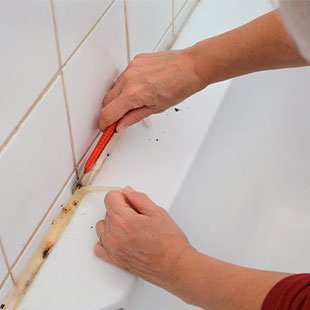 First things first, all the silicone around your bathroom sink needs to be cut away. If you're removing a wall-hung sink, cut between the sink and the wall, and around the base for a pedestal sink. For top-mount or undermount, cut where it meets the countertop instead.
Step 2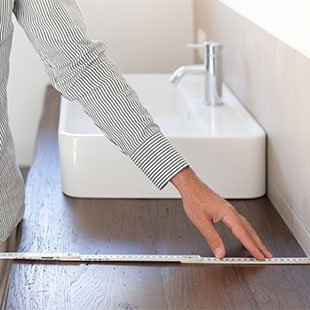 Before your remove your anchor bolts, take this opportunity to measure up your bathroom sink (and countertop if your sink needs one). Note down the sink's length, width, and depth of the sink, as well as the length and width of the bathroom countertop if you're planning on how to replace it or change your style of sink.
Step 3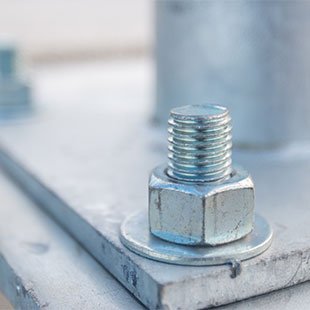 Now it's time for those anchor bolts. They're often screwed very tight, so be careful not to take chunks of wall with them when loosening. If they won't affect where your new bolts will be going, then you can always leave them and paint over instead.
Step 4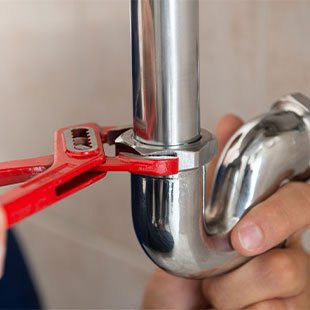 Lastly, disconnect your drain from the sink by unscrewing the attached floor or wall nuts by hand. Struggling to get them off? Pliers can be handy for turning ones that are stuck. Once they're off, you can lift your basin or pedestal away from the wall – before getting rid of it at your local recycling centre. Now, there's plenty of space for your new bathroom sink!
TOP TIP: When buying a new sink, always double check it comes with the waste outlets and overflow units. If not – you'll need to get the ones recommended by your manufacturer.
Setting up your new sink
Step 1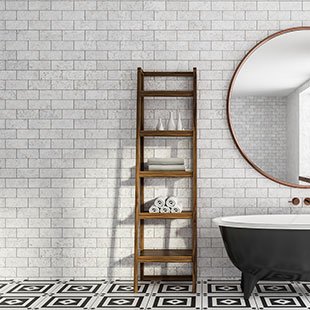 The biggest consideration before installing a new sink is structural safety. If you're ready to replace your bathroom sink with a new one in a different place, you'll need to know how the wall behind it is constructed. Specifically, if there is brick or timber behind it strong enough to support the weight. If there is, you're good to go.
Step 2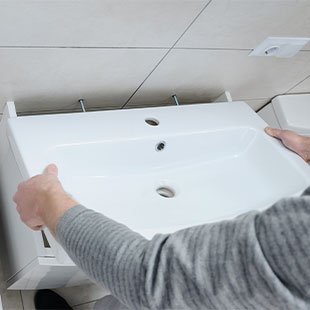 With the water still off, lift your new sink into place where you're planning to install it. Once you've made sure it's completely flat with a spirit level, draw round the outline with a pencil, and a straight vertical line through the middle to mark the centre point. If you're also installing a pedestal, this line can be continued to the floor to keep the whole thing straight.
Step 3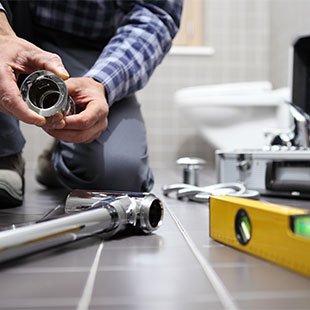 Your new bathroom sink should come with a fixing kit, so find the hole in your basin where the fixings should go – and use them to mark up the wall. Next up, just drill your wall holes where the marks are.
TOP TIP: If you're drilling into tile, putting masking tape over it before drilling can help stop the tile cracking, as well as stop the drill slipping too.
Step 4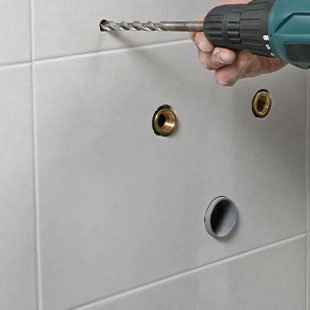 With your gaps ready, fill with wall plugs and line up your basin holes with the wall holes. Tap in your anchor bolts with a hammer, ready to take the weight of your bathroom sink. Once you've gotten the bolts in, add your screws and tighten them by hand until it feels secure and level.
Getting your sink up and running
Step 1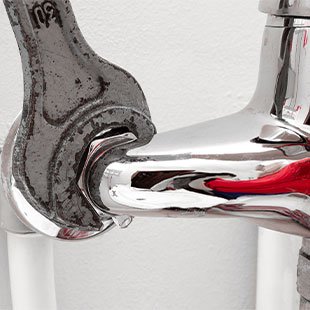 Next, it's time to attach your taps to the sink. Connect your threaded rod to your taps, then feed your tap through the hole in the basin so the thread is hanging down underneath. From there, it's just a case of attaching your waste to the plughole and connecting it to your threaded rod at the other end.
Step 2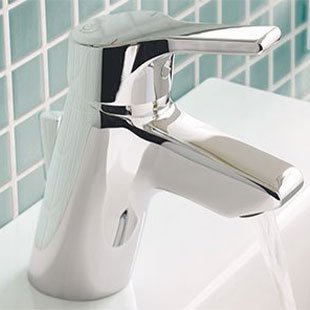 Once everything's in place, check your plastic washers are in place at the base of the threads, and screw your water hoses back on by hand. Next, position your taps so they're nice and. Once you're happy, tighten the retaining nuts with an adjustable spanner.
Step 3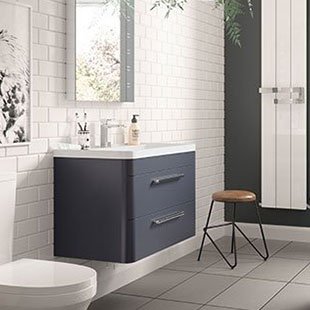 Finally, switch your water back on, and turn on your bathroom taps to check the water comes through your sink properly. If there are leaks, check your connectors and tighten them up if you need to. Then all you need to do is re-apply your silicone to the back of your sink, and once it's dried – it's ready to use!