1. De-clutter your bathroom and fill it with beautiful things
With Pinterest reporting a 269 per cent increase in searches and saves for 'spa bathrooms' in the past year, it can be easier than you think to create this trend with very little outlay. For a spa-like experience in the bathroom it's all about de-cluttering and filling the space with only beautiful things. Put plastic, bottles and everyday clutter away, replace old towels with fluffy, enticing new ones and fill the room with hanging and potted greenery for a calming place to retreat.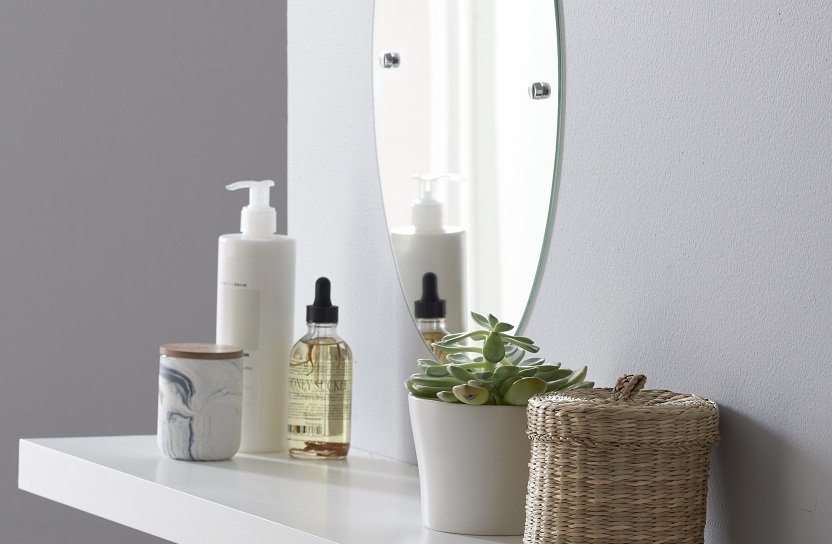 2. Create an instant update with gold spray paint
For 2018's hottest finish, add a warm, inviting glow to the bathroom using metallic gold. Mirror frames, accessories and furnishings can all be transformed with gold spray-paint for an instant update. Don't be concerned about mixing with chrome taps and fittings as the trend is all about mixing up the finishes for a relaxed, eclectic look. If you want to link the different finishes together for a cohesive overall look, find one or two items that incorporate the gold and chrome finishes together.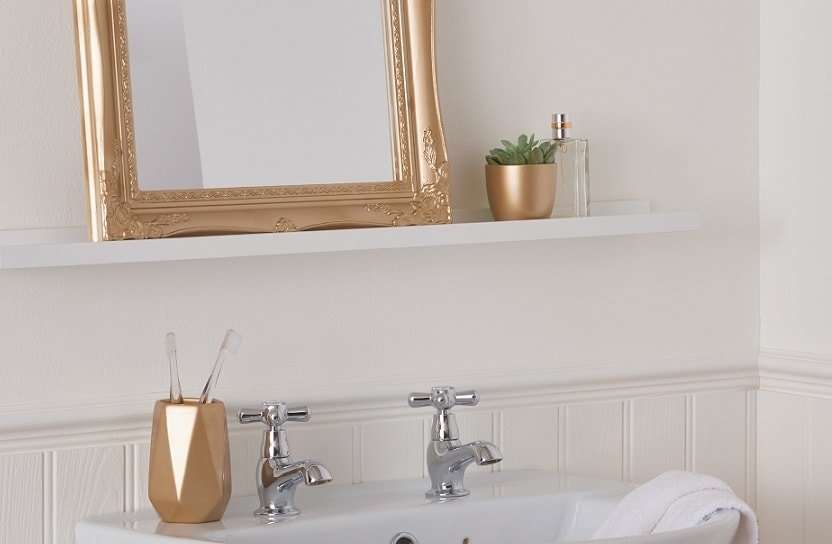 3. Use deep colours for an on-trend look
Embrace another current and exciting trend and go bold with a deep colour for a whole new look. Dark and moody interiors create stunning and dramatic spaces. They're particularly suitable for small rooms such as a bathroom, where the depth of colour produces a cosy ambience. White sanitaryware looks particularly smart against a deep colour and you can pair deep hues with bright colours to add energy and interest to your scheme. Keep the room uncluttered to avoid the look becoming overwhelming.
Crown Bathroom paint in Pamper Night
Mondella Resonance Towel Rail – 60cm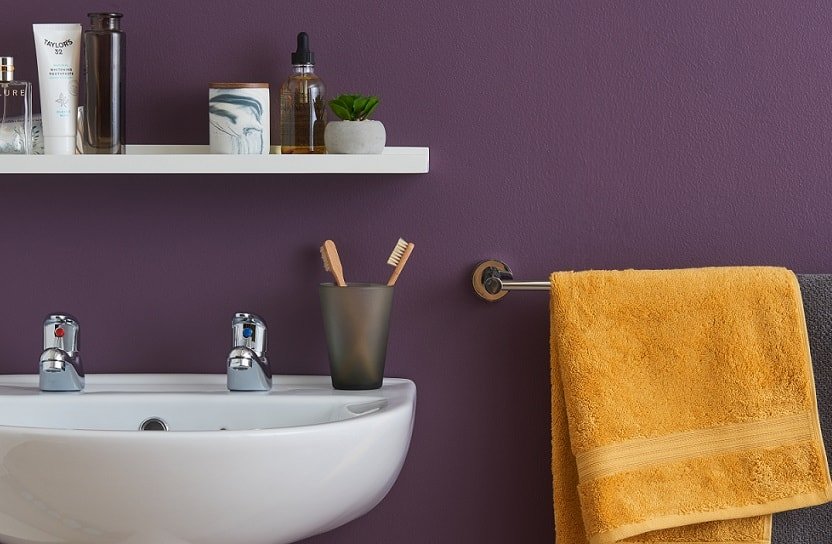 4. Add quirky fittings and accessories
Add personality with storage solutions and accessories that you wouldn't expect to see in the bathroom. Due to the hard surfaces of the tiles, flooring and sanitaryware, the bathroom is often a stark, utilitarian room. Adding quirky fittings and a shelf of unusual ornaments will soften the look and add a homely vibe. Make sure the ventilation is adequate before displaying any pictures or decoration that might otherwise suffer in the humidity.
Large Metal Wire Basket with Handle
Value Metal Planter in Silver – 14cm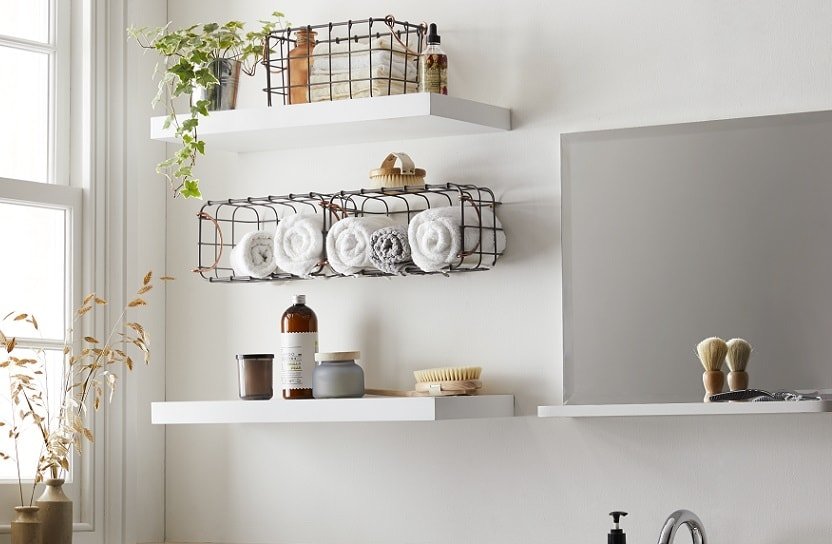 5. Switch up to a spacious shower bath
With a slightly wider tub, shower baths offer extra standing room without impacting on valuable bathroom space. Featuring a 'keyhole' shaped design, the Mondella Resonance Shower Bath (1700mm x 800mm) is perfect for both quick weekday showers and those long weekend soaks. Add a touch of luxury with marble effect tiles or a bold and bright Stormwall.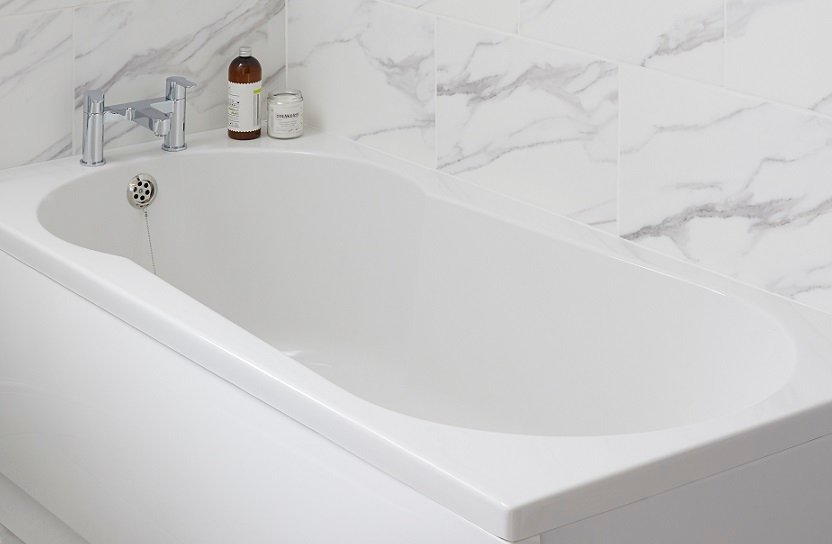 6. Refresh the grout
If areas of your bathroom are looking tired, a quick refresh of the grout can work wonders to lift the overall look. Use a grout reviver to instantly make the bathroom feel fresh and new again or try a coloured or dark grout for a whole new look. Dark grout contrasts against white and pale tiles emphasising their shape and the tile layout. Metallic grout is set to sweep through in-vogue bathrooms this year, adding a touch of glamour and a brand new way to decorate a plain space.
UniBond Anti Mould Grout Pen White – 7ml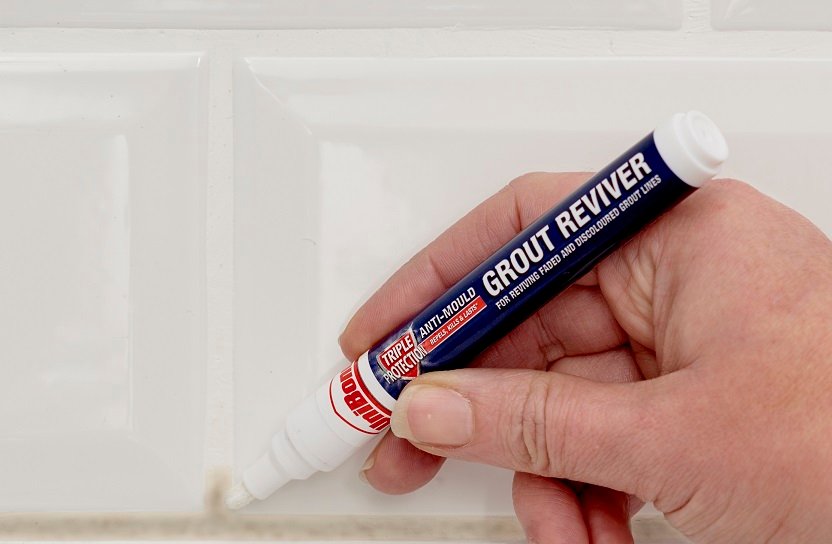 7. Add a striking shower curtain
A fresh, new shower curtain will instantly change the feel and look of the bathroom. Change the accent colour of the room with a striking curtain, matching towels and accessories. Large patterns are very effective in small spaces and you can use them to liven the energy of the scheme. Use a vertical stripe to give the illusion of height in a room with a low ceiling. A horizontal pattern in a cool colour-palette will enhance the feeling of space overall.
Bathroom shown is the Value Bathroom – full suite and tiles available from £329.27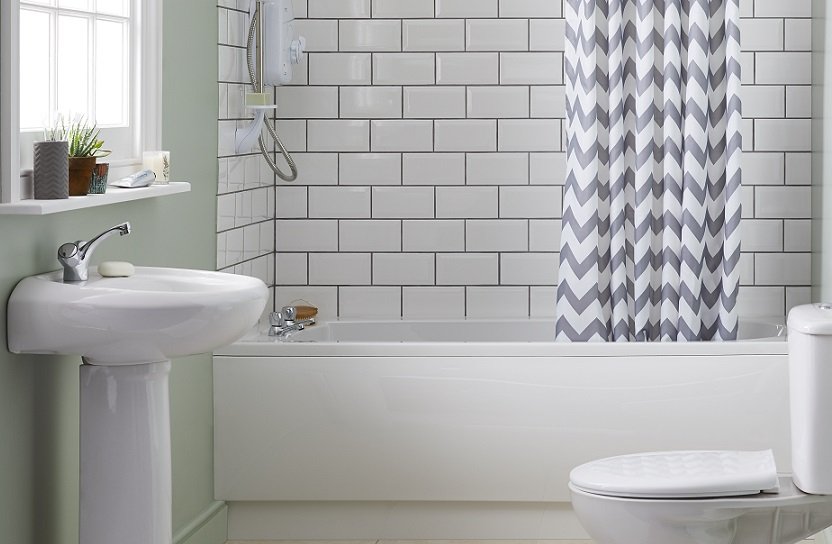 8. Cover dated tiles with tongue and groove panelling
Quickly and easily cover dated tiles with fresh, practical and smart tongue and groove panelling. Panelling provides a homely look as it's softer aesthetically than tiling. Paint it in a bright white to create a 'New England' style that's a perfect backdrop to the fittings. Pair with a simple, neutral colour-palette of accessories. For a dramatic effect, use a deeper tone to offset the sanitary ware and create a feature of the panelling itself.
Toilet and basin from the Mondella Maestro range
Tongue and Groove MDF Wall Panel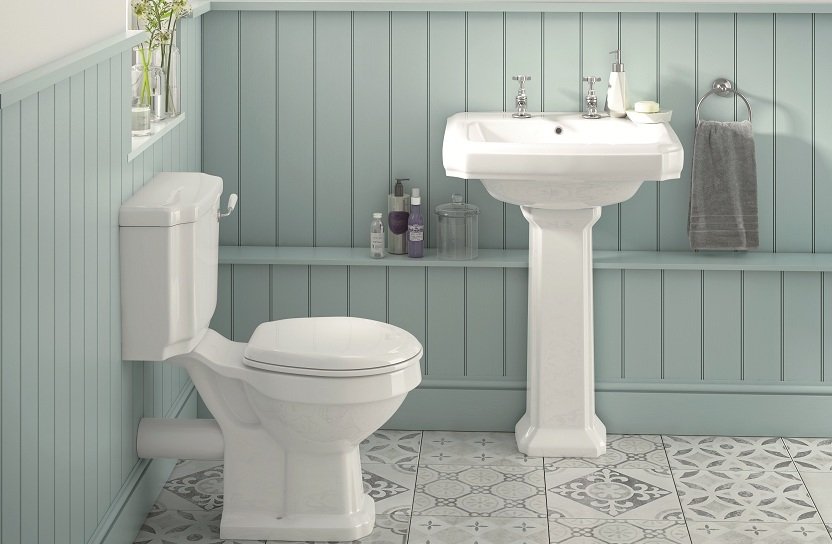 9. Create order with storage
If you're fortunate enough to have a large bathroom, this could provide an opportunity for a stunning, freestanding piece of furniture. From tall boys to cabinets, every member of the family can have their own drawer or shelf for all of those bathroom essentials. Useful bathroom storage doesn't have to be reserved for large spaces either, with slim toilet-roll holder cabinets and wall-hung mirror cabinets providing ample space for toiletries. Opt for slate grey for a contemporary look or choose a more traditional finish with white or wicker styles. Equally if you prefer a streamlined look, a vanity unit is a great way to add storage to cloakrooms and family bathrooms alike.
View our full range of bathroom storage and vanity units.

10. Relax!
With the de-cluttering complete, the decoration renewed and your accessories refreshed, run a hot bubble bath, light a few candles and transform your bathroom into an oasis of tranquillity. Create a holistic experience with fragrant oils, bring in a wireless speaker to relax to your favourite tunes and take a well-earned rest!