From the lawnmower and bulky power tools to spare flowerpots and outdoor furniture, there can be a lot to store in the garden.
If you have a small garden or lack of garage space, organisation is key. To help give you some ideas on how to make the most of your outdoor space, we have put together this guide on the best small garden storage solutions.
With these outdoor storage ideas, you can find a place for everything in your garden.
Before you start
Some of these garden storage solutions may require some DIY. Before starting, we advise you to always read the manufacturer's instructions on how to use your tools and materials, as well as our DIY Safety Tips guide.
A garden storage box is a perfect double-use solution. Not only will it hold your outdoor contents, such as a small charcoal BBQ, grass trimmer and pressure washer – but with the simple addition of some comfy cushions on top, it can double up as the perfect garden seat.
Outdoor storage boxes come in a range of different colours and sizes, so you're sure to find one for your small garden space. What's more, they're a great durable option thanks to their weatherproof materials.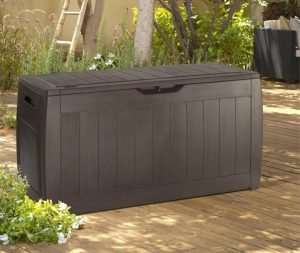 Bins may be an eyesore, but we sadly can't do without them. With a small garden, you want to ensure you make the most out of the space you have – which is why we recommend cleverly disguising them with one of our outdoor storage solutions.
With an easy-access wheelie bin storage solution, you can hide that bulky plastic under natural wooden slats and offer a little extra protection from hungry foxes. Another alternative could be to use flexible plastic tubs to decant compost into – they're lightweight, durable and their handles make them easy to lug around the garden.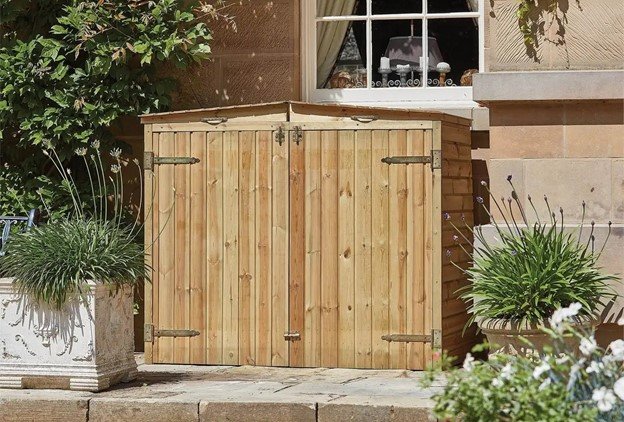 Ladder Shelving
Not everything in your garden has to be put away.
Smaller items such as watering cans, potted plants and hardwearing garden hand tools can be used to create visual interest on some ladder shelving. Simply upcycle old ladder shelves by sanding them down and adding a lick of outdoor paint – and once dry, you can use the steps as shelving for your planting essentials.
Upcycle Old Furniture
Another DIY option is to upcycle some old furniture and turn it into garden storage.
An old chest of drawers or writing desk is perfect for storing small items – plus it can create a unique look and feel to your outdoor space.
You can use it as an extra surface for a container or herb garden, and you could add a mirror on top to create the illusion of your garden feeling bigger than it is.
If you want to learn more about how to do this, check out our 'How to upcycle furniture with paint' guide.
Top tip: Use exterior wood paint to protect your old furniture from the outside elements.
If you're looking for multi-functional pieces, an arbour with storage is a great choice. Having an arbour in your small garden will create the perfect place to relax, while the under-seat storage will allow you to store your cushions and throws for when the weather takes a turn.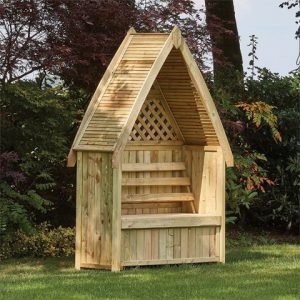 Stacking up crates, baskets or even old pallets is a great option when it comes to garden storage solutions, allowing you to pack away smaller, everyday gardening items until you need them.
Sustainable and stylish, they'll make a great eye-catching feature in any small garden. If you opt for wooden storage crates, you could give them a colourful makeover with some exterior wood paint.