What should I consider when buying a shed?
From keeping your garden equipment safe and secure to serving as a summerhouse or workshop, a shed is a practical addition to your garden with the potential to transform your outdoor space. Homebase stock a comprehensive range of easy-to-install sheds for a range of different purposes. With so many styles, types and sizes available it can be a struggle to find the right one for you, your garden, and your family. Cut out the confusion and make finding your perfect shed a breeze with this handy guide.
To choose a shed to fit your needs, it's a good idea to consider the following:
What size do you need?
Think about what you're going to store in your shed, so you can find the right size. It's best to measure the space you've got available in your garden (considering extra dimensions like roof overhangs and window openings) before you buy. If in doubt, opt for a slightly larger shed, as it's always best to have too much space than too little.
Is it weatherproof?
Not all sheds are created equally and some aren't 100% waterproof, so make sure you treat your shed with a waterproofing stain or finish to protect the wood if necessary. As your shed is going to be outside, it needs to be able to stand up to the worst of the British weather. If neglected, your shed might rot or rust.
Ease of installation
Many sheds require self-assembly and you'll usually need at least two people to install it safely – follow the instruction manual and you should be fine.  As a rule, metal sheds tend to be harder to install than plastic or wooden models due to the weight of the components and the type of fittings involved.
Will it need a power supply?
If you plan on using the shed as a workshop or office, you'll want to have mains power installed – this will need to be done by a professional electrician.
Do I need windows?
At Homebase, all wooden sheds come with clear, tough acrylic-coated glazed windows. This provides maximum light penetration and a safe, shatterproof design but you may want to think about security if you're storing expensive equipment.
Is the base included or do you need to build your own?
Most sheds require you to purchase a separate base to keep them level and as sturdy as possible. A base is different from the floor of a shed, sitting in-between the ground and floor to create an even surface. You can find durable shed bases here.
Is installation included in the price?
With certain sheds, you'll find that self-assembly is required – check this before you purchase by clicking on the 'product details' tab. Homebase stock a range of both wooden and metal sheds and the price includes the cost of assembly.
Is it lockable?
If the shed doesn't specify if it has a lock, you should purchase one just in case. This way, you can be certain that your tools and garden equipment are fully secure.
How many doors does it have?
Sheds typically come with one or two doors, and the number you should go for depends on what you'll be using it for. If you have big storage shelves, power tools or want to create a workshop, opt for a shed with double doors. Those who want an ordinary garden shed to store their tools and smaller items will be fine with a single door.
What tools will I need to set up a shed?
You can find a list of everything you'll need on our 'How to Build a Shed' guide, as well as full instructions on how to do everything from planning to assembly.
Do I need roofing felt?
Used as a protective layer against adverse weather conditions, roofing felt is easy to install and can achieve great results. Some sheds already have roofing felt, which is specified in the Homebase product details section of a page. Don't worry if your chosen shed doesn't include it, there's an easy to follow how-to guide on the installation process should you need it.
Take a look at our helpful video guide on how to fit roof felt on a shed below:
---
What types of sheds are available?
Whether you're looking for a wooden, metal or plastic shed, there are plenty of different styles available, so you'll be able to find something that matches your style and requirements.
Homebase wooden sheds come in Apex, Pent, Pent Solar and Extending varieties in both overlap or shiplap designs. In the end, it comes down to your own personal preference so take time to make yourself familiar with all the options available.
Metal sheds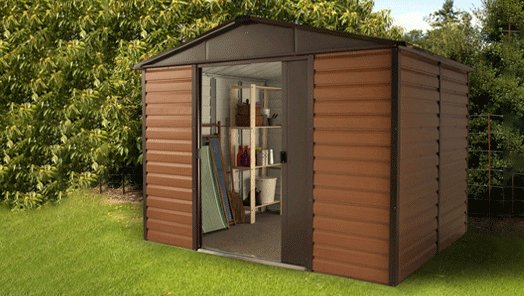 Durable, secure and extremely weather resistant, metal sheds are designed to last, making them ideal for safely storing your expensive garden equipment in. At Homebase, the metal sheds are made from galvanised steel, ensuring a high level of security.
Metal sheds are a practical alternative to traditional wooden sheds, and are available with different features, including sliding doors – making it much easier to move large items in without the door blowing shut.
Plastic sheds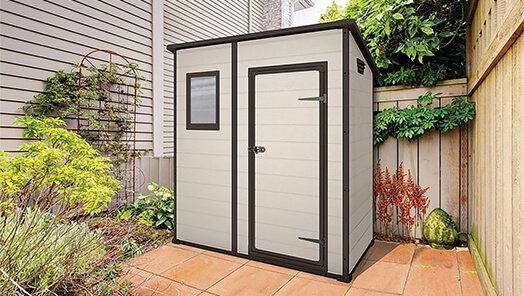 Affordable, convenient and cost-effective, plastic sheds are perfect if you're counting the pennies and don't need a huge amount of storage space. In addition, they are much lighter than wooden and metal sheds, which makes them easy to move around.
Wooden sheds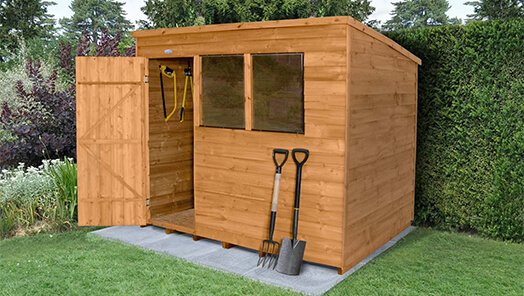 When you think of a garden shed, wooden sheds are probably the ones that first come to mind, and with good reason. Created using soft wood and suitable for a wide range of uses, there is a variety of timber sheds to choose from including:
Overlap/feather edge. This traditional style rustic style shed is created with overlapping boards to protect the interior from rain damage, such as the swelling and rotting of the wood. Often the most cost-effective style of wooden shed, it is reliable and long-lasting while being ideal for those on a small budget. If you're looking for a garden tool shed or bike shed, this style of shed would be ideal.
What size shed should I get?
Shed Size Guide
Use
Size Required
 Tool storage, bike storage
Small garden shed
Around 5 x 4 or 6 x 4
Larger storage space, power tools etc.
Medium garden shed
Around 8 x 6 or 6 x 6
Workshop, home office
Large garden shed
Around 9 x 9, 9 x 15 or 10 x 13
How many windows should my shed have?
Amount of Shed Windows Pros / Cons
Amount
Pros
Cons
None
Suited for sheds being used for storage.
Cheaper.
Alternative methods of light can be used.
Little natural light.
May not be good for sheds being used as workshops.
One
Ideal for small sheds.
Only lets in a little amount of light
Two
Improved ventilation.
Looks stylish.
Not as secure because people can see inside.
Three+
Improved ventilation.
Stylish.
Can see workshop or project batter.
Pay less electricity or gas for lights.
Requires a bigger space.
Not as secure as having no windows.
People can see what you're storing.
---
Will it require regular maintenance?
No matter which type of shed you choose, they each require a certain level of maintenance.
Wooden sheds can shrink or split due to changing temperatures and weather conditions, so all wooden sheds should be treated annually with a wood preserver. Hinges and locks should be regularly oiled, and leaves should be removed from the roof to prevent damp.
Do I need to treat it regularly?
If you're looking for a shed that only requires a low level of maintenance, pressure-treated sheds are a great option. As they are constructed from pressure-treated wooden overlap boards, they require no additional treatment. At Homebase, there's a range of pressure-treated sheds that come with a 15-year conditional manufacturer's guarantee against rot.
Metal sheds require less maintenance, though they should always be well vented to prevent condensation. Fertilisers should also be kept well away from the shed to prevent corrosion.
How do I protect my shed from bad weather?
Apply roofing felt
Treat any unfinished wood
Place away from trees in case of wind
Seal windows with insulating tape
Use a base to prevent flooding during heavy rainfall
Always shut windows and doors when you leave
---
Are there any important safety measures to consider?
Most garden sheds are fairly easy to install. However, it could be worth hiring someone if you're not confident, and you'll need to have any electrical work done by a professional. Be sure to read the safety tips guide before attempting any installation.
When using your shed, storing everything away neatly will help to prevent accidents such as trips and slipping.
Shed bases are a worthwhile investment as they greatly increase structural stability and can prolong the life of the shed.
---
Top Tips
To ensure you are purchasing a quality shed, always buy from a reliable, well-known company.
When making your purchase, think long term. A cheaper shed might be tempting in the short run, but you may end up needing to replace it in a couple of years' time, so go for the best shed you can afford.
Make sure the shed comes with a guarantee. Homebase offers guarantees ranging from five to ten years depending upon the type of shed being purchased.