Fences are an essential part of almost every garden, simple to put up and easy to care for. A good fence should last for many years, providing you garden with privacy and protection from the elements. Read this guide to discover all the different types of fencing, and find out which one will be right for your garden.
What types of fencing are available?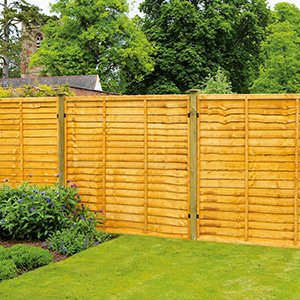 Lap panels
This type of fence panel is also known as overlap panelling. Popular and traditional, lap panels are made using a wooden framework into which horizontally overlapping wooden slats are slotted. These panels can then be installed in your garden by attaching them to either wooden posts, or for a more secure fit, slotting them into concrete posts that raise them slightly off the ground.
Lap panels are a cost-effective way of erecting a great looking fence if you're working to a budget. Panels are available in a width of 1.83m and in heights of 3ft, 4ft, 5ft, 6ft.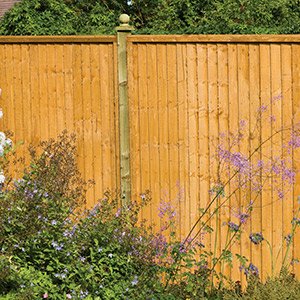 Closeboard panels
These are a slightly more premium type of fencing than lap panels. Strong and durable, closeboard fences are made up of overlapping vertical boards that are nailed to horizontal rails running near the bottom, middle and top of the fence. The fencing is then supported by notch posts. Each panel is 1.83m wide and available in a range of different heights, from 3-6ft with a choice of straight or waved tops.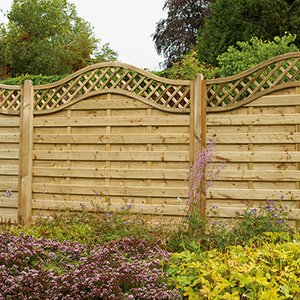 Lattice panels
Lattice panels are a great type of fencing to choose if you're looking to create a decorative border around your garden. They differ from lap and closeboard panels because they appear more structured and intricate, with horizontal and vertical panels weaving in-between one another. Lattice fences also feature a short section, much like a trellis, at the very top of each panel.
The stylish look of lattice fences means that you'll pay a bit more for them per panel than the lap and closeboards equivalents, but this style of fencing will make a striking addition to your garden. Lattice panels are available in widths of 1.80m, and heights of 4 or 6ft.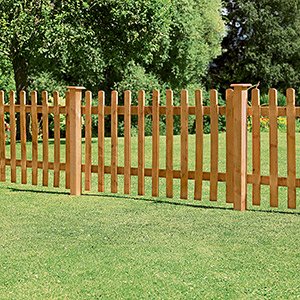 Picket fencing
This type of fencing is made up of evenly spaced vertical boards measuring around 1m high that are often used as a border in front gardens. Picket fencing is a more decorative type of barrier than other types of fencing, and although it won't provide any privacy, it does make a great alternative to building a front wall as it's easy to put up and less permanent.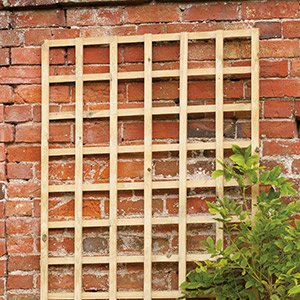 Combination of trellis & panels
Trellis fencing can make quite a versatile addition to your garden and transform its overall look. By adding a small amount of trellis to the bottom of an existing fence you can create an area where sunlight can get through and make the overall fence taller, to give you more privacy in the garden.
A much more open and airy style of fencing, the gaps in trellis fencing encourages plants to grow. Use a larger section of trellis to grow beautiful climbing plants and bring more natural life in to your garden.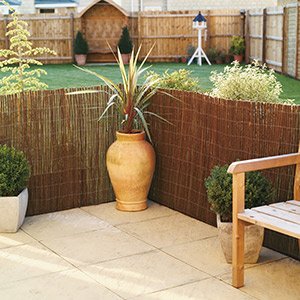 Screens
While they won't provide any additional security, screens are a great way of creating enclosed spaces or sectioning off areas within your garden. Use screens to do things like hide the bins or shield the BBQ on a breezy day. Screens are available in a variety of materials including bamboo, reed and willow.
They're really easy to put up, simply hammer their poles into the ground using a mallet, so you can take them down and put them back up as needed.
What material is best for a fence?
Fencing Material: Pros And Cons
Material
Pros
Cons
Metal
Durable, sturdy, classy designs.
Paint can chip and wear away easily, not as private.
Wood (treated)
Affordable, strong, long lasting, created to last against rot.
Harder to clean.
Wire
Good short-term solution, ensures pets can't escape.
Doesn't offer privacy, can rust, will need to be replaced.
Wood (untreated)
Natural appearance.
Tendency to warp over time if maintenance isn't kept up with.
Fence accessories
Fence Accessories
Name of accessory
Use
Gravel board
Usually placed at the bottom edge of fences to prevent rot and damp.
Capping
Placed on top of the fence posts to add decoration, protects the fence against bad weather and prevents rot from forming.
Fixings
Can help prevent the fence from falling over during bad weather.
Posts
The main supporting feature of the fence.
Which type of fencing is best for garden security?
It's important to consider your choice of garden fencing and trellis and how this will impact your home and garden security. Take a look at the helpful video below to learn more about securing your garden with fencing and shed security:
Caring for your fence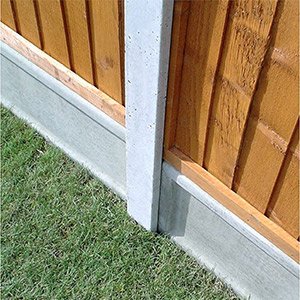 Gravel boards
Gravel boards
Our dip-treated fence panels require the use of a gravel board. These are placed at the bottom of the fence, helping to raise the wood panels above ground level to prevent them from rotting.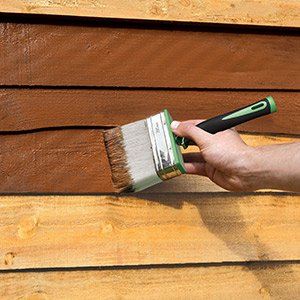 Protecting against rot
As with everything made of wood, you'll need to show your fencing a little care and attention to keep it protected against the elements. We've got a great range of products to help you treat your fence – from traditional varnishes to spray on products that'll get the job done quickly. We've even got coloured wood stains if you fancy a change from the natural appearance of your fence.
Take the time to keep your fences varnished and they'll last you for many years to come whatever the weather.
For a little extra peace of mind, all of Homebase's fence panels come with a guarantee. Lap panel and closeboard panels that are dip treated and require a gravel board have a 10-year conditional anti-rot guarantee. Decorative lattice panels have a 15-year conditional anti-rot guarantee, and are pressure treated to provide greater protection against decay; this also means they don't require annual retreatment.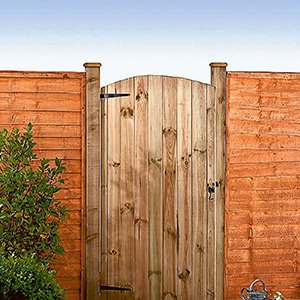 Top tip
Once you've erected your beautiful new fence, why not enhance it with a matching gate? We have a great range so you're sure to find something to suit your needs.