One of the great things about creating a boho garden is that there is no right or wrong way to go about it. After all, the practice of bohemian is to be unconventional and carefree – giving you creative freedom to mix patterns and interesting décor together to create an outdoor space that is truly unique.
Sometimes when rules don't apply, it can be difficult to know where to start – that's where we come in. This guide from Homebase offers you a handful of boho-inspired ideas that will help get you on your way to creating your own bohemian garden paradise.
This is a great, fun and easy project. However, if you do find yourself using any power tools or new pieces of furniture, always read the instruction manuals.
Let's start with what you'll need.
Materials:
Design an alternative dining area
First, you need to think about creating a cosy and ambient outdoor dining area.
To make things intimate and laidback, try using cushions and foot stools around a low-level table. Add colourful throws and a patterned outdoor rug for a bright and playful aesthetic.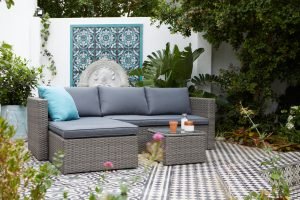 Alternatively, opt for a stylish rattan garden furniture set. The rattan material will act as the perfect neutral base for adding cushions in a variety of patterns and colours.
Top tip: To prevent your new bohemian garden space from feeling a little chaotic, put together a scheme of around two to three tones of two different colours.
Include comfy relaxation areas
A key part of creating a bohemian garden is to create a comfortable and welcoming space for you and your guests to relax in.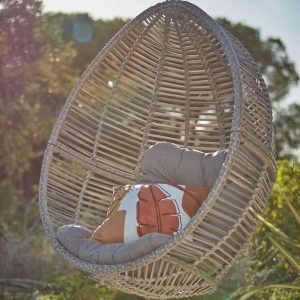 Swing seats or hammocks are great additions to any garden. You could go a bit bolder and dot a few bean bags around – these not only add a playful element to your space but have the added benefit of being lightweight and easy to move around.
Top tip: Pop a drinks trolley nearby to enhance your bohemian paradise and make it feel as if you're on holiday in your own garden.
Add some unique décor
The bohemian trend is best known for its quirky patterns and furnishings.
Think about adding some peculiar garden ornaments to your outside space or give creating your own bespoke furniture a go. Check out our Pallet Garden Furniture guide for some inspiration.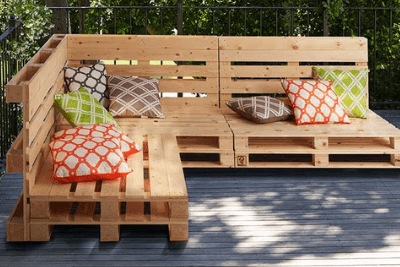 Top tip: A boho garden is eclectic and playful, so get creative with your furnishings!
Create an outdoor oasis
Boho garden décor is heavily inspired by nature, so add plenty of bright flowers and leafy plants to your outside space.
Architectural plants are a great option if you really want to enhance the exotic atmosphere.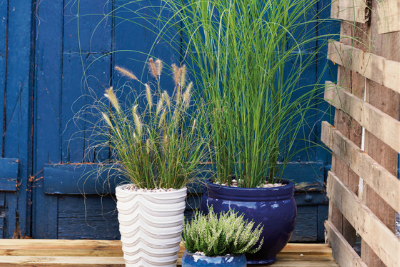 Water features are also an eye-catching addition to any bohemian garden paradise. Not only will the addition of water add soothing sounds, but it will also attract feathery friends that will contribute to your tranquil surroundings.
Include magical lighting
Finally, to tie everything together – include some form of garden lighting to ensure you can enjoy your new boho-inspired space even when the sun sets.
Solar stake lights are a great option, as they are easy to set up and automatically illuminate at dusk. Alternatively, string lights are another great way to create soft pools of light to illuminate your bohemian paradise.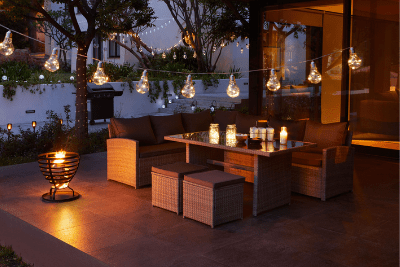 Finally, a firepit is the perfect way to add that cosy campfire feeling.
Don't forget to upload an image of your new bohemian garden paradise to social media and tag us @Homebase_uk.