Having a small garden
No barrier to big ideas, contrary to popular belief. In fact, having a small garden can be an advantage if you're time poor. A small garden can also be easier to maintain with fewer tools required. Here's how to plan your space with some ideas and styles to inspire you.
Check your garden's orientation
If you have a small garden parts of it may be in shadow for some of the day. Observe it in different lights – morning, evening, midday – and notice how the sun and shade travel across your garden. Check its orientation – where is north? This will help you decide where to position plants and where you'd like to sit at different times of the day, for an evening drink or midday shade.
Test your soil
Your soil determines what kind of plants you can grow in the ground. Check for texture – whether the particles are fine or coarse – and the pH – whether acidic, neutral or alkaline. Whatever your soil, you can always use containers to grow favourite plants that wouldn't thrive in the ground soil conditions.
Maximise your space
The challenge when designing a small garden is finding space to fit everything in. However, developments in the technology of living walls and green roofs, folding furniture and multi-use storage benches mean maximising your space is easier than ever. Your ground area is just the starting point – make every surface work for you.
Walls, fences and sheds provide vertical space for climbers or living walls that will draw the eye upwards, obscure the boundaries and make a small garden look bigger. A large outdoor mirror will trick the eye into believing there is further garden beyond. Colour blocking (i.e. using a bold colour on a surface) will help define or highlight a feature or area.
Raised beds add a further layer of interest and bring the planting up towards eye level. They can also double as a surface – to sit on, or for perching a glass of something. Stairs or steps make a picturesque setting for a collection of containers and don't forget the window sill too! Using plants at different heights – a tree canopy, shrubs, perennials and ground cover – will keep the eye travelling around the space, making it feel bigger.
You can put a trellis on an existing fence or wall to extend the height or use it to divide or screen an area. A flower-filled pergola will add height and interest above eye level. A change of level, for example by putting in a step or raised deck, will give your garden more character.
Decide what you want from your garden
With these possibilities in mind, decide what you need from your garden – do you want a veg bed, a swing seat or a sand pit? Do you need a space to put the bins or something to obscure the view from the neighbour's window? Prioritise your list because you may not be able to fit everything into your space within a coherent design and style.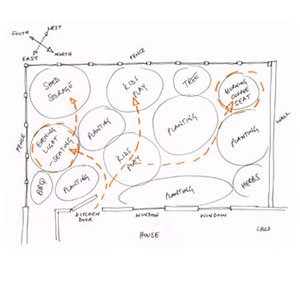 Draw a plan
Now for the fun bit – with pencil and paper, draw the rough outline of your garden boundary, remembering to add the outline of the house. Identify which way faces north with a small arrow on the page. Starting with your top priority, draw an appropriately-sized circle or 'zone'. Think about how much space you need around each element, for example a garden seating area needs space around it for people to move. Once you've drawn your zones, give thought to the movement within and around the space and from one zone to another. Use a dashed line to represent movement in the garden.
So, does your garden design make sense? Will you be shaded when you'd like to read the paper in sunshine on Sunday morning? Do you want to carry the bins behind the shed, or could you keep them closer to the house and create something to house them? This is the critical stage – coming up with the solutions to give you the garden you're wishing for. It may take a few attempts to reach a plan you're happy with.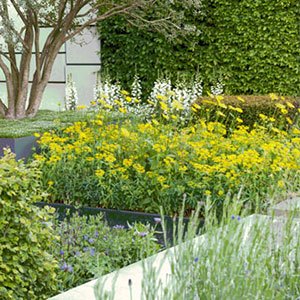 1. Contemporary garden
A crisp, contemporary design can be very effective in a small space. Use just a few different materials and choose fewer types of plant, but more of each, to keep the look unified. Go for planting at different heights to maximise the space: start with a small tree like amelanchier and a climber like the wonderful evergreen flowering Trachelospermum jasminoides. Then choose shrubs for mid-level structure: philadelphus, hebe or lavender and add flowering perennials like lupin, tiarella and wallflower for seasonal colour. Use a ground cover like nemesia or saxifrage to keep weeding to a minimum. If you want a lawn, try artificial grass, so there's no need for space to house a lawnmower.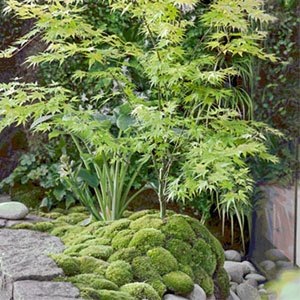 2. Japanese garden
A Japanese-style garden can be very atmospheric in a small space, but for it to be effective you need to be disciplined! Based on Zen principles including simplicity, tranquillity and a celebration of nature, the space should be uncluttered without any unnecessary decoration (or general garden stuff – so factor in some storage!). This is to focus the mind on the balance of yin and yang represented by the natural elements: gravel, rocks, water and plants. Think asymmetry and position three or five beautiful rocks on gravel using plants at different levels to make the most of the space: a Japanese maple (acer) to give height and dwarf pines and moss or saxifrage at ground level. Bamboo is quintessentially Japanese and works perfectly as a screen or against a wall, but always plant it in a container, either placed on the ground or sunk into the soil, otherwise it'll take over!
Shop decorative stones and chippings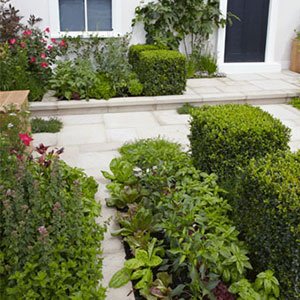 3. Courtyard garden
A courtyard garden can be any style you can imagine – with walls on all sides it's usually inward-looking and less affected by the surrounding area. It's helpful to consider your own house though and take inspiration from the dimensions of windows or doors and the views from inside the house. The design could be symmetrical and formal with an ornamental feature, like box hedges, bay topiary and tulips in pots. Or you could choose a loose and informal style with tall grasses like miscanthus with Verbena bonariensis and a magnolia for structure. Use the walls to add interest, create height or blur boundaries: climbers like jasmine or clematis, a large outdoor mirror or a trained fig tree on a south-facing wall will trick the eye.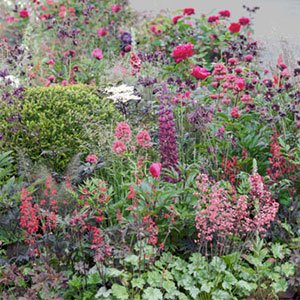 4. Cottage garden
A cottage garden conjures up images of a colourful, flower-filled design full of plants, with narrow pathways and traditional materials like brick and wicker. Originally this type of garden would also provide seasonal fruit and vegetables for the family as well. The cottage garden look will be easier to achieve if you have a sunny spot, as many of the traditional flowering plants thrive in sun. Choose a climbing rose or wisteria to give height to the space and plant penstemons, hollyhocks, phlox, wallflowers and peonies, with geraniums to scramble in between and keep the weeds down. Make sure you don't forget to plant plenty of bulbs like tulips and alliums to add early colour.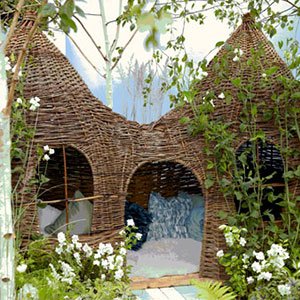 5. Family garden
No matter how small your space, it can still be designed to suit the whole family. A tree will add immediate appeal – to climb, provide shade and attract local wildlife. Try an amelanchier or a small apple (malus). A playhouse – useful for storing toys – could blend in with a green roof and a trellis to support a climber like clematis. Try building a concealed sand pit into raised decking so it can be covered when not in use. Children love to dig so give them a small area to make mud pies and grow seeds. Try starter kits of sunflower seeds and the Easygrow vegetable range, for example courgettes. Factor in an outside tap for the watering and filling the paddling pool – it also prevents mucky footsteps through the house!
Shop outdoor play equipment
View our guide to making a kids area in your garden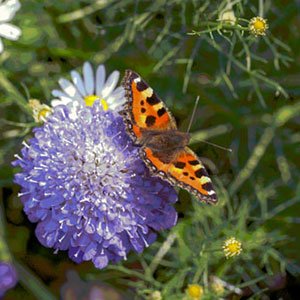 6. Wildlife garden
No matter how small you think your garden space is, the local wildlife will think it's heavenly with a few careful design considerations. Their primary needs are food and shelter, so provide plenty of nectar rich plants throughout the year and some areas that can be left undisturbed, like a log pile. Ponds can be wonderful but if space doesn't permit then try a birdbath or just a water bowl. You'll be amazed what it will attract, from birds and dragonflies to newts and thirsty hedgehogs if you're lucky. Plant native bluebells, Hellebores and the 'Pollinator collection' of bulbs for early season nectar. Then try Scabiosa Butterfly Blue, Verbena bonariensis and Phlox for summer, with a climbing honeysuckle (lonicera) to add height.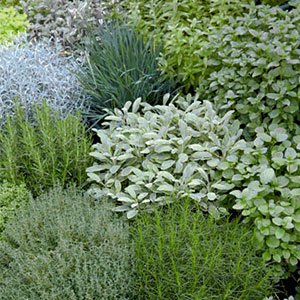 7. Kitchen garden
A kitchen garden is possible in a small space – the effort required shouldn't be too overwhelming! Grow your favourite vegetables in rows from north to south to make the most of the sun. Raised planters are perfect for easy harvesting, adding mid-level interest and doubling up as a seat. Either build them from timber sleepers or buy pre-made versions. Factor in an irrigation system – you can attend to other tasks while it waters efficiently. Add a fruit tree for atmosphere – like an apple or plum tree – and don't forget the walls are perfect for training fruit too.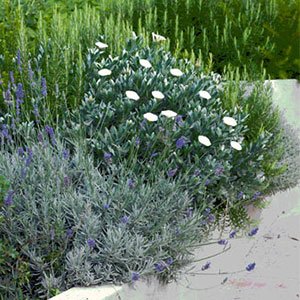 8. Mediterranean garden
With drought becoming more of an issue in the UK, the plants originating from Mediterranean areas like southern France, Spain and Italy are more popular than ever. If your garden is small but sunny then they can be used together to create a very effective style. Try planting a grape vine trellis to train up a wall or over a south-facing shed and add an olive tree or two in terracotta pots for instant impact. Lavender, hebe or cistus will add texture and colour at lower levels and the evergreen Nerium Oleander will give year round structure and colour at mid-level. Use materials that echo the planting – stone paving and gravel and plant bulbs of the bearded Iris 'Black Night' in full sun for some real drama.
View our guide to creating a mediterranean style garden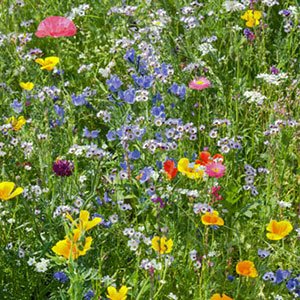 9. Wildflower garden
Although wildflowers are normally synonymous with large, open meadows, a mini version is achievable in a small space, providing it's sunny. Some careful thought does need to be given to the year round structure of your space, as the wildflowers will probably only look good for a few months of the year. For this reason consider a small tree with an airy canopy for height and spring bulbs like crocus for early colour. Wildflowers are notoriously delicate and don't compete well with existing grass, so there are several ways to plant wildflowers – either with a seed mix appropriate to your conditions, or by planting small plug plants into existing grass. If you're using seed mix remove all topsoil to the poor subsoil beneath, sow your seed, water as directed, then wait! If you're planting small plug plants remove all grass (including roots) in a 15cm area around the plug plant to give it a chance to establish.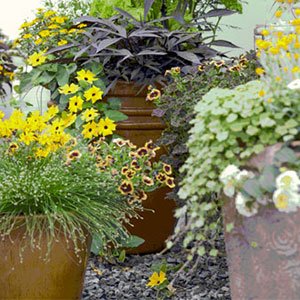 10. Container garden
No matter how small your outdoor space may be, a container garden is achievable on a terrace, balcony or just a windowsill. The beauty of planting in pots and containers is that you can grow all sorts of different species and varieties side by side and swap in the ones looking their best. So, the world is your oyster! The main things to consider with container gardening are water and nutrients. It's unlikely that rain alone will be enough as the plant itself often acts as an umbrella over the pot, so that no water actually reaches the soil. Instead, consider creating an irrigation system and remember to feed your plants with an appropriate feed every few months.