A family garden is a space that needs to work hard to meet the wishes of every member of the family – a fine balance between the seemingly conflicting needs of imagination and play for children, privacy for teenagers and relaxation, entertainment and aesthetics for adults. Here are some ideas…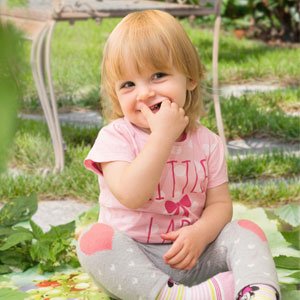 Often the garden is given over entirely to just one generation of the family – either full of toys and play equipment for the children or devoted to tender plants and not really useable for the kids. With some careful planning and the right choices of plants and their positions, the garden can become a sanctuary for everyone.
A successful family garden balances the needs of the whole family. If you plan it properly, the garden can be a safe place where young children have the freedom to play and imagine without constant adult supervision. (It's also important for you to balance their need for adventure with your own views on dirt and mess!)
For parents or grandparents, it can be a calm space to entertain, garden or relax in the knowledge that the children can't get up to too much mischief! Teenagers will appreciate a space for games or hanging out with friends. It's also a great idea to create a space for the family to come together – to eat, play or just catch up on the day's news.
The key is to take the time to draw up a plan for the whole space. Although you may not have the time or budget to make all the changes at once, if there's a plan in place then you can make sure it will all fit together once it's completed.
First sit down with your family and write a wish list of what everyone wants from the garden. Identify how much time you have for gardening and your attitude to risk and dirt. Would you like a place to work and somewhere to read the paper? Maybe the kids want a space to build a den and the dog needs a lawn? Discussing this together helps everyone feel they're part of the process and more likely to enjoy the space when it's finished. It might also help if any compromises need to be made.
The other consideration is what's in your garden already. Unless it's brand new or you're planning to get the bulldozers in, it's very likely that there will be features you want to keep and will need to work around – a tree, a wall, a terrace or some existing planting. Existing features can lend the garden character and there are lots of ways to conceal or enhance the utilitarian elements we all need in our gardens.
Next work out the two fundamentals – how the sun and shade move across your garden. Identify which way is north and the pH and texture of your soil. This will help you decide where to position plants and where to locate sunny seating areas or shady play areas for particular times during the day.
With pencil and paper, draw a rough outline of the boundary of your garden and sketch in the outline of your house. Draw an arrow to indicate which way is north, then start to draw circles or 'zones' for each requirement on your wish list. Think about how much space you need around each element, to allow comfortable movement, for example around a table and chairs. Try using a dashed line to represent movement in the garden.
Once you're happy that you've answered all the practical requirements – and the zones you've created make sense – you can start to think about how they 'flow' together. It's also time to decide on the style of garden you want – for example, would you prefer a simple, contemporary garden, a wildlife garden or a productive kitchen garden?
Here are some design ideas for making the most of your family garden.
1 – Keeping it contemporary
If your style is simple and contemporary, you can still achieve a successful family garden. Try incorporating a timber framed sandpit into raised decking, close to the house where you can keep an eye on the children. You could also sink a trampoline into the lawn so that it doesn't interfere with the garden views. Keep the lines clean and uncluttered, use low hedging like box or rosemary to define different areas and repeat the same types of plant throughout the garden to create a unified feel. An area planted with small trees like Amelanchier or Acer will be a great space to hide and build dens.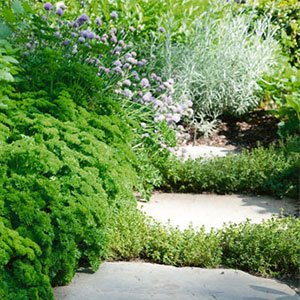 2 – Relaxed garden style
If your style is more relaxed, or you want to achieve a family garden on a tight budget, then you don't need to overload the garden with large-scale equipment – children will create their own adventures if they're allowed to use their imagination and creativity. A small, narrow path of paving stones in gravel winding through large, robust shrub planting like Viburnum, Choisya or Pittosporum will create a magical journey. An area of ground left bare, with a few bowls and spoons, will provide the raw materials for mud pies and an outdoor kitchen. A patch of long grass with a few trees will become a magical forest for den building.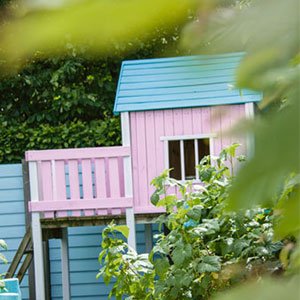 3 – Tree houses and play houses
A treehouse is probably near the top of every child's wish list. If you're lucky enough to have a suitably strong tree, it will provide endless hours of fun and wonderful memories for your children. If you don't, then a wooden playhouse on the ground with trees planted around it will be a brilliant second best, whatever the weather. If you'd like it to blend in, paint the playhouse in a dark colour and attach a trellis painted in the same colour, so you can grow some climbing plants up the walls and over the roof.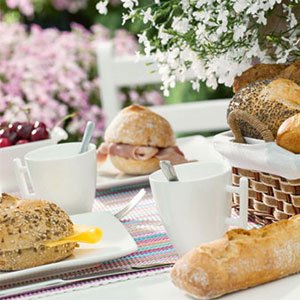 4 – Space for entertaining
Every family garden should have a space for family meals or entertaining friends in warm weather – even if it's just a small patch of grass for an impromptu picnic. Ideally, buy a table with enough chairs – and possibly a parasol for very hot days. Add in a BBQ and it's an outdoor kitchen! If there's enough space a fire pit is a lovely addition for family gatherings. Just be aware that it shouldn't be left unsupervised with youngsters around.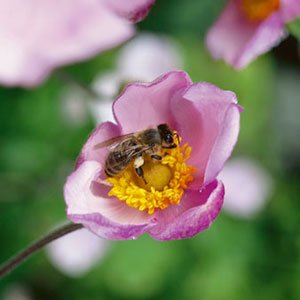 5 – Attracting wildlife
Wildlife visiting your garden will be a lovely treat for the whole family and there are many different bird tables and nesting boxes to encourage feathered visitors. By planting nectar rich plants like buddleja, Echinacea and verbena bonariensis you'll encourage lots of pollinating insects to your garden. A patch of long grasses like Briza or Carex and a pile of logs will provide cover for all sorts of mini beasts like woodlice, earwigs, snails and caterpillars. One of the quickest ways to encourage wildlife is to have an area of water. However, water can be lethal for young children and should not be accessible without adult supervision. You should fence it off or have a strong grill at the water's surface to prevent tragedy. As long as you give careful consideration to safety, your family can enjoy watching dragonflies, frogs, tadpoles, birds, newts, pond skaters and fish.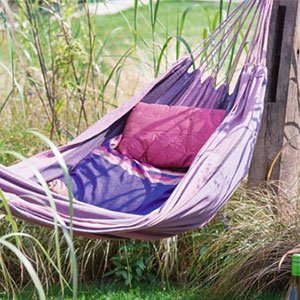 6 – Adding seating areas
Adding various different seating areas will create destinations and therefore a flow and sense of movement to your garden. Consider where to put them – do you want peace and privacy to enjoy a good book or do you need to keep an eye on the children while you're reading the Sunday papers? Try a sleeper bench for something subtle or a swing chair if you have the space and want something more elaborate.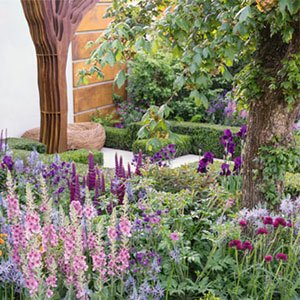 7 – Creating a cottage garden for the family
A cottage garden full of flowers is still possible in a family garden. Choose thornless varieties of roses if they're close to the children's areas, or train climbers on a pergola around a seating area so you can see them easily. Position an arbour beside a flowerbed so you can enjoy the blooms while keeping an eye on the children. Plant robust low growing plants like box, geraniums or small hebes at the front of the flowerbeds to absorb any moving balls, stray feet or fingers.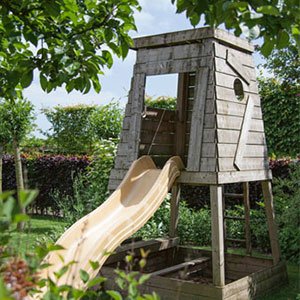 8 – Add some play equipment
If you have plenty of space, there are some wonderful pieces of play equipment that will stand the test of time and remain firm favourites when your toddlers become teenagers. Swing sets never lose their appeal and anything with a platform and ladder provides endless opportunities for adventure. Just give consideration to positioning your equipment. It needs to be anchored securely but the ground underneath also needs to cushion the odd stumble – grass is ideal. You may not want to see it from the house or terrace so think about where to place it, or you could use hedging to screen it from view.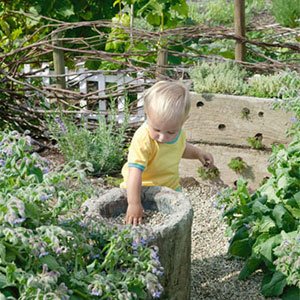 9 – Give the kids their own plot
Children love growing their own plants and it teaches them so much about science, nature and respect for plants. Give them a space of their own. A raised bed made from sleepers is a wonderful way to get them started – it's at just the right height for children and means the plants are less likely to get trampled accidentally. Try growing easy vegetables like courgettes, sweet peas or beans from seed or as tiny plug plants. There are also lots of easy to grow herbs (thyme, rosemary, oregano) and flowers too (nasturtiums and sunflowers) to add some colour, scent and texture to their sensory plot.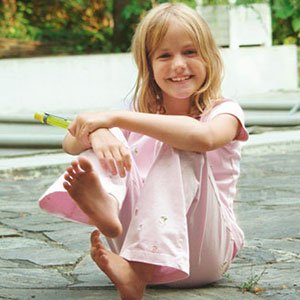 10 – Time-saving ideas
Very often, there's little time to spare for gardening – especially when you have a young family. It's important to consider this when you're drawing up your plan. If your garden is all flowerbeds and pristine lawn it will be very time consuming to maintain. Instead, try planting some larger trees or shrubs that will give your garden character without needing too much attention. This also gives the children a space to climb, hide and imagine. If a lawn is too much work, there are some excellent artificial versions available or you could consider paving most of the space – perfect for drawing on with chalks and riding bikes and scooters.
Find your perfect product: