Freshen up your furniture or personalise your planters – all it takes is a lick of exterior paint. Take inspiration from our exterior paint ideas below and get your creative juices flowing.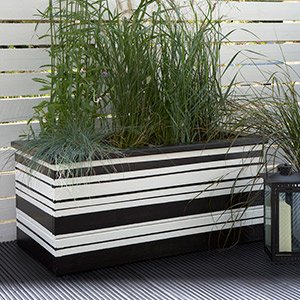 Go minimalist with monochrome
Monochrome makes a style statement that never goes out of fashion. If you like a minimalist look, have a go at recreating this black and white feature planter that's ideal for adding a decorative touch to your outside space. All you'll need is paint, some fine paintbrushes and a steady hand.
You'll need: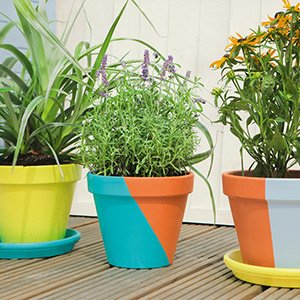 Add pops of colour to your pots
Create a Mediterranean feel with these colourful pot designs that will cheer up even the cloudiest day. If you're not confident about your freehand skills, a simple but effective idea is to cut pieces of paper diagonally and use them as templates to paint around.
You'll need: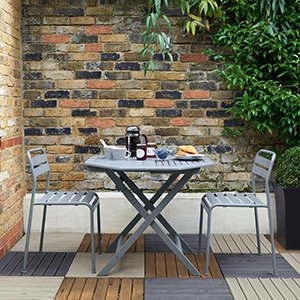 Revive your decking
Decking doesn't need to be dull. A checkerboard effect gives a contemporary edge to this space – dare to use a bold colour palette and inject your individual style. Painting your decking also helps protect it against the elements, so it looks better for longer.
You'll need: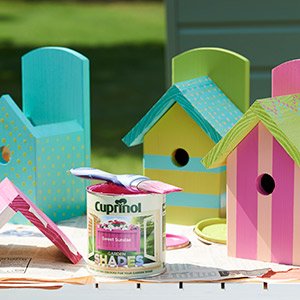 Give bird boxes a burst of colour
Bird boxes bring birds to your garden and give them a safe and snug place to roost and nest through the colder months. Brighten up your trees and add interest to your garden by simply giving your boxes a lick of paint. This will also help weatherproof the boxes – so they not only look good, they last longer too.
You'll need: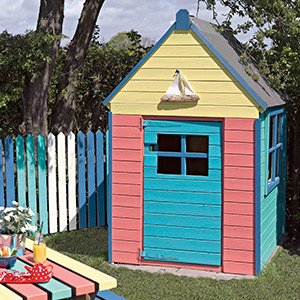 Treat the kids to a colourful Wendy house
Your children will want to get out in the garden more if you give them their own space that's fun and vibrant. Encourage them to get involved with choosing paint colours – and helping with painting too. It's a creative project the whole family can enjoy together and the play house will fire the kids' imaginations for years.
You'll need: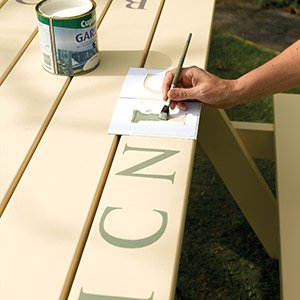 Show off your own style with stenciling
Personalise your outdoor furniture and make it instantly more stylish by using a stencil to paint your name, a phrase, pattern or design on it. It's amazing how clever use of paint can transform furniture from tired to on-trend in no time at all.
You'll need: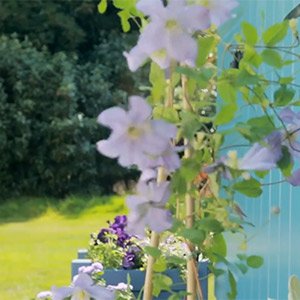 Creating a colour scheme in your garden
When we decorate our interiors we're used to thinking about which colours work together, but what about in our gardens? Watch this video to help you select the right colour combinations for your garden furniture, sheds, decking and much more.