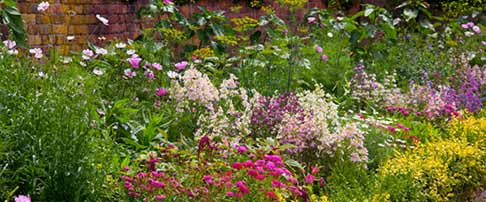 Planted borders
are probably the most popular and pleasing way to grow flowers and foliage in your garden. Filled with a huge variety of scents, shapes and shades they can stimulate all our senses as well as being a haven for beneficial bugs.
If your borders are a bit lack lustre or don't look great all year round, take some time this weekend to tidy up the existing plants and shrubs before selectively planting some beautiful new ones.
Project Overview
Tasks
Time needed
Step 1
General clear up: weeding, pruning and trimming.
About 2hrs
Step 2
Prep the soil: Inject vitality into your soil with compost and mulch.
About 3hrs
Step 3
Picking out plants: Select the bulbs and seeds that'll help your mixed borders bloom
About 2hrs
Step 4
Design the layout: Plot out where your bulbs and seeds will live.
About 2hrs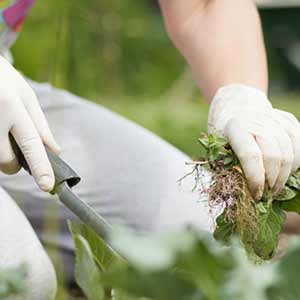 Step 1 – General clear up
Tidy up your border
Use this morning to inspect the condition of your borders. If you're working around existing plants, try forking out roots which belong to weeds and remove any rocks or debris. Older shrubs you plan to keep can be pruned back to give them a new lease of life and encourage new shoots to emerge. You may also want to take a bit of time to neaten the edges of your borders with an edging knife.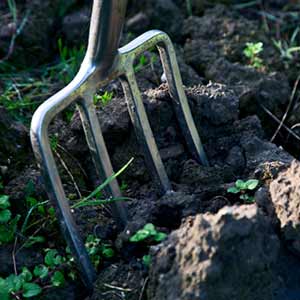 Step 2 – Prep the soil
Sort out your soil
Make sure your borders are free of rocks and weeds, then begin turning your soil. Drive your spade into the ground, dig up a clod of soil, turn it over and drop into the hole you've created. Repeat this technique all around your borders.
To create a fertile and welcoming environment for roots and shoots, dig in plenty of compost as well. A healthy layer of well-rotted grass clippings, vegetable waste and hedge trimmings will encourage flowering. Once mixed and levelled, top your soil with a sprinkling of mulch to protect your weeding efforts and maintain moisture levels.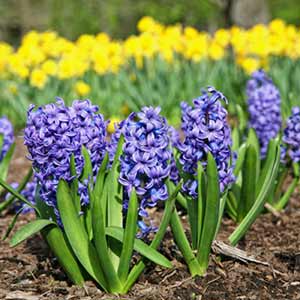 Step 3 – Picking your plants
Pick out your plants
Creating a mixed border of bulbs, shrubs and flowers which flourish at different times of the year is your best bet. That way, there's always something to enjoy in your garden. Plan in a spring and summer rush of perennial blooms – with careful plant selection, you can extend it to autumn and winter, too.
Foxglove, lavender and delphiniums are popular border flowers, providing swathes of vibrant colour during late spring and summer. Geraniums add long lasting hues along with ground cover, filling gaps and weaving through other flowers. For continued vibrancy as you enter autumn, call on the likes of chrysanthemum and dahlias to brighten things up. Heather can also bring a dash of colour to the lull of winter, along with cyclamen and bergenia.
Edible landscaping is an easy way to bring interesting texture and flavour to your borders. Rhubarb, asparagus, purple sprouting broccoli and red cabbage can all add strong shades as well as structure.

View our guide on how to plant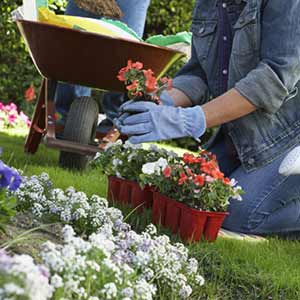 Step 4 – Designing the layout
Set out your plants
Grouping flowers of the same shade together can create an effective display, as can a blend of colours. To get a good idea of which colour combinations and patterns will work best in your space, pop plants in position before putting them into the soil. Also think about the heights of your plants – try to weave a mix of tall and short types throughout your borders.
Cluster six or more together for an effective contrast, giving larger plants room to grow. If you're enhancing your display with bulbs, position them at least one bulb width apart from one another and dig several lengths of the bulb down before popping it in, covering with soil and firming down.
With your plants settling into their new abode, there's only one thing left to do – watering.
Project complete
Over the coming months, enjoy watching a patchwork of colours and texture unfold in your garden.