Whether you want the perfect grill for entertaining, or a clever way to cook fish, our experts have put together their top picks for five BBQs and five BBQ accessories to buy this summer.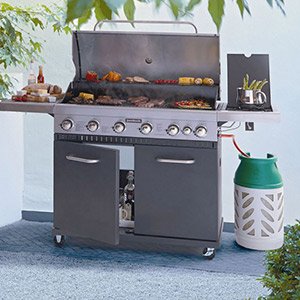 1. Jumbuck Stardom 6 burner gas BBQ with side burner
Perfect parties for years to come
Perfect for garden parties or when you're cooking for all the family, the versatile Jumbuck Stardom 6 Burner BBQ is a fantastic buy that will stand the test of time. It has six burners under the main grill area and there's room to barbecue up to 35 burgers at a time, so your guests can enjoy a feast. The cooking hood has a temperature gauge so you can control the heat – perfect when you want to cook low and slow. There's also a handy side burner for cooking up sauces and accompaniments in the great outdoors. The Jumbuck Stardom's powder-coated iron frame, cast iron grills and stainless steel lid and fascia make it highly durable. Its castors mean it's easy to move and you can keep all your cooking tools in the large storage cabinet, so you don't need to keep rushing to the kitchen.
2. Jumbuck Nimbus 4 Burner Gas BBQ
Smoky flavour from this popular gas BBQ
With its striking silver-grey design, the sturdy yet stylish Outback Excel 310 2-burner BBQ is consistently a top choice with our customers. It comes with lava rock to create delicious smoky flavour and includes a factory-assembled roasting hood and body, temperature gauge for accurate cooking and handy warming rack. There's a folding side shelf, gas cylinder holder and propane regulator – so you just need to add your gas cylinder and you have everything you need to enjoy cooking in the garden.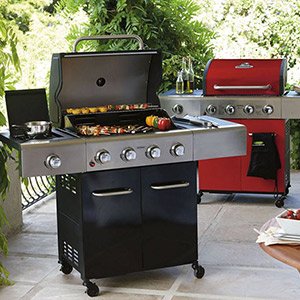 3. Outback Hooded 3 Burner Gas BBQ
Top barbecuing performance so you can be the perfect host
his all singing, all dancing BBQ has all the features you could want when you're hosting family and friends in the garden. From a temperature gauge and flame tamers to a bottle opener and integrated storage cupboard, it really does have it all. There's space on the grill to cook 24 burgers at a time and whether you want to cook sauces, boil potatoes or fry onions, you'll find the side burner really handy. We would definitely recommend the Outback Apollo if you're serious about outdoor entertaining and expect a lot from your barbecue.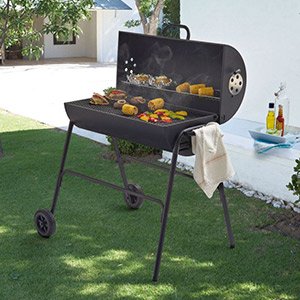 4. Jumbuck oil drum charcoal BBQ
Authentic taste from a charcoal classic
If you love the authentic taste of great food cooked outdoors on a charcoal BBQ, the Jumbuck Oil Drum Charcoal BBQ is a great choice. There's space to cook for four people and its sliding grills make it easy to refill the charcoal. The hinged lid lets you control temperatures, while the handy warming rack keeps cooked food warm.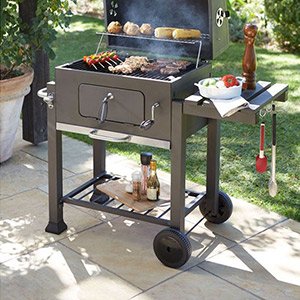 5. Jumbuck Franklin charcoal BBQ
Great-looking charcoal BBQ with handy extras
Cook up to 20 burgers at a time with the Jumbuck Franklin charcoal BBQ, which has a black enamelled charcoal pan with a crank system to adjust your cooking temperature. There's a temperature gauge on the hood, a black porcelain cooking grill, chrome plated warming rack and foldable side shelf. The Franklin has two wheels so it's easy to move around when you're not using it.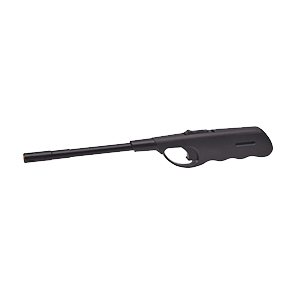 6. BBQ Buddy windproof gas lighter
Our top pick for getting your BBQ started
With its windproof nozzle and adjustable flame, this BBQ Buddy windproof lighter is a must-have accessory for anyone who loves to barbecue.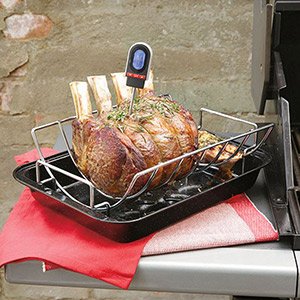 7. BBQ Buddy digital thermometer
An easy way to check your food is cooked to perfection
With the BBQ Buddy digital thermometer you can make sure your food is cooked perfectly every time. Its long stainless steel probe reaches into the thickest part of the meat, to accurately display whether it's 'done'.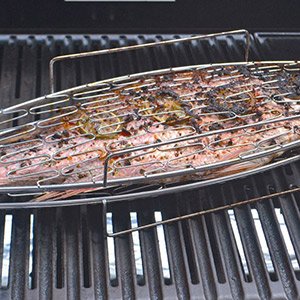 8. BBQ Buddy BBQ fish griller
A clever idea for cooking fish
The BBQ Buddy Fish Griller comes in a two-piece basket that latches together to hold your fish in place while you're cooking it. It stops your fish falling apart when you turn it over and you won't lose any through the grill. Made with heavy duty metal, it's oven and dishwasher safe.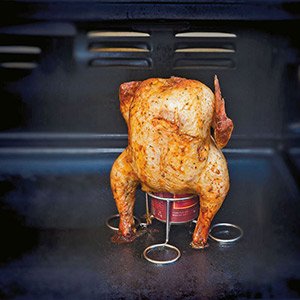 9. BBQ Buddy Chicken roaster beer can
A must-have if you love beer cooked chicken
The BBQ Buddy Beer Can BBQ Chicken Rack gives you a great new way to barbecue chicken in your favourite beer. Its heavy duty steel frame holds a whole chicken upright and its wide base stands firmly on your grill or hot plate. The rack is reusable, dishwasher safe and suitable for all types of grills and ovens.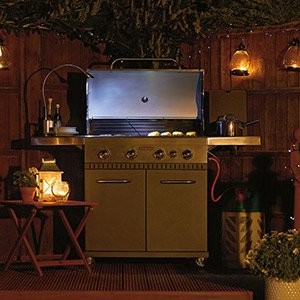 10. LED magnetic BBQ light
A bright idea for cooking in the dark
Light up your cooking area with the LED Magnetic BBQ Light. It's easy to attach – either magnetically or with an adjustable clamp – and has an adjustable arm so you can focus the light exactly where you want it. It's invaluable for keeping a close eye on your food when you're barbecuing late in the evening.
Gas Safe Register offers the following barbecue safety tips:
Never use a barbecue inside or within an enclosed environment such as a tent, caravan or cabin – your barbecue can still give off fumes even after cooking
Always ensure you can see your lit barbecue and don't leave it unattended
Use your barbecue in accordance with the operating instructions
Be aware of the signs and symptoms of carbon monoxide (CO) poisoning – headaches, nausea, breathlessness, dizziness, collapse and loss of consciousness
For more information about gas safety visit GasSafeRegister.co.uk
You may also be interested in: