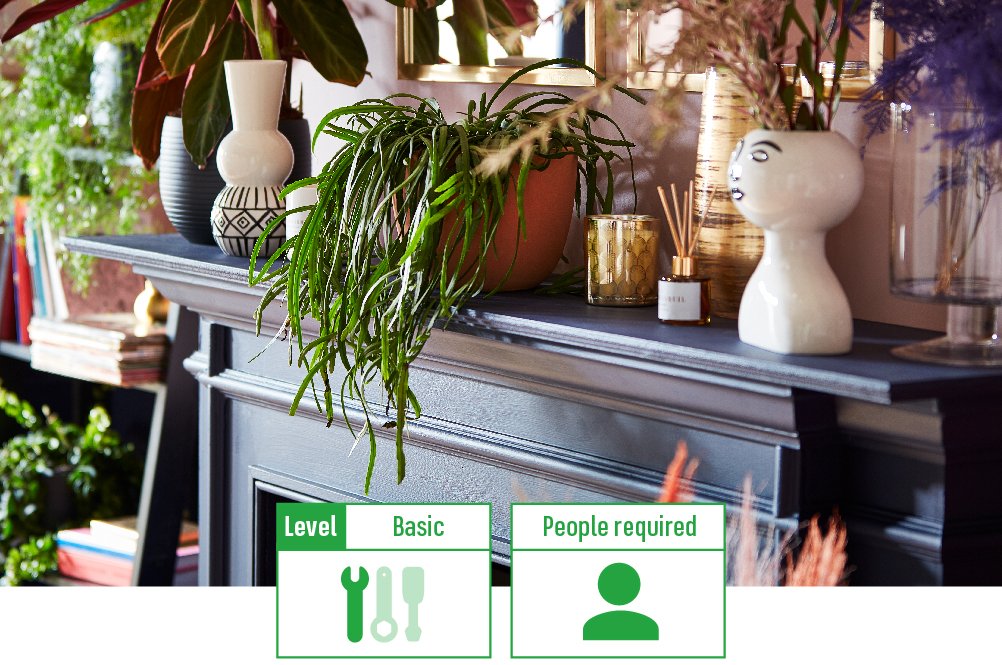 Upcycling projects are great for give pre-loved objects a new lease of life. With just some furniture paint and handy tools, you can upcycle almost anything. One thing that can often cause difficulty when looking to redecorate are mantel pieces.
That's why we've put together this step-by-step upcycling project guide to help you transform your mantel piece and the space it's in.
Let's start with what you'll need.
Materials:
Tools:
Read our DIY safety tips and manufacturer instructions

Before you begin any DIY work, we recommend you read our DIY Safety Tips guide along with your power tool manuals to keep yourself and others safe and protected while completing this How To guide.

We also suggest you only complete this Upcycling project if you can do so in a well ventilated room or  if possible, outside for maximum ventilation.

Deep clean

Whether your mantel piece is particularly clean or not, it is important to give it a good scrubbing before you start the makeover.

Pop on your rubber gloves and use warm soapy water, a stiff bristled brush and a cloth to scrub away as much of the dirt, dust and grime that you can.

Wipe everything down with a dry sponge to soak up all of the excess water.

Wait for your mantel piece to completely dry. This may mean leaving it overnight.

Tip top: While this step might not be the most exciting, it will ensure a smooth finish to your upcycled piece.

Paint prep

Put down your protective sheet to cover your flooring from any paint splatters.

Line the edge of your mantel piece with painter's tape to avoid painting outside of the planned area.

Top tip: Stretch your painter's tape as much as possible to keep your lines straight. 

Sanding your mantel piece

If you have a wood mantel, you will need to sand it using your electric mouse sander. This will roughen up the surface and give the primer a better hold. Use a damp cloth to remove the dust from sanding and leave to dry for one hour.

Top tip: Wear old clothes for this and don't forget your protective goggles and dust mask.

Prime time

Apply the paint primer in a thin layer, starting from the floor and working upwards and then across to the other side.

You may want to do two coats to make sure that every nook and cranny is covered. Leave to dry for the amount of time as instructed on the primer packaging.

Top tip: Try paint on your primer in one direction and remember to take your time.

Time to paint

Your choice of paint may differ depending on the surface of your mantel piece. Generally, it's recommended to use an indoor, latex and heat resistant paint.

Take your time painting. You may find it is easier to use a small roller for the larger surface areas.

If you want a more saturated colour, you may need to apply multiple coats. But don't forget, each coat will need to be completely dry before doing the next one.

Top tip: Follow the same brush strokes and direction for the paint that you used to paint the primer on with.

Remove the tape

It's recommended you remove the masking tape as soon as you've finished painting each coat.

Top tip: Do this very carefully as you don't want to rip of any paint.

Decorate

Depending on your style, there are plenty of ways to make your mantel piece even more impressive!

This could be something as simple as adding some candles and logs into the alcove. Or perhaps you might want to add a large mirror above your mantel, to make the room feel more spacious.

Check out our home furnishings for this part.

Top tip: To provide the ultimate homely feeling, pop a basket filled with throws next to your new mantel. Perfect for getting cosy in the colder months!

That's your Upcycled Mantel Piece Guide complete.

Don't forget to upload an image of your new upcycled mantel piece to social media and tag us @Homebase_uk