Whether they're tots or teenagers, with a little imagination you can transform your kids' bedrooms into fantastic spaces where they'll want to play, hang out – and even do their homework. From upcycling furniture to having fun with lighting it's time to get creative.
Personalise space
A child's bedroom is the ideal place to create a little magic and encourage personal expression – and teaching children how to upcycle encourages practical skills, recycling and problem-solving. Vinyl decal stickers can be used to personalise space easily.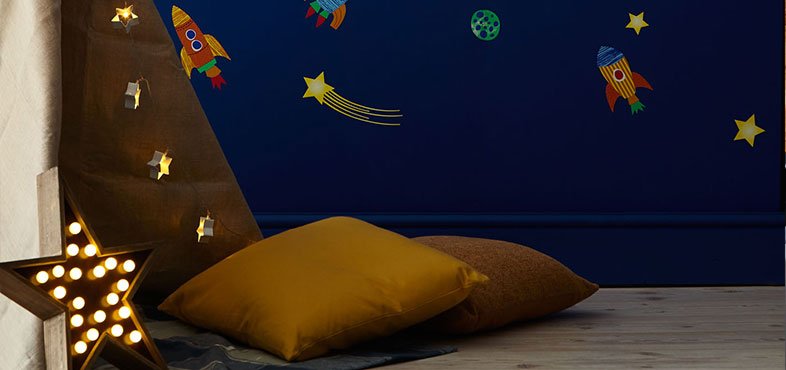 Products featured:
Home of Colour Matt Emulsion – Lapis Blue, Fine Decor Blast Off Stickers and Wooden Star Marquee Light. The White Stars String Lights, Mustard Cushions and Hygena Great Northern Pine Laminate Flooring are available in stores only.
Fun colour
Adhere timber trims and fix shaker peg rails around the room. Paint in one colour for a 'panelled' look with built-in storage. Or highlight areas in the room with bright, neon paint for a funky colour blocked finish.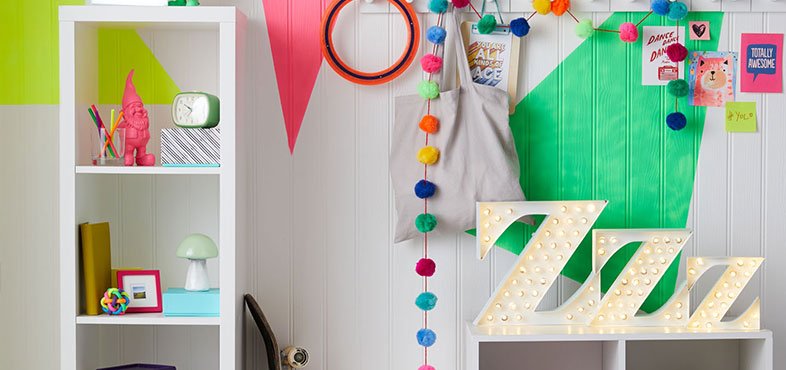 Products featured: Clever Cube Storage System, Rust-Oleum Neon Spray Paints, ZZZ Marquee Light, Full Colour Dwarf Garden Ornament (sprayed with neon paints) and Tongue and Groove MDF Stair Panel.
The chalkboard effect
Paint the inside of the door with chalkboard paint and add a chalk-holder to the side. Chalkboard paints come in a variety of colours and finishes, including magnetic so favourite pictures and photos can be displayed.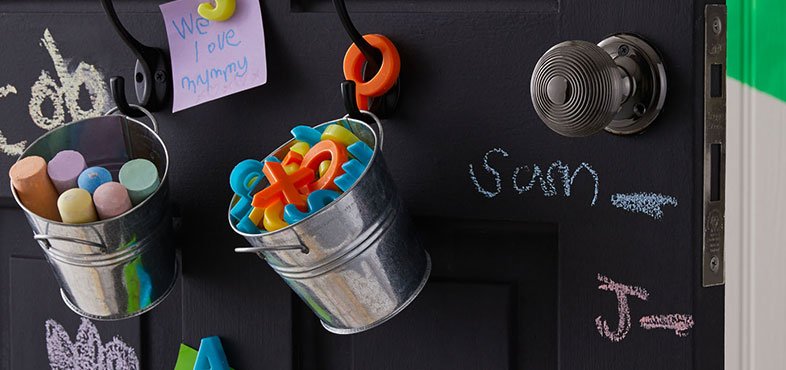 Products featured: Rust-Oleum Black – Magnetic Chalkboard Paint and Laura Ashley Reeded Mortice Knob – Black Nickel. The Galvanized planters and Hiatt Hat & Coat Twin Iron Black Hooks are available in stores only.
Fun lights & decor
Use good quality task lighting for playing, reading and doing homework and incorporate fun lights into the décor as 'stars', 'sunlight' or as a sculptural installation, to spark their imaginations. String lights help create a child's own Hygge-inspired retreat or light up a teenager's wall display.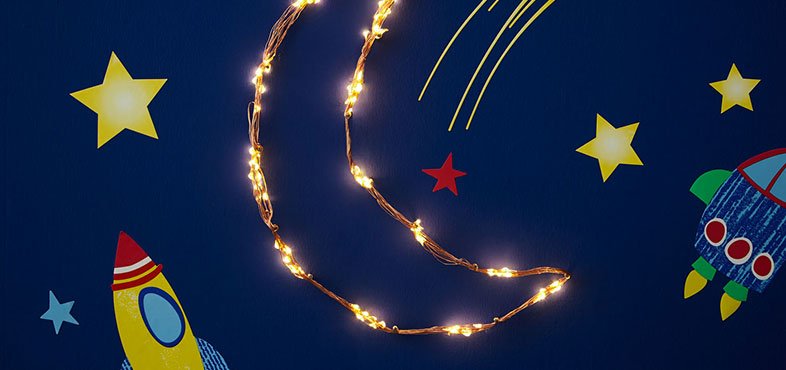 Products featured: LED 200 Copper Wire Battery String Lights, Home of Colour Matt Emulsion – Lapis Blue and Fine Decor Blast Off Stickers.