Ready to pick the best artificial tree for your home this Christmas? We've got a veritable forest of artificial Christmas trees on offer – from 3 to 10 feet high and even pre-lit, flocked or potted varieties. So, to make sure you find the best one for you, we've created this handy artificial Christmas tree guide.
Artificial trees from Homebase
In the past, artificial Christmas trees could often be a pale imitation of the real thing – just a few sad, wiry branches in a pot. But these days? You'd struggle to tell them apart. What's more, despite often being slightly more expensive, artificial trees can be reused year after year, saving you a bundle in the long run.
Our artificial Christmas trees are packed with cutting-edge tree technology, but why should you pick one over a real tree? Let us tell you…
Why choose an artificial Christmas tree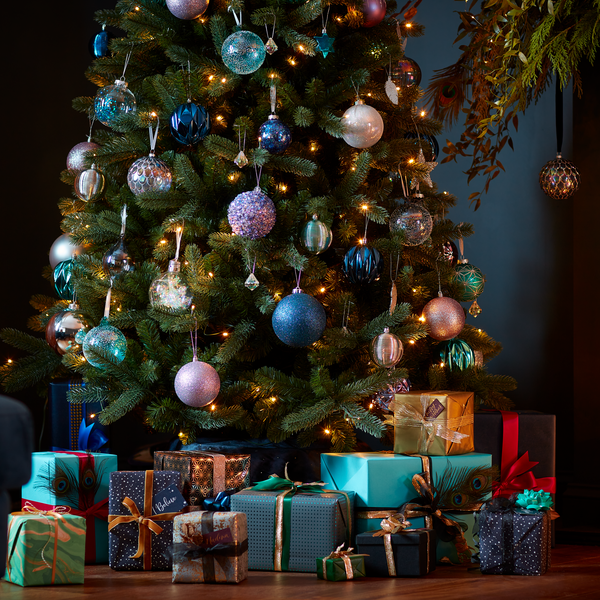 We've got 9 excellent reasons why you should choose an artificial Christmas tree this year…
Low Maintenance- no watering or trimming
Low mess- no sap or dropped needles
Reusable – use every year and save money each time
Simple to assemble
Save on time – choose from flocked and pre-lit varieties
Easy to pack up and put away
Range of convenient sizes
Selection of trend-led designs
Before buying an artificial tree
Before you go out and buy an artificial Christmas tree, we recommend you remember the four 'S's.
The four 'S's
Space: One of the joys of artificial trees is being able to pick the exact size and shape to fit your home – so size up your space first.
Style: From the style of foliage to colour, lighting and decorations, artificial trees allow you to pick our perfect style, right down to the last detail.
Sensitivity: An allergy to pollen on real Christmas trees, also called Christmas Tree Syndrome, has been a growing concern in homes across the UK since 2018 – making artificial trees the best hypoallergenic choice.
Simplicity: Trimming, watering and disposing of a real tree can be an enormous effort. With an artificial tree, it's easy to put up and put down quickly – with disassembling branches that can be stored away in the loft ready for next year.
Types of artificial Christmas trees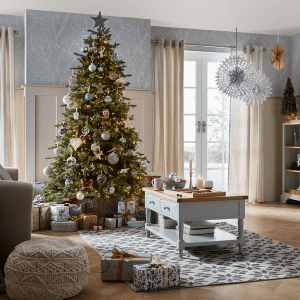 When it comes to artificial trees there are plenty to choose from. To help you narrow it down, we've broken down the three main types.
Natural looking trees
Looking for a plain, artificial tree that you can add your personal touch to? Choose from ultra-realistic varieties with moulded 3D branches, or our affordable long-lasting versions. Then you can decorate it to your heart's content, without dropping needles making a mess.
We love these because:
Realistic look
Mess-free
Soft branches
Easy to assemble
Variety of sizes available
Wide range of styles