Ready to pick the best artificial tree for your home this Christmas?
We've got an extensive forest of stunning artificial trees in an array of sizes, colours and shapes to suit all tastes. What's more, the quality of our trees is so realistic, you'll hardly be able to tell the difference. To find the best one for you, we've created this handy artificial Christmas tree guide.
Artificial Trees from Homebase
In the past, artificial Christmas trees were often a pale imitation of the real thing. However, these days you'd struggle to tell them apart. Our trees are packed with the latest cutting-edge tree technology, and although slightly more expensive initially – artificial trees can be reused year after year, saving you a bundle in the long run.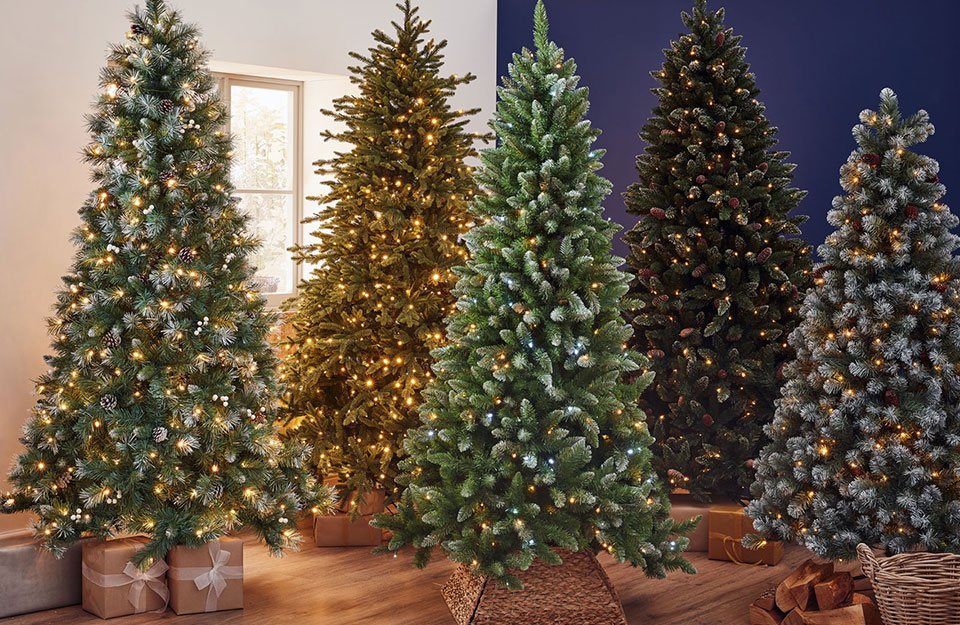 Why Choose an Artificial Tree
Well, we believe there are 5 excellent reasons to choose an artificial tree.
Low Maintenance: Forget about sap, needles, water or mess on your floors, our artificial trees remove the need for maintenance or trimming, offering the perfect looking Christmas tree every time.
Cost Effective: Unlike non-rooted real trees, artificial trees don't turn brown or get thrown out after Christmas is over so you can enjoy them year after year, saving more money in the longer term.
Simple to assemble: Whether the tree construction is with hinged, hooked or wrapped branches, it couldn't be easier to get your artificial tree assembled and ready to decorate.
Time Saving: With a broad selection of designer trees on offer, we're confident you'll find an artificial tree to suit your style. Many come with time-saving décor features such as pre-decoration, pre-lit and/or pre-snow dusted too!
Convenience: Want to avoid the hassle of having to dispose of a real tree after the festivities are over? Artificial trees are easy to pack away with foldable branches to store easily in the attic, cupboard or garage, ready for next year.
Before Buying an Artificial Tree
Here are a few further considerations before buying the right tree for your home.
Measurement
One of the joys of artificial trees is being able to pick the exact size and shape to fit your home – so it's recommended to size up your space first.
Tree height
The most common room height in the UK is 8 feet, which is why we've a broad range of 7ft to 7ft 6" trees as we recommend allowing 6" lower than your ceiling height. However, if you have a smaller or larger space to fill or want a different size tree for multiple rooms, we've got all sizes covered from 3 to 10 ft+, both unlit and pre-lit.
Tree width
Considering the right tree width is just as important as choosing the right height, and whilst standard tree shapes are generally classically full – narrow or slim trees are perfect for those tighter spaces.
Types of Artificial Tree
When it comes to artificial trees the choice can be overwhelming therefore, so we've collated a few further tips for you below.
Construction
Some artificial trees use a 'hooked' construction method, where each branch has to be attached to the centre pole. But for the finest quality trees, like ours – setup is made even simpler with specially hinged branches. Pre-attached to the trunk, hinged branches are pre-folded flat, ready to fold out to give your tree a fabulously full profile.
Composition
The quality of an artificial tree is often judged by its appearance and determined by its overall fullness, quantity of branch tips and the design of its foliage. The more realistic it is in looking like a real Christmas tree, the more high-end it's likely to be. Artificial trees with premium 3D moulded PE (polyethylene) tips are often the most realistic, as they're made from moulds of authentic tree branches. However, the tip styles and quality of PVC has advanced significantly to appear more authentic than ever. Therefore, whilst the style of tree is often down to personal choice, a mix of both PE and PVC tips offers realism in a budget-friendly style too.
Types
Whilst the simplicity of a beautiful unlit tree gives you the freedom to get creative with different lighting styles and decorations, there are also other artificial tree types which are increasingly popular.
Un-Lit Trees

From your favourite festive lights to sentimental decorations, there are plenty of reasons why you might want to light and decorate your tree yourself – which is why we stock a wide range of un-lit and un-decorated artificial trees too. With classic fir, pine and spruce shapes to choose from, alongside a huge selection of sizes and colours, take your pick today.
---
Pre-Lit Trees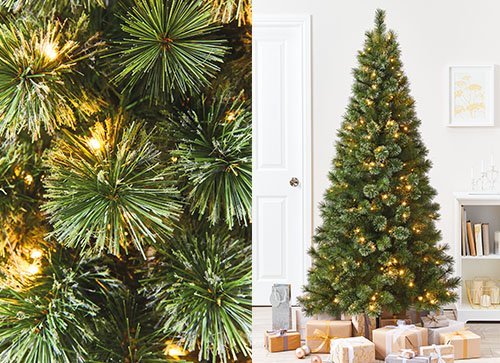 Want a fuss-free festive option, without having to untangle that ball of string lights? Our range of pre-lit Christmas trees are the ideal choice, as these easy-to-connect trees come with fitted twinkly LED bulbs, ready to be slotted together and admired or decorated. Many of our premium pre-lit trees also offer multi-function light settings.
---
Flocked or Snowy Trees

Create a winter wonderland with our stunningly easy-to-assemble flocked trees, complete with that beautiful snow-dusted look. What's more, some even come pre-decorated with pinecones and berries, giving a fantastic festive feel from the moment the tree is assembled.
---
Pop-Up Trees

If you want maximum effect, yet minimum effort putting up your Christmas tree, then a pop-up tree could be the perfect solution. Already pre-lit in natural or flocked, this collapsible style is super time-saving to set up – ready for any decorations you might want to add. It's also just as quick to collapse and pack away too.
---
Fibre Optic Trees

Enjoy the ultimate multicolour light changing technology with your artificial Christmas tree this year. Fibre optic trees have thin strands of LED lights threaded through for a magical festive glow and are the perfect addition to any Christmas setting.
Complete the Look with a Tree Stand or Skirt
Most high-quality artificial trees come with a sturdy metal stand to keep it upright and avoid it toppling. However, it's also worth investing in a stylish tree skirt to compliment it too. From natural materials to luxe fabrics, they simply sit over the base of the stand to complete the look.