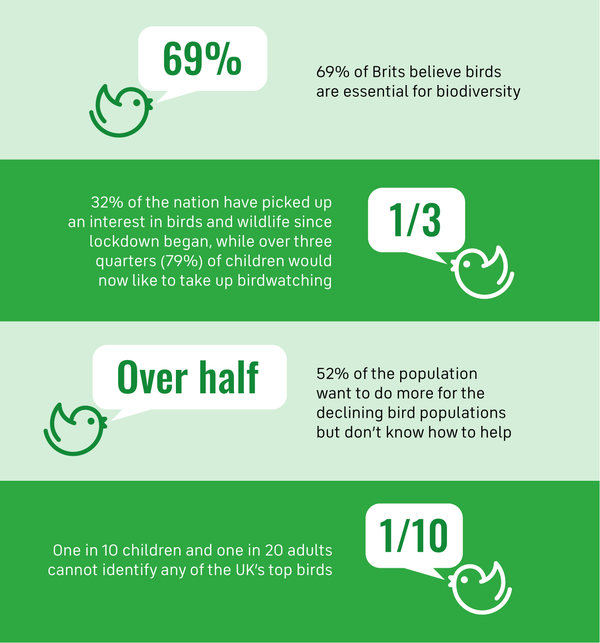 Biodiversity is simple, really. It means the existence of lots of different plants, trees and wildlife in one space – the more different living things that co‐exist in a space, the better for the environment as everything makes its own contribution to how the world around us works.
One of the biggest contributors to biodiversity and our ecosystem is birds. Birds help control pests as well as spreading seeds and pollinating different plants… among many, many other important tasks! Sadly, without homes to nest in and plants or seed to feed on, they can't carry out their vital work. We also know that birds are in decline, particularly as their homes are being cut down.
We've surveyed the nation to get your thoughts on our feathered friends – take a look at the infographic on the right to find out more!
This spring, we're helping you create a Home For All – places in your outdoor spaces that provide warmth, food and shelter for wildlife. This is all part of our plan to encourage biodiversity on our doorsteps.
A Home For All will showcase the important work birds do for local biodiversity and how, if we all undertake small changes in our gardens and outdoor spaces, we can collectively have a big impact and create a home for all creatures, big and small.
We've partnered with TV presenter and naturalist, Iolo Williams, to provide some simple tips to encourage birds and other wildlife to thrive in your outdoor spaces.