A Home For All
Helping Our Feathered Friends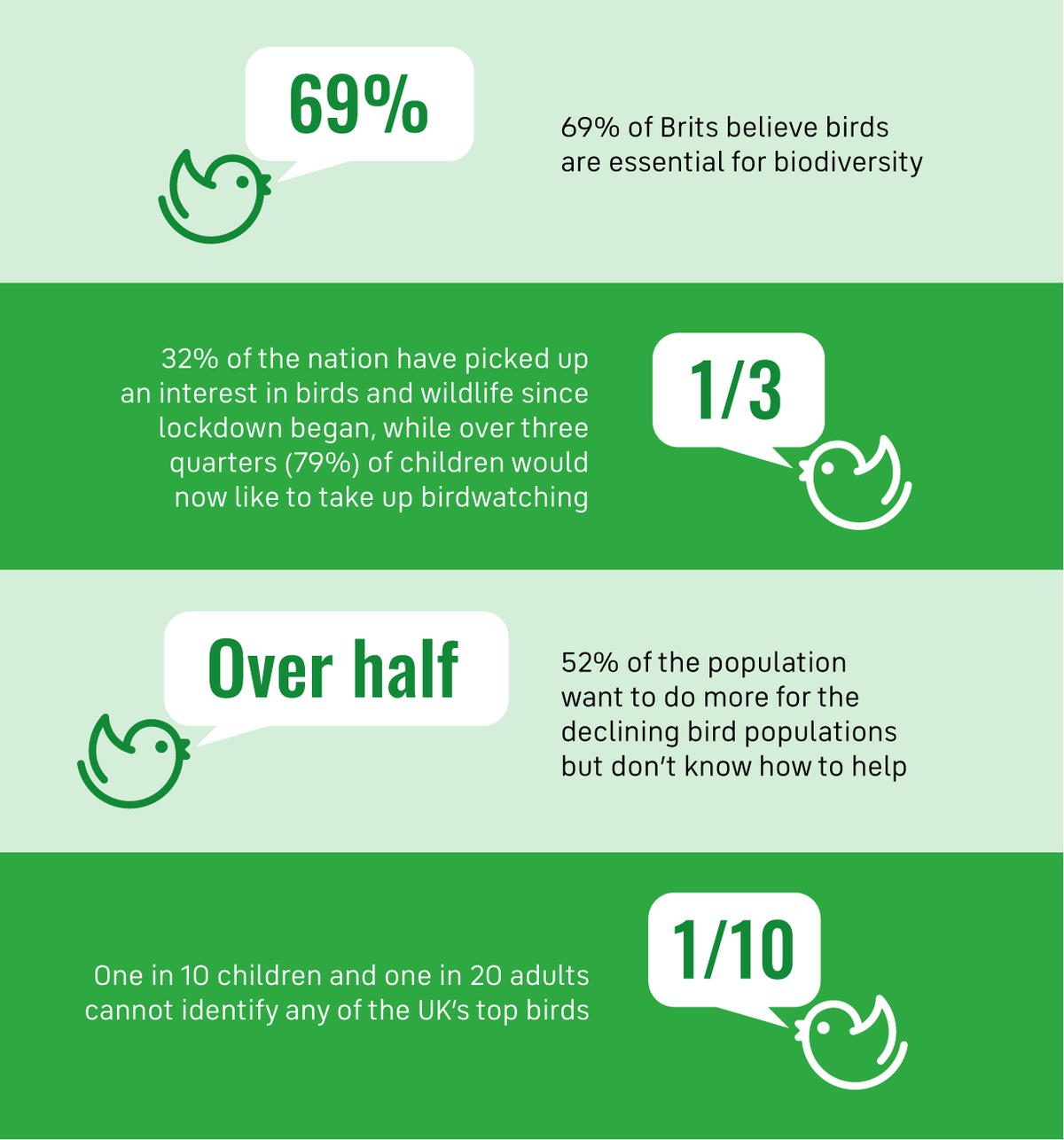 Biodiversity is simple, really. It means the existence of lots of different plants, trees and wildlife in one space – the more different living things that co‐exist in a space, the better for the environment as everything makes its own contribution to how the world around us works.
One of the biggest contributors to biodiversity and our ecosystem is birds. Birds help control pests as well as spreading seeds and pollinating different plants… among many, many other important tasks! Sadly, without homes to nest in and plants or seed to feed on, they can't carry out their vital work. We also know that birds are in decline, particularly as their homes are being cut down.
We've surveyed the nation to get your thoughts on our feathered friends – take a look at the infographic on the right to find out more!
This spring, we're helping you create a Home For All – places in your outdoor spaces that provide warmth, food and shelter for wildlife. This is all part of our plan to encourage biodiversity on our doorsteps.
A Home For All will showcase the important work birds do for local biodiversity and how, if we all undertake small changes in our gardens and outdoor spaces, we can collectively have a big impact and create a home for all creatures, big and small.
We've partnered with TV presenter and naturalist, Iolo Williams, to provide some simple tips to encourage birds and other wildlife to thrive in your outdoor spaces.
G-Waste
It's really easy to turn your outdoor space, no matter how big or small, into a space for wildlife and biodiversity to thrive! We recently carried out some research that revealed over 70% of those surveyed want to broaden their knowledge and do more, especially for biodiversity. That's where we come in, with all the products, ideas and advice you need to transform your garden into a haven for wildlife.
When it comes to compost, 62% of people understand the importance of composting garden waste but are more likely (68%) to use store-bought compost than make their own. If you have the space, we encourage you to give composting a go. If not, choosing peat-free compost is kinder to the environment.
So, you want to use your garden waste to make compost? Here's how to get started:
Sustainable Composting: A How-To Guide by Tristan Sissons, Garden Buying Manager

Compost is an easy way of dealing with your garden and food waste sustainably – it can help you reduce your impact on the environment by limiting what goes to landfill as well as creating some fantastic nutrition for whatever you're growing.
The good news? You can start composting regardless of the size of your garden and it can be done throughout the year, meaning that everyone can help biodiversity thrive. Look at it as nature's recycling system that helps put the goodness of waste back into the soil.
What you'll need
The good thing about composting is that you don't need lots to get started and you may have quite a few of the essentials already:
Container/composting bin
Pruner/cutting tools
Garden fork/digging tools
Green waste (vegetable peelings, plant clippings and eggshells etc.)
Brown waste (dead leaves, newspapers, ground coffee, wood chips etc.)
Step 1: Choose the right container
You'll need to find a container to store and create your compost pile. This can be something like the Hozelock Bokashi Composter if you have limited garden space. For those with lots of garden waste, the Ecomax Black Compost Bin is certainly up to the job (even better when used with Garrotta Natutal Compost Maker.
Step 2: Piling up your waste
Once you've picked your container, it's time to start filling it with green and brown waste. You should build these up in layers and aim to have an equal amount of wet and dry waste at any given time.
To help with the process, cut down on larger items like branches and twigs so that they can breakdown more easily. For those with more space and more waste to deal with, it's best to use a garden shredder. Aim for about half of the items you're adding to be soft green waste to stop the compost getting too dry.
Step 3: Letting nature do the work (with a helping hand!)
If you're using a composter in your garden, make sure it's protected from the elements and on bare soil (not tarmac) – this will allow the compost to drain if it needs to.
The compost process works more quickly when your bin is in a sunny position but you can keep it in the shade if needed, it may just take a bit longer. To help with the decomposition process, you should turn your compost regularly – use something like a garden fork to move around your compost every few weeks.
Tristan's top tips
Getting great quality compost is about having the right balance of moisture. If your pile is looking a bit dry, give it a light watering. If it looks a bit too slushy and wet, try adding some more brown waste.
Avoid putting any cooked food, meat or animal waste in your compost bin.
Don't add glossy magazine paper as this won't break down in the composting process.
You'll know the compost is ready to use when it turns dark brown, is crumbly to touch and smells earthy.
Remember that compost can be used across flower and vegetable beds, sprinkled across grass and even blended with potting soil to give indoor plants more life.
If you need a helping hand, we sell peat free compost that has all of the benefits of the home made variety.