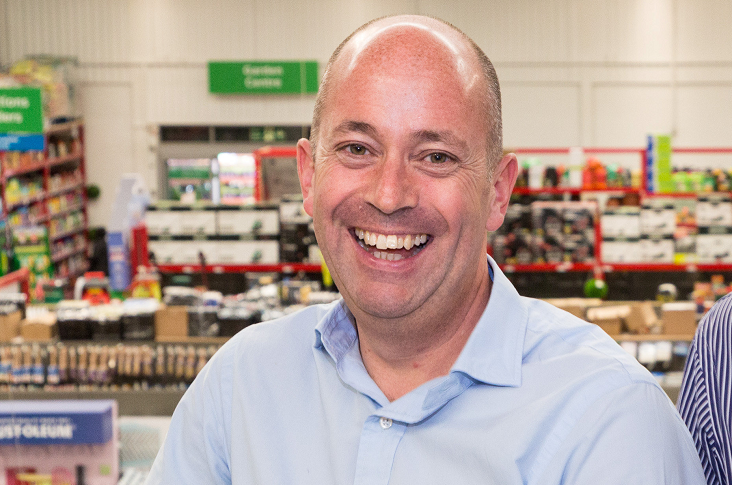 Meet our CFO – Andy Coleman
Can you give us an overview of your role and responsibility within Homebase?
I'm really lucky to have an incredibly varied CFO role and one I thoroughly enjoy. While I am responsible for the financial management and strategy of Homebase, my role also includes our teams in HR, Business Development, Property, IT, Legal and Corporate Affairs.

What does a typical day look like?
There is no such thing as a typical day at Homebase and that's just the way I like it. We've progressed at such a pace during the last couple of years that every day is different as we continue to evolve and develop. There are of course some regular features to my week, such as reviewing sales, store performance and availability of products, as well as meetings on trading performance and strategy but everything else is flexible. It is also really important to stay as close as possible to our customers and getting out to stores to meet the team members running them is a key part of that.
Tell us something that might surprise us about your day job?
It's the chance to nurture talent and see people grow through the business. Last year we saw one team member make trading director at 28 – something you would never have imagined possible a couple of years ago. Moving forward, I hope we can create even more opportunities to grow talent – whether that's appointing store managers at 20 or directors at 25. I like to think we're a genuine meritocracy, and that's quite unique in our industry.
What message would you like to share with your team as we come to the end of 2020?
Thank you. It's been an incredibly challenging year and it's their hard work that has made it all happen and got us to the position we're in today. They should all be incredibly proud of everything we've achieved together.

What are your personal priorities for the business in 2021?
I want to see us create new jobs as we open new stores and invest in our current stores.
What are you most excited about for Homebase for next year?
There are two things I am particularly excited about for 2021. The first is the rapid digital evolution we're currently undergoing through our partnership with The Hut Group. This will see us launch a new website next year and really enhance our e-commerce business. The second is the potential of our bricks and mortar stores to create new jobs and careers. We are always looking for new opportunities to expand our footprint and bring new talent into the business. And we'll be doing lots more of this in the years to come.
What one word would describe your leadership style, and why is that important to you?
Driven. For me, it is all about creating positive momentum.

Has there been a moment / book / person that has fundamentally changed how you approach business and leadership?
I've been lucky enough to have worked with some brilliant retailers both in the UK and during my time in Australia and I've always looked to take the best bits of the people I have always loved working for. But the most important thing that they've all taught me is to be genuine. People trust and understand people who they believe are being genuine and honest.
What's the one biggest lasting impact you think the pandemic will have on how the retail industry operates next year and beyond?
2020 has for so many in retail been all about survival, so I am hopeful that next year will see retailers rebuilding. One thing I really hope comes out of all the challenges is to see businesses collaborating much more than we ever thought possible. Where they might have previously seen themselves as competitors, we actually change to see the value we can create not through competition, but through collaboration
Tell us about your latest home or garden project?
My vegetable patch. We're currently growing lots of winter veg and I've even been making green smoothies out of my own produce most mornings – all from Homebase seeds I might add!